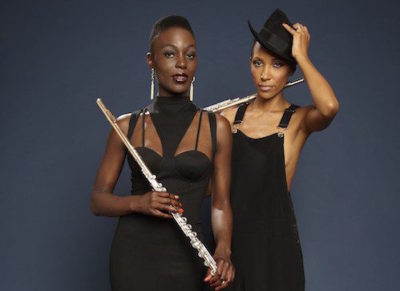 By Dan Ouellette, ZEALnyc Senior Editor, November 25, 2016
It's about time. The flute is coming back.
The instrument best known in the classical world had been an emotive, fiery and dreamy component of the pop and jazz worlds in the '60s and '70s. In jazz, there were Bobbi Humphrey and Hubert Laws (still the top vote getter in jazz polls), not to mention the three-minute flute solo by multi-instrumentalist Eric Dolphy on the tune "Stolen Moments" on Oliver Nelson's classic Blues and the Abstract Truth recording. In pop the flute showed up on a couple of Beatles songs ("You've Got to Hide Your Love Away" and "Fool on a Hill) but was fully thrust into the limelight by Ian Anderson in the rock-charged Jethro Tull band. Then there was Charles Miller's soulful and mysterious flute lines in Eric Burdon and War's hip radio hit "Spill the Wine."
But the flute faded from the instrumental palette as saxophones, plugged-in guitars and keyboards dominated after the '70s. Raucously loud and fiercely energetic versus elegant calm and delicate wafting. Today the shift back to a flute world beyond the symphony is beginning in crossover music with one of the keystone stars of the resurgence being the duo Flutronix--Brooklyn-based flautists Nathalie Joachim (also the vocalist) and Allison Loggins-Hull--who are taking their instrument to worlds it's never known. While both are classically trained, they playfully reference jazz electronics, soul, pop and hip-hop into their repertoire that they call "urban art pop."
In an ancient history reference, Joachim and Loggins-Hull met via the aught's social networking site Myspace and began discussing--and playing--how to create beyond the orchestra and thereby redefine the flute while also staying true to the tradition. So while their music is technically challenging, they also drive the music into the future with the beats and verve of jazz and contemporary pop. Flutronix's latest recording is the EP City of Breath, which features originals as well as classical composer Steve Reich's "Vermont Counterpoint," treated to the pair's own flute-driven vision. Its self-titled debut was released in 2010, followed by the strongest recording of its catalog, 2014's 2.0, which features a killer cover of the new wave band Eurythmics' 1983 dance club megahit "Sweet Dreams (Are Made of This)."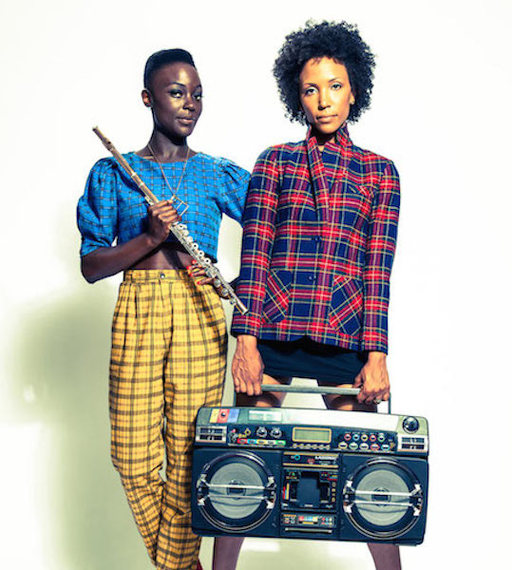 Nathalie Joachim and Allison Loggins-Hull of 'Flutronix'
appear at Baruch PAC Milt Hinton Jazz Perspectives Series.
While Joachim and Loggins-Hull are devoted to flute education--including sheet music downloads on their website as well as their workshops in the New York area and beyond--it's their dynamic performances full of unison, harmonic and counterpoint flute playing as well as the electronics and rhythmic support that single them out as top-drawer flute adventure seekers who are crisscrossing musical genres with aplomb.
Flutronix plays its rousing music on December 2 in the Baruch College Performing Arts Center's Milt Hinton Jazz Perspective Concert series, which offers a liberal arts complement to the school's academic emphasis on business and public affairs. The series was founded by Milt Hinton, considered to be the dean of jazz bassists and dubbed The Judge by his fellow players. He was a member of the Baruch faculty and passed away in 2000. The Flutronix show represents the 25th anniversary of the series.
Click here for tickets to Flutronix at Baruch Performing Arts Center, Friday December 2nd at 8pm.
Cover Photo: Nathalie Joachim and Allison Loggins-Hull. Photo by Patrice O'Brien.
_________________________________________
For all the news on New York City arts and culture, visit ZEALnyc Front Page.
Calling all HuffPost superfans!
Sign up for membership to become a founding member and help shape HuffPost's next chapter