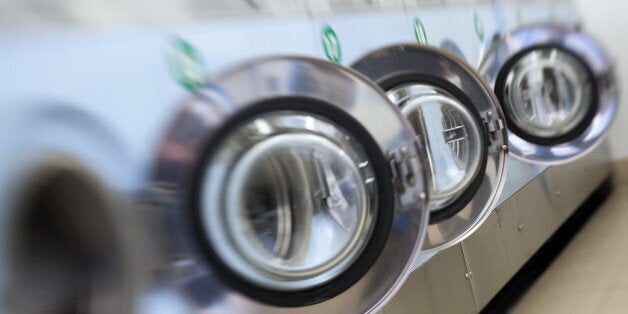 BROOKLYN, NY -- Here in New York City, where rising income inequality lets the super-rich frolic while the super-poor despair, laundry is one of the few remaining class equalizers.
In much of the U.S., the average middle-class family has a home with a washer and a dryer. In New York, almost no one does. Less than a quarter of the homes for sale in Manhattan have washer/dryers, according to data just compiled for The Huffington Post by StreetEeasy, a New York real-estate data portal. In Brooklyn, the percentage is even lower at 13 percent. Even fewer rentals have washer/dryers in their units.
You could make six figures or four, but either way in NYC you're probably schlepping a bag of dirty socks to the local wash-o-matic. Those on the wealthier end of the spectrum drop the bag off and have the laundry do the work. (Yes, the super super-rich have servants to do this. Let's leave them out of it for now.) Others spend hours waiting for their pajamas to dry.
Well, not anymore. A new service aims to put the inequality back in the underpants cleaning biz. FlyCleaners, which launched in north Brooklyn late last year will pick up, wash and return your laundry at the touch of a button on your smartphone. It's so easy and simple, you'll never have to schlepp another bag or encounter another actual human being at a laundromat again -- if you can afford it, of course.
FlyCleaners joins a flurry of new services and technologies that lift the middle- and upper-classes up and away from the rabble of those who can't afford the latest iPhone or service fee. Think Uber, a new car service for the technorati which lets you bypass the subway and obviates the need to actually raise your hand to summon a taxicab. Or, Seamless, a food delivery service that relieves you from the daunting task of ordering Thai food over the phone.
FlyCleaners co-founder Seth Berkowitz is also the evil genius behind another New York City business: Insomnia Cookies, which delivers fresh, warm baked cookies to your door until 3 a.m. The premise behind FlyCleaners, which operates from 6 a.m. to midnight, is similar: "Get it when you want it," explained the company's other co-founder David Salama when we spoke last month.
I wanted to hate FlyCleaners because I do really love my local launderers. They've watched my kids go from onesies to skinny jeans and helped my family make it through the great lice plague of 2013 with aplomb. We give them holiday presents. But I used the FlyCleaners service twice, and the ease of having someone at your door to carry your laundry away and the relief of not having to schlepp a 40-pound bag of laundry across the street is almost as intoxicating as melty chocolate chips at 2 a.m.
Still, I worried: Am I putting a local business out of business? Not quite. FlyCleaners, which is only available in the neighborhoods of Williamsburg, Greenpoint and Bushwick, contracts with local laundromats that charge wholesale prices. FlyCleaners runs the pick-up and delivery -- it's basically a mobile laundry service with a clever algorithm. Right now the company employs about a dozen or so drivers who are paid between $12-$15 hour; FlyCleaners has 24 employees total.
The company is hardly a "tool of evil," Brooklyn native Salama told me, laughing.
Salama said that perhaps his company would push laundromats to modernize. "If you go into a laundromat it's like stepping back in time 30 years."
I tried the service a couple of times last month and it was great. You download the FlyCleaners app (from Google Play or iTunes), enter your address, payment information and preferences (bleach or no bleach; organic or not). When you have some dirty clothes that need cleaning, you press a button on the phone and get an estimated pick-up time. I waited about 15 minutes both times I used the service. A friendly fellow arrived at my home, gave me a special FlyCleaners laundry sack and whisked my family of four's dirty clothes away.
I got a text when the laundry hit the suds and another when it was all folded and ready. Push a button again and your laundry is returned home. FlyCleaners charges $.99 a pound, which is pretty much in line with what you pay in New York for dropping off laundry at the laundromat. They also offer reasonably priced dry cleaning.
It wasn't perfect. I received a pair of "mystery socks" that weren't ours. But that happens from time to time at my local place. And the way the socks were folded wasn't my favorite.
The company just raised $2 million in funding, and Salama says that they're thinking about expanding to Manhattan and other cities. The company may also consider providing other kinds of service in the long-term, bringing on-demand to other areas of life. "Our utopian vision is a world where people won't have to wait for their cable man between the hours of 8 [a.m.] and 6 [p.m.]," he said.
Calling all HuffPost superfans!
Sign up for membership to become a founding member and help shape HuffPost's next chapter