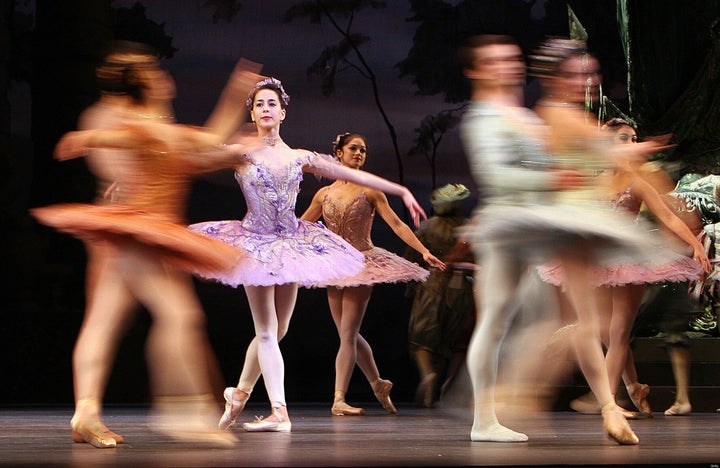 Renew. Refresh. Regroup. Rejuvenate. Reinvent.
Spring is a time for all these "re" words. A time to shed skins. Change perspectives.
If in that mood, take the money that you were going to use on a dust-collecting self-help book that will only embarrass you in front of friends or a date one day and spend it on a ticket to a transcendental experience certain to shake you out of winter's deep-freeze... I mean, wake you from one of the warmest winters on record.
FLYAWAY (Part 2), an elevated dance performance, is this weekend at Joe's Movement Emporium in Mt. Ranier, a short 10 minute drive from downtown D.C. This performance is hosted by Elevate Studios and features some of the most innovative aerial talent from the nation's capital and Northeast corridor, including Elevate Studios' core faculty, Arachne Aerial Arts (Andrea Burkholder and Sharon Witting) and Kate Winston. Also performing are Ann Behrends, Mark Harding, Darden Longenecker and Eric Gorsuch, known in many circles as "Mr. Gorgeous." So, you have that to look forward to as well.
If you haven't seen one yet, there is something ethereal and pleasantly disturbing about aerial performances. They lift you the from business-as-usual-status-quo-same-shit-different-day mentality. There's a definite fear factor. And a good show is awe-inspiring, leaving you wondering about the possibilities of the human body. Maybe your human body.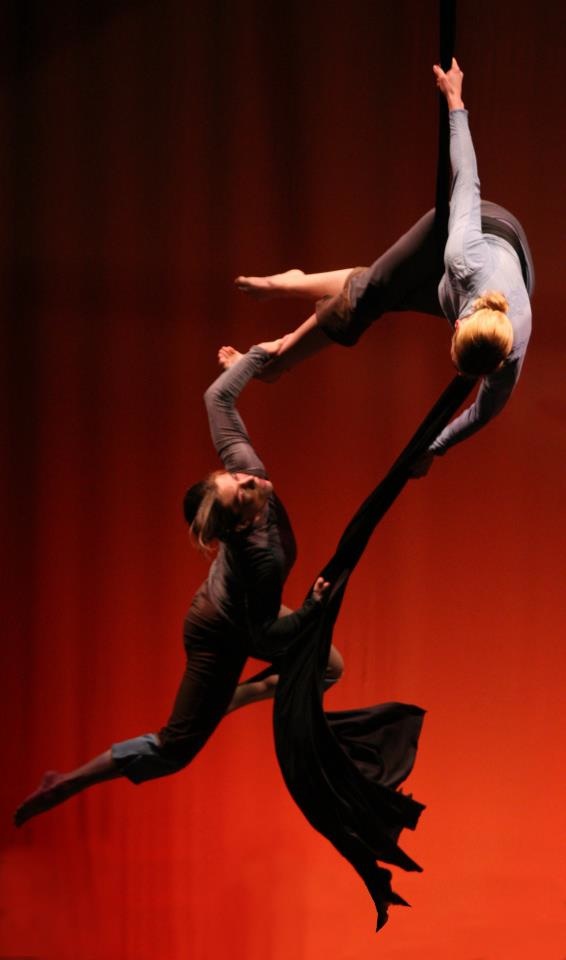 Photo of Sharon Witting and Andrea Burkholder of Arachne Aerial Arts by Rich Riggins.
I spoke with Arachne Aerials Arts duo, Sharon and Andrea, and learned that Sharon knows something about needing a change of perspective. On her 30th birthday, she, like many, found herself at a crossroad. Her career path was satisfying but divorced from her dancer's background. And as she got older, with the staid convention that "30 is ancient for a dancer" ringing in her head, she decided to shake things up.
"A mentor said to me, 'You're smart enough and talented enough to have exactly the life you want. Now what are you waiting for?' So, I threw myself back into dance and performing fulltime ... except this time from the air," she explains.
Up in the air is not an easy place to be, literally and figuratively. Not knowing if the path you've chosen is sustainable or if it will pay the bills. It takes moxie and in Sharon's case, lots of circus-like equipment as well as a studio with really high ceilings.
As it happens when you make decisions for the right reasons, you also meet the right people. And in 2000 Sharon teamed up with performing partner Andrea Burkholder, whose aerial path was more direct.
"I made sure even the jobs that paid the rent were related to performance in some way whether it was marketing or working the lighting or house managing... it's all helped me as a performer," she says sitting in the beautiful space that is Joe's Movement Emporium. (If you haven't been, it's a must-see.)
Their path to aerial performing is as different as their physical forms. Andrea's short, muscular frame plays well to Sharon's long, lithe physique as they fly seemingly effortlessly together, grabbing onto each others' waists or any available appendage.
They are truly like birds of a feather. They even got pregnant at the same time. And both of their daughters attend performances, watching their mothers perform choreographed routines from hoops, bars, fabric and even netting while wearing facial glitter and brightly colored costumes. If there's a better job for the mother of a little girl, I can't think of one. And before I'm accused of re-enforcing the Princess Syndrome or ignoring the fact that a job as a scientist or surgeon shrouded in khakis and a lab coat and grounded in sensible shoes is just as interesting to a 4-year-old girl, let me call bullsh*cough*t.
This weekend give yourself a treat. Run away to the circus if only for a couple hours. Invite some friends. Drink some bubbly. And wear some glitter yourself. Live large. When you start shaking around the fairy dust, who knows what'll happen.
Performances are Saturday, March 31 at 8 p.m. and Sunday, April 1 at 4 p.m. Tickets ($20 general admission; $15 seniors/students; $10 kids 12 & under) are available at the venue's website. Both performances are family-friendly.
REAL LIFE. REAL NEWS. REAL VOICES.
Help us tell more of the stories that matter from voices that too often remain unheard.