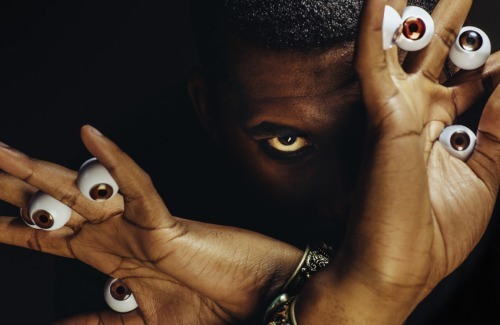 The newest album You're Dead! from Flying Lotus is sonically a continuation of his previous full length Until The Quiet Comes, diving into an ethereal alternate universe where generations of musical styles smash together through a whirlwind journey of the mind of man born Steven Ellison.
The Los Angeles-based musician/producer comes from great musical lineage, as the grand-nephew of the legendary jazz pianist Alice Coltrane and the grandson of Motown songwriter Marilyn McLeod, and the progress he has made from his first album 1983 only eight years ago to what we hear on You're Dead! shows what a superior student of music he has truly become. You're Dead!, best to be taken in as one all encompassing listening experience, goes into a lofty wave of musical genres from the past and present. In all of its complexities, the various palette sound-wise that Flying Lotus goes through on You're Dead! sinks deep into everything from 60s jazz to 70s funk, and from '80s techno to even '90s trip-hop.
With You're Dead!, it's as if we are running through all of the influences and inner-passions artistically that has made the artist he is today. We see Los Angeles hip-hop from different generations with Kendrick Lamar on "Never Catch Me" immediately followed up by Snoop Dogg on "Dead Man's Tetris". Flying Lotus even has the legendary Herbie Hancock playing on the album's second track "Tesla". Flying Lotus has come a long way from just beat oriented projects.
On You're Dead!, we are seeing true musicality with the idea of being able to tell a story without necessarily always saying words. The canvas that Flying Lotus continues to work on to project his visions are only getting bigger and more intricate, without really going into any territory that might be perceived as weird to your regular listener. Flying Lotus doesn't make music for the trendy ear, but more for an ageless group that enjoy the timeless qualities that Flying Lotus is become very successful in creating. So pop in You're Dead!, darken the room, light one up, stretch out on your bed, and let your mind go wherever the music takes you.
Read my previous interview with Flying Lotus here.
Flying Lotus lands down at the Royal Oak Music Theatre (318 W 4th St, Royal Oak, MI 48067) on Thursday, October 23rd, with special guest Thundercat. Doors open at 8pm, its an all ages show, and tickets are $25 in advance and $30 at the door. Flying Lotus' new album You're Dead is available now via Warp Records. For more information, flying-lotus.com.
REAL LIFE. REAL NEWS. REAL VOICES.
Help us tell more of the stories that matter from voices that too often remain unheard.