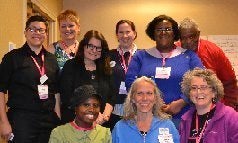 I confess to being one of the many Creating Change activist groupies who land somewhere in the U.S. in late January (formerly November) to pull out all the stops for four days and soak up LGBTQ energy to keep us running for the next 12 months. However, for me, the most recent gathering in Atlanta (Jan. 23 to 27) was the best Creating Change ever, because I could fly my bi flag high and proud thanks to some awesome visibility for my community. (I am using "bisexual" as an umbrella term for people who recognize and honor their potential for sexual and emotional attraction to more than one gender, including people who identify as "pansexual," "fluid," "omnisexual," "queer," etc., and all other free-identifiers.)
Creating Change was the site of a historic meeting for the bisexual community on Jan. 24. Leaders from local, regional and national bi organizations came together for the first-ever Bisexual Leadership Roundtable (BLR) to discuss issues that are important to the future of our diverse community, including creating a cohesive vision while using different identifiers, busting the binaries and improving connections with the transgender community, building a communications strategy between our organizations, enhancing the "B" in the LGBTQ political world, accessing funding sources and more.
In my role as president of the Bisexual Resource Center (BRC), along with BiNet USA's president Faith Cheltenham, we planned and facilitated this groundbreaking meeting to establish deeper connections among the attendees, who came from as far afield as California, Minnesota, Michigan, Massachusetts, Florida, New York, Texas and Washington, D.C. Cheltenham commented, "While we may have different mission statements, each organization has brought to the table a true commitment to work together on the urgent needs of our deeply underserved community."
Though some surveys have estimated that about half of the LGBTQ population identifies as bisexual, the organizations that have grown up over the years to specifically serve the bi community have struggled to fund even basic community-building services. The BRC is the oldest national bi organization at 27 years old, but it still does not have paid full-time staff, and the vast majority of bi organizations exist on all-volunteer power. The BLR discussed this issue in-depth and strategized ways to fill this resource void.
Besides our initial full-day roundtable, representatives from the BLR also met with the White House liaison to the LGBTQ community, Gautam Raghavan, and with representatives from LGBTQ funder organizations, to brief them on concerns of the bi community and to forge stronger relationships for future work.
After last year's Creating Change conference in Baltimore, Rea Carey, executive director of the National Gay and Lesbian Task Force, which hosts the conference, invited the bi organizations to use the Atlanta conference for the roundtable's kickoff. After meeting with BLR members in Atlanta, she commented:
It is a thrill and honor that the first-ever Bisexual Leadership Roundtable took place at the 25th National Conference on LGBT Equality: Creating Change. We are inspired and energized by the leaders from local, regional and national bi organizations who came to Atlanta to connect, strategize and mobilize. We join in the excitement over the BLR's founding and its future work to raise bi visibility and to create change.
I want to salute and thank all the fabulous attendees at the BLR. Trailblazers all!
BiNet USA's fearless and fierce leader, Faith Cheltenham, as well as emerging leader Chiquita Violette and tenured bi activist Luigi Ferrer
The cool, calm and collected Paul Nocera of New York's BiRequest group
Tireless bi educator, activist and writer Robyn Ochs
And special mention of ABilly Jones-Hennin, who was not representing a particular organization but who brought over 40 years of political experience to the table. Having ABilly there offered us an important perspective of where our community has come from and how important it is to acknowledge the diversity that exists within it.
Oh, and to top off all of this exciting political networking going on, the conference signed off with a bilicious performance by out and proud diva Frenchie Davis. She had many of us cheering when she said from the stage, "This is a bisexual's dream having all these beautiful men and woman screaming my name!"
Visibility is a must, but as Emma Goldman once said, "If I can't dance, I don't want to be part of your revolution." Word.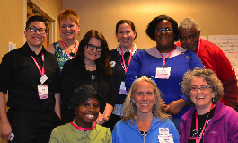 Representatives from several national, regional and local organizations convened the first Bisexual Leadership Roundtable in Atlanta on Jan. 24. Back row: Sabrina Labor, Heidi Bruins Green, Denise Penn, Lauren Beach, Faith Cheltenham, ABilly Jones-Hennin. Front row: Chiquita Violette, Robyn Ochs, Ellyn Ruthstrom. Not pictured: Luigi Ferrer, Paul Nocera, Emily Dievendorf.
Calling all HuffPost superfans!
Sign up for membership to become a founding member and help shape HuffPost's next chapter