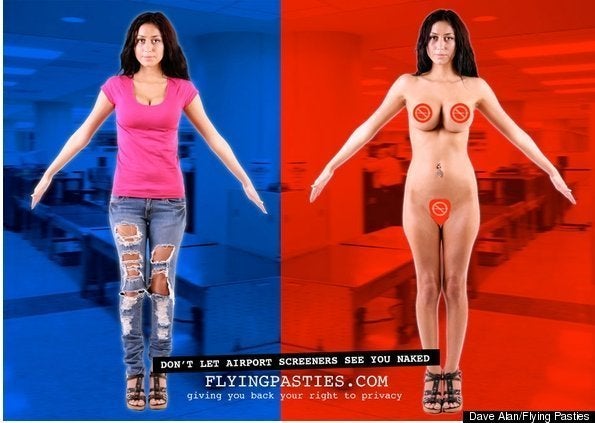 Airports international and domestic alike are introducing full body scanners at security in rapid speed (see a full list of all U.S. and international airports with scanners, below). But leave it to Las Vegas-based company Flying Pasties, Inc. to create, quite literally, pasties for your privates when entering these scanners.
According to the company's press release: "Some religious groups and the ACLU have condemned the use of airport scanners, Flying Pasties now gives everyone the peace of mind to enter these scanner without embarrassment." We were about to laugh, and then realized that this might not be such a bad idea after all.
You can apply the pasties by either sticking them inside undergarments or hooked. Michael Luongo, the company's, um, spokesman, says "We must stress however, that no matter how your wear your Flying Pasties... whenever your airport screener questions you about your Flying Pasties, simply remove them and present it to them. The security personnel are there for your protection and we mustn't forget that."
Flying Pasties are available at flyingpasties.com for the introductory price of $19.99. Kind of awesome.
, full-body scanners are at the following US airports:
Albuquerque International Airport (ABQ)
Atlanta Hartsfield-Jackson Airport (ATL)
Baltimore-Washington International (BWI)
Boise Airport (BOI) NEW!
Boston-Logan International (BOS)
Brownsville-South Padre Island Airport (BRO) NEW!
Buffalo-Niagara International (BUF) NEW!
Charlotte Douglas International (CLT) NEW!
Chicago-O'Hare Airport (ORD)
Columbus International Airport (CMH) NEW!
Corpus Christi International Airport (CRP) NEW!
Dallas/Ft. Worth Airport (DFW)
Denver International Airport (DEN)
Detroit Metro Wayne County Airport (DTW)
Indianapolis International Airport (IND)
Jacksonville International Airport (JAX)
Laredo International Airport (LRD) NEW!
Las Vegas-McCarran Airport (LAS)
Los Angeles International Airport (LAX)
McAllen-Miller International Airport (MFE) NEW!
Miami International Airport (MIA)
Phoenix Sky Harbor (PHX)
Providence-T.F. Green International (PVD) NEW!
Raleigh-Durham International Airport (RDU)
Richmond International Airport (RIC)
Salt Lake City International Airport (SLC)
San Diego International Airport (SAN) NEW!
San Francisco International Airport (SFO)
Tampa International Airport (TPA)
Tulsa International Airport (TUL)
Valley International Airport (HRL) NEW!
Washington DC's Reagan Airport (DCA)
International Airports:
Amsterdam-Schipol Airport (AMS)
Gimhae/Busan International (PUS) NEW!
Gimpo/Seoul International (GMP) NEW!
Jeju International (CJU)
London-Heathrow (LHR)
Manchester Airport (MAN)
Moscow-Sheremetyevo International (SVO) NEW!
Paris-Charles de Gaulle (CDG)
Rome-Leonardo da Vinci/Fiumicino (FCO)
Toronto Pearson International (YYZ)
Tokyo-Narita International (NRT)
Vancouver International (YVR)
Related