Now that I'm back after a short hiatus of blogging, I decided to give it a shot at travel blogging, starting with my most recent transformative experience: flying on a middle eastern airline during a 2 week business trip in India. I now understand why these airlines are praised by frequent travelers, and how their attention to detail, and exquisite accommodations, truly do bring back the magic of flying.
Since there are no direct flights from Washington, my options were either to connect via London (LHR), which would've split the journey into two equal 8 hour legs, or connect via the middle east, with the first leg being 12-13 hours and the second leg being only 4 hours. Connecting via the middle east was about half the price than connecting through London, and they offered a stopover program where they pay a night at a 5-star hotel in either Abu Dhabi or Dubai - I didn't think about it twice, my decision was a no-brainer.
Next was choosing which airline to fly. There are 3 main middle eastern airlines (in no particular order): Etihad Airways, Emirates, and Qatar Airways. Since I am a member of the AAdvantage frequent flyer program from American Airlines (AA), I ruled out Emirates as an option, as they do not have a commercial partnership with AA, nor is Emirates a member of the One World alliance - a network of 15 global airlines that AA is a founder of. Qatar, being a member of One World, would earn me elite-qualifying miles and segments under AAdvantage, but there were three reasons why I did not choose them: (1) they don't fly the Boeing 787 Dreamliner on the transatlantic route, (2) their business class seats are not configured in a way were they offer as much privacy as Etihad's business studio seat, and (3) Qatar did not offer complementary hotel stopover programs like Etihad does.
Also, I came to realize later on that Qatar did not offer U.S. immigration pre-clearance, which was a great convenience at Abu Dhabi - you go through immigration before you board the flight, rather than at the airport on arrival. Emirates and Qatar were also slightly more expensive than Etihad, so I decided to fly Etihad Airways.
At the Airport: Washington Dulles (IAD)
One of the great perks of flying Etihad was their complementary chauffeur service that picked me up at my doorstep, on a Cadillac Escalade, and dropped me off at Washington Dulles airport. I went through the regular check-in and TSA formalities, and eventually made it to the gate after the tram that connects the different concourses had broken down. There was a small Etihad lounge right beside the gate, which was very cozy, and offered a nice selection of food and beverages. The best part was when they announced that boarding had begun, and I realized there was a dedicated gate agent in the lounge scanning boarding passes and directing people via a side door to the jet bridge! No more fighting to be the first one to board, they had solved that problem very effectively.
I quickly boarded the awe-inspiring Boeing 787-900, known as the Dreamliner, and was immediately drawn to the incredible amount of detail Etihad invested into the airplane. The business studio seats were arranged in a 1-2-1 configuration, with some seats facing forward and some facing backwards, such that all seats had direct aisle access. The studio has a lie-flat seat covered in a combination of fabric and Poltrona Frau leather, a large touch-screen TV, a side console with a small storage bin and water bottle holder, a retractable food tray, a side table with buttons to control the seat as well as a small touch screen for controlling the lights and seat, and a retractable remote control for the entertainment system. The seat itself had electronically adjustable cushion firmness and lumbar support, a massage feature - basically inflates and deflates the lumbar support, multiple position presets, and a comfortable decorative pillow. I also really liked the small wall sconce next to the seat, and mood lighting in the side table and under the TV.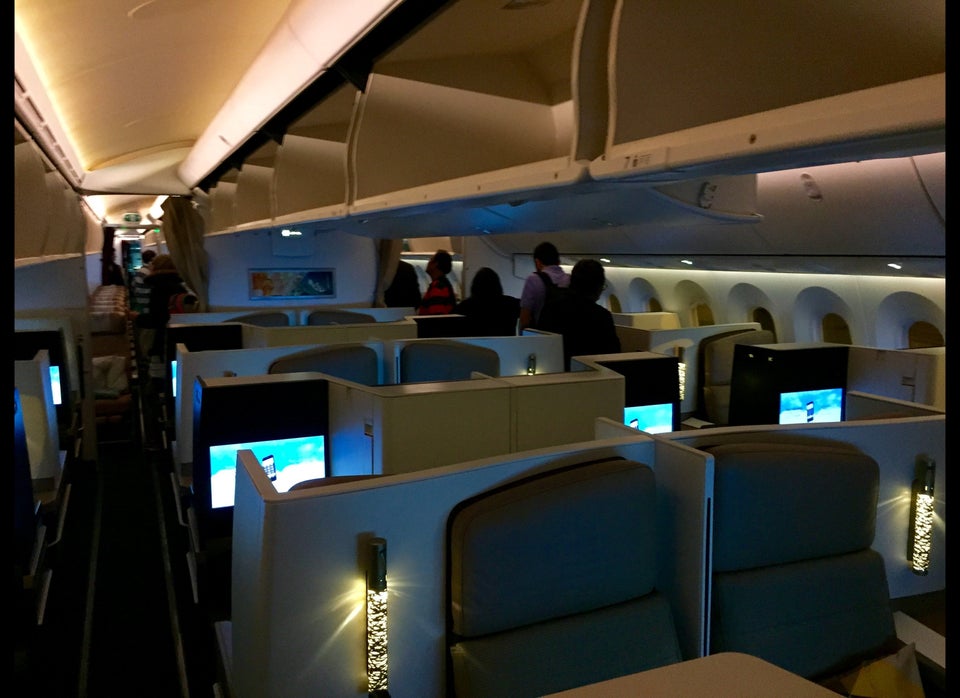 Flying Re-Imagined on Etihad Airways
A set of pijamas, soft terry blanket (like a snuggie), and a stylish toiletries bag are provided before departure. Newspapers and magazines are also passed, and a pre-departure beverage are served: champagne, juice, or water. Noise canceling headphones are also available in each seat, but they were marginally effective and uncomfortable at times, and uses a special connector such that you cannot use your own headphones. I recall AA, for example, provides Bose QuietComfort headphones - best in class for traveling, whereas Etihad's headphones were no-brand. The lights were dimmed, and we are ready for takeoff.
After leveling off, meal service begins. The cabin crew was extremely talented, kind, and educated. They took my meal order, and provided a beverage of my choice along with a mix of warm nuts, and a moistened (and perfumed) towel. First course consisted of a mix of Arabic mezze, a warm bread bun with butter, and a glass of Merlot. Main entree was a Chilean sea bass with vegetables, followed by a decadent chocolate dessert, and a cup of chamomile tea.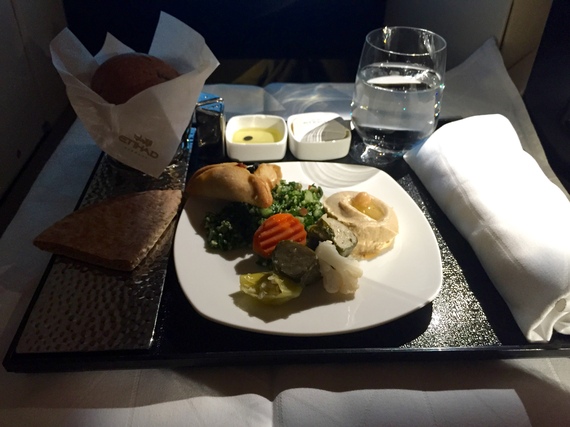 Their E-Box entertainment system was remarkably fast and easy to operate (unlike Japan Airlines Magic-V system which was a pain to work with), and offered a vast number of movies, music, TV channels, and games. The plane also had Wi-Fi, and its own mobile network that allows you to place calls and send text messages from your GSM-equipped phone. I watched a few movies, and slept for a few hours thereafter.
A few hours before arrival, I ordered a fruit smoothie and a cheese plate, along with a freshly made cappuccino. We landed, uneventfully, and I was ready to experience Abu Dhabi.
At the Airport: Abu Dhabi
Abu Dhabi airport is the main hub for Etihad, so naturally there were a lot of conveniences. Not only was there a premium lounge, but there was even an arrivals lounge - should you need more pampering before heading out into the 110-degree heat. Both lounges offered food and beverages, as well as complementary spa treatments, and a salon that offered their signature shave service: for 55 Emirati Dirhams, a professional barber will make sure you look polished before your next flight. The chauffeur service is available to take you to any destination within Abu Dhabi or Dubai, on an Audi A6, at no cost to the passenger.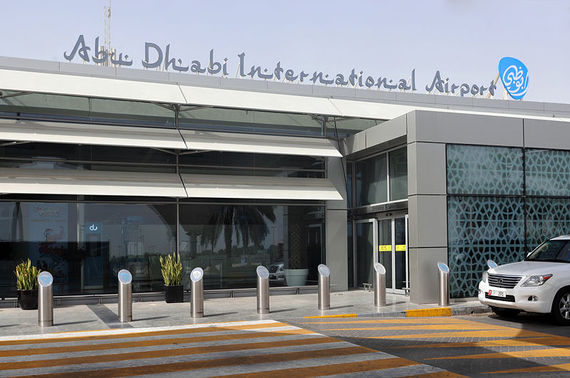 I boarded my flight to India on Etihad, which was equally comfortable and luxurious, and ultimately made my way back to Abu Dhabi after 2 weeks - I took advantage of Etihad's stopover program, which gave me a free night at the St. Regis Nations Towers. I still had to pay for the second night, as its a 2-night minimum stay, but it was a great deal nonetheless.
In conclusion, my experience was nothing short of magical in every possible way. I think these airlines are pushing the envelope in terms of convenience and luxury, which is making some mainline US domestic carriers step up their game.
American Airlines recent merger with US Airways announced more than $2 Billion in improvements as they focus on becoming the "greatest airline in the world", introducing their first Boeing 787 Dreamliner flights to Buenos Aires, and their 3-class transcontinental service a year ago. United and Delta, however, still appear reluctant to embrace this industry 180-degree turn, holding onto aircraft from 2 to 3 decades ago, and cutting corners wherever possible.
Hopefully we continue to see this trend, where passenger comfort and convenience becomes center stage in the re-invention of legacy US domestic airlines.