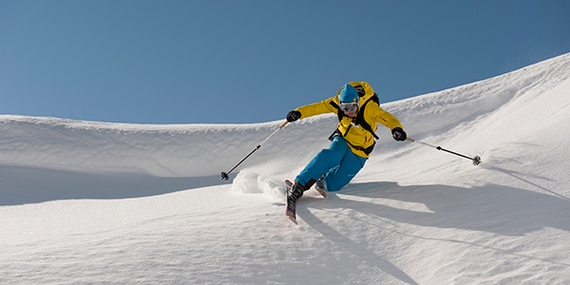 Last time I checked, ski season isn't exactly over yet. Too bad bringing on sports equipment is the death knell of all baggage fees.
Ok, let me take you into the bullshit world of bringing on sports equipment. A long, long time ago, when I was a young wee figure skater--yes, that was my sport growing up--I was often forced to alternate holidays between my divorced parents. Sometimes, that meant spending a lot of time with my dad during the summer, who lived a couple of states over.
Getting attached to sports gear is like getting attached to a violin. After a while, you just can't use any other instrument except for yours. What was a girl to do, especially one who used to sleep with her ice skates tucked under her bed? (I actually did. Instead of wishing for a car like everyone else at the age of 16, I saved up for a brand new pair of figure skates.)
Also, this was some 15 years ago before the TSA had completely flipped out about liquids and other random assorted objects onto the plane. Every figure skater I knew went into a panic after the new regulations were instituted: You mean my $1000 skates have to be checked now? The serious athletes would ship a backup pair of skates to competitions in case the airlines lost the luggage to be safe. Unfortunately, in this day and age, I have no choice but to just temporarily separate from them at check-in.
But I guess if I think I have it bad, I should be thanking my lucky stars. For the most part, bicyclists, surfers, kayakers and windsurfers pay the most in special baggage fees. Those interested in game and bringing back souvenirs like antlers will also endure a hefty fee. These fees generally apply to one-way travel, so double that for a roundtrip.
Otherwise, there are no special exceptions made for sports baggage, though the international airlines seem to be better on this than the North American airlines. Some gear you'll be forced check in because of TSA policy, whether you want to or not and incur the baggage fee. Other sports equipment fall within the normal checked baggage and oversize/overweight policy.
There's proof things are getting better though: In 2013, The Verge reported that TSA was basically letting some sports equipment be carried onboard:
Passengers are allowed to bring an assortment of sports equipment aboard, including pool cues, hockey sticks, ski poles, and lacrosse sticks, but are limited to two golf clubs per passenger. The TSA is also permitting "novelty" baseball bats, but still prohibits those larger than 24 inches long and weighing 24 ounces or more.
For what it's worth, if there's any confusion about what you can and can't bring, the TSA has a great checklist here.
In general, though Alaska is the friendliest in terms of sports equipment, which doesn't institute special fees for gear. Virgin America, JetBlue and Southwest are the next friendliest, with low fees, but be forewarned JetBlue doesn't even let you bring those antlers or paddleboard on.
Read More
:
Related