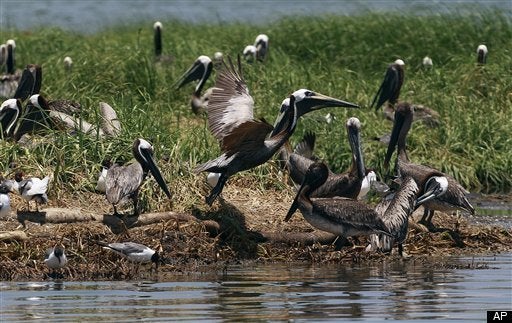 Updated Thursday, July 29
I just love it when extremely brilliant women connect and get the job done. I also love the fact that being a writer gives me a good reason to be the proverbial fly on the wall and witness their dedication, perseverance, and tenacity. New Orleans film producer Bess Carrick wanted to see what the Gulf of Mexico looked like in the 48 miles between the tip of the Mississippi Delta and the blown Macondo wellhead for a series she is producing called The Barataria Chronicles. She had met NASA pilot, Caltech graduate and theoretical physicist Dr. Bonny Schumaker, and convinced Bonny to take her on a fly-by on Monday. This was 24 hours before the mainstream talking heads of all political stripes were declaring that only one barrel of oil had been skimmed from the Gulf on Tuesday, so it looked pretty much as if the crisis were over.
The oil flowed mercilessly for 86 days until July 15, dumping 200 million gallons of Louisiana crude into the Gulf of Mexico. SkyTruth, the website that has accurately depicted the size and scope of the river of oil since the days when BP was maintaining a paltry 1000 barrels per day, has a nifty analysis and a couple of good caveats.
Oil floating at the ocean's surface has a limited lifespan - it's been collected and destroyed by skimming, booms, chemical dispersants, evaporation, photolysis, biodegradation - and took a beating from wind and waves when tropical depression Bonnie blew through over the weekend. If the well stays plugged until the static-kill and bottom-kill efforts permanently plug it with cement, then the remaining fragments of slick should disappear within days.
The big question remains and SkyTruth asked it. All of those 200 million gallons did not vanish. How much oil can't be seen with satellite images? How much oil is buried in beach sands, embedded in marshes, is still dispersed in the water column or is lying on the sea floor?
The Washington Post suggested that while the feds have been fixated on the Natural Resources Damages Assessment (NRDA) process prescribed by the Oil Pollution Act of 1990, "BP has been engaging academic scientists for its NRDA defense. Billions of dollars are at stake, so litigation is likely to go on for years."

Politicians, BP and the Coast Guard "sock puppets" would sure be happy if those 200 million gallons just went away.
Carrick wanted to see for herself, and so she did, presenting a snapshot of one afternoon that speaks volumes about the necessity to keep up with the research and keep all eyes on the Gulf before research succumbs to litigation.
Carrick is admittedly a producer and not an editor, but she managed to learn Final Cut Pro software in three weeks (no small task) and set off to chronicle Barataria Bay. She is no newbie to production, and her most recent full-length, award-winning documentary, Lindy Boggs: Steel and Velvet explores the life of journalist Cokie Robert's mother, Ambassador Lindy Boggs. The documentary won a Telly award and currently is in national distribution on PBS. Carrick also happens to have built a nature retreat on the edge of the wilderness in Mississippi, among other things. But that is another story.
NASA pilot Schumaker is Sea Shepherd's liaison for Operation Gulf Rescue, and has been in the Gulf since the early days of the oil disaster. She has been flying with NASA colleagues doing remote sensing and spectral imaging and uses her commercial pilot's license as credentialing collateral to fly government officials, journalists and people like Carrick.
Schumaker is also the founder of the non-profit On the Wings of Care, dedicated to promoting the welfare of domestic animals and wildlife and their habitats by helping with searches, rescues, transports, rehabilitation, and scientific research. There is spectacular photography of what remains of the Deepwater Horizon Macondo wellhead site, known in pilot lingo as "The Source" on the website.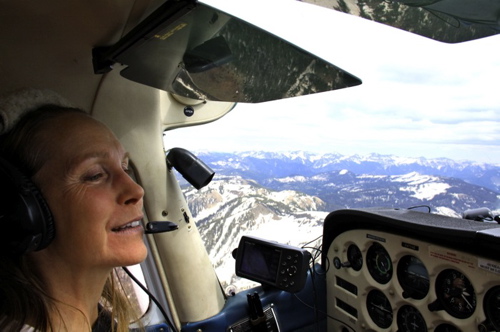 Schumaker on Mission Credit: onwingsofcare.org
Schumaker was able to take the cameras below the 3,000 feet general aviation exclusion zone and get up close to the Gulf. You can track her flights here. Although she saw less "observable oil" on the surface, something else was also lacking. Other than a school of golden rays, the normal sea life, such as dolphins were largely absent. Where did they go, and why? Did they leave the contaminated zone on their own, or are their bodies lying unnoticed, undocumented, and ultimately abandoned on the sea floor.
Raccoon Island, one of the most densely populated islands with birds in the entire state was left with one layer of deflective inner harbor type boom, which was completely useless against the waves and the wind from a storm in early July. As of last Friday, day 94, this boom was still piled high up on the beach, having been washed ashore with the same oil that drenched a large number of birds, an event that was brought to light by Cornell University biologists studying the colony.
Carrick videoed hundreds of feet of oiled orange deflective boom that was piled on breakwaters, unattended, and birds were perching in the mess.
After her flight Carrick and I communicated on Facebook, and I think one of the huge social networking stories will be how ordinary people, concerned about the Gulf, connected through this medium. I think David Mathison might do well to add a chapter to his book, "Be the Media," about this phenomenon.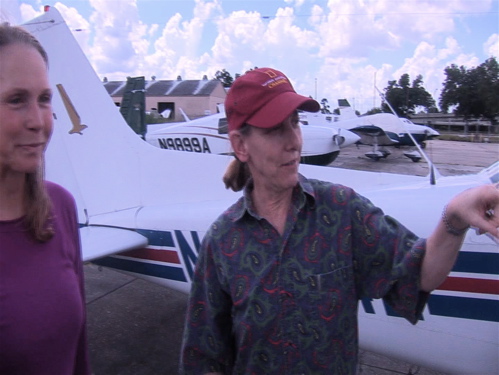 Producer Bess Carrick
Carrick said she found more questions and concerns than answers.
It was so cool to go out there. There is no flare burning at the top of the Horizon well any longer. Lots of boats, making a .mov now of my rough edits around the well site. What I can say is that you can see deep sunken oil patches out there. As you fly away you can see some streams of oil, but the dispersants have either deteriorated it totally into some unseen form, or you can see it deep beneath the surface.

We saw only a school of golden rays and they, sadly, were swimming right in the dispersant streams and toward oil under the sea. Sure hated to see that.

There were no dolphins anywhere in the Mississippi Sound over by the Gulf coast and that is usually loaded with them. I do hope they have gone off somewhere safe.I will say something kind of shocking I saw on the way back.

Just about 4 miles off the coast of Bay St Louis over to Biloxi we saw lots of oil offshore, deep dark patches, big ones. And of course, the little people swimming on shore. I think this is crazy that they lifted the fishing ban and are not telling people to stay out of the water

The islands, the Chandeliers were cleaned and some birds were there. Raccoon Point is totally screwed, oil on the beach, birds there nesting. That one has just not gotten the attention it sorely needed.
Meanwhile, back at the cable and news networks, you can almost hear the shuffling of equipment and personnel as they close up shop on the Gulf disaster and wait breathlessly for the next crisis. Maybe they will come back in six months, like they did for Haiti, and find things worse than when they left. Or maybe this will be ignored for twenty years, like the Exxon Valdez was, and only revisited after the next catastrophe.
And the news cycles go 'round and 'round.
Our featured pilot, Bonny Schumaker, took NBC up for a tour of the oiled waters yesterday. NBC is taking the lead now and stressing that the oil has not disappeared, it is just hidden. See the report here:
Related
Popular in the Community