Ever spotted how we cling on to that ratty old T-shirt or worn out pair of PJs though our wardrobe might be bursting with clothes. Or that special mug which we need to enjoy our coffee. The side of bed which is mine should always be mine. It is what it is and there is no harm.
There are many of us who stick to a particular routine from the moment we wake up or say while cooking. You might prefer certain brands to others (which you have probably never even tried) or like to shop at precise locations or online sites. People have the tendency to listen to only certain singers or bands. One can easily argue - why not? That's what I have been doing since I can remember and I love it. Or I am able to get my work done? It is the results that matter isn't it?
How we perceive something as cost or investment or value addition in business also remains largely unwavering. And then there are us who have firm views in life, on what's right or wrong, ethical or unethical, virtue or sin, the right way of bring up our children or approaching life in general.
As we grow over the years, we tend to drift towards our comfort zone and slowly but unintentionally become rigid. It is often because of fear of the unknown, the apprehension from change, anxiety of meandering into something unfamiliar or new that we tend to stick to our "known spaces." But whether we like it or not; the world around us is constantly evolving, seasons are changing and so must we.
There are four aspects of our lives to be worked upon.

1. Tangibles
People tend to have a hoarder's mentality. They might buy new stuff but don't necessarily part with what they already have. Anything physical like clothes, shoes, bags, accessories, even pens or kitchenware, either we really need them or are too lazy to sort them and discard. Don't get burdened with possessions. Practice on becoming detached with things that have served their purpose. Of course, there could be small childhood possessions that we want for keepsake.
2. Emotions
The matter of heart is quite tricky. We invest in friendships and romantic relationships. Then there are the relations we acquire by the virtue of being part of a family. We tend to stick to them or want them to be with us always. Do these people or relationships remain the same? Often people tend to change because their priorities change, circumstances vary and 'life happens.' Sometimes our expectations also change (which we tend to deny). Let go. This life is a gift. Go out and meet new people, make new friends, build new memories. Be happy and free.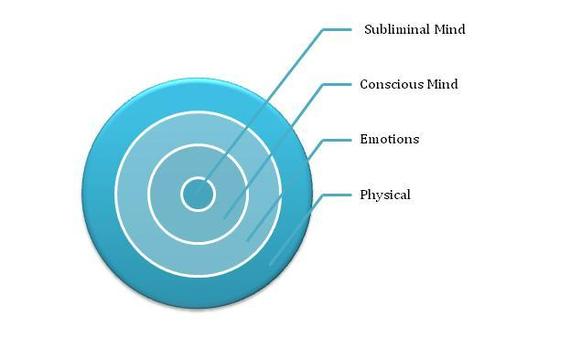 3. Conscious Mind
There is a "doing" part of our mind which manifests in the form of our habits, practices, and routines. These are formed over a period of time and tend to stick. We are hooked to a particular trail or jogging path. We end up seeing the same trees, ditches and rocks or houses, shops, dogs and people. It becomes mundane. Look at the brighter side of life that has so many new things to offer. It is never too late to learn a new skill or take up a new sport. If you are used to doing Pilates and aerobics for fitness, you can make way for Tai Chi or Yoga. There is always a different way of doing things and a better way too. Have you ever tried?
4. Subliminal Mind
Our subconscious mind is the most complicated and difficult to fathom. It is what constitutes our thoughts, beliefs, attitude, mindset and spirit. These influence our thoughts, actions and reactions. Is there any scope to transform them? Yes! Our brain has enormous capacity to imbibe. Under ideal conditions, we tend to remain fixated with our opinion. Pushed against the wall, we become flexible, open to whatever life dishes out. Why not try it proactively? Why not make space for something new, experiment or adopt a new doctrine?
Being proactive is good. It is unhurried and peaceful. It is on your terms and rather pleasant compared to being tossed out of your blissful existence. It means you have time to take stock of your existing attitude or mindset and figure out what is outdated and needs to be renovated. Make the plan for renovation and then go ahead, make the change happen. Evolve.
Related