There is so much to unpack, from the images of the mothers of Michael Brown, Trayvon Martin, and Eric Garner silently holding portraits of their slain sons, to the Malcolm X soundbite that declares, "The most disrespected person in America is the black woman."
And yet, despite all the intricacies and truths about black womanhood laid bare in "Lemonade," an overwhelming amount of the conversation surrounding the video and album has hinged on speculation about Jay-Z and Beyoncé's relationship and, more specifically, trying to identify a woman he allegedly cheated on Beyoncé with, identified in the song "Sorry" as "Becky with the good hair." Well, if you're focusing on Becky, then you're completely missing the point. The point being: "Lemonade" isn't about who Jay Z cheated on Beyoncé with. It's about Beyoncé's strength -- and the enduring resilience of black women everywhere.
It's understandable why people would be preoccupied with Beyoncé, Jay Z, and any potential women he's cheated on her with. Beyoncé is quite possibly the biggest music star in the world, and she and Jay are the ultimate "power couple." But this isn't the first time there have been rumors about Jay Z's supposed infidelities, with Roc Nation artists Rihanna and Rita Ora both named as his potential mistresses.
And then there's Rachel Roy, the Indian and Dutch fashion designer who was reportedly the catalyst for the epic elevator fight between Solange Knowles and Jay Z on the night of the 2014 Met Gala. Since the release of "Lemonade," many people have assumed that "Becky with the good hair" is a reference to Roy (even though "Becky" is a slang term for white women, but OK).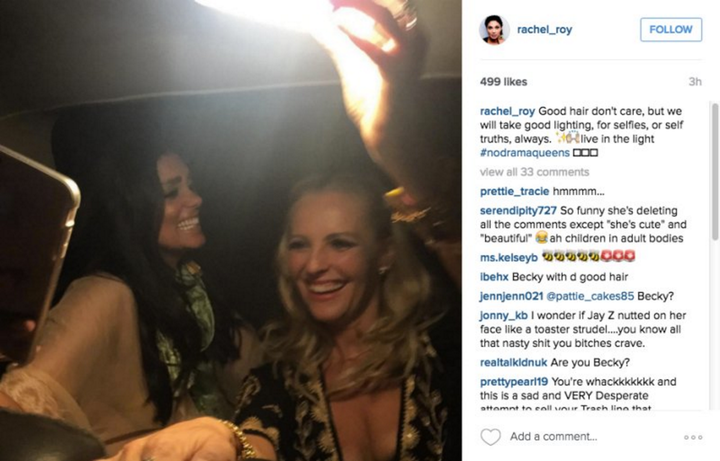 Roy added fuel to the speculation fire when, hours after "Lemonade" premiered, she posted a picture on Instagram (above) of herself laughing with the caption: "Good hair don't care, but we will take good lighting, for selfies, or self truths, always. live in the light #nodramaqueens."
Regardless of whether or not Roy really is the other woman Beyoncé references on the album, it's unfortunate that she's receiving all this backlash, based purely on speculation. Because either way, Roy is irrelevant to this story. Meanwhile, Jay Z remains relatively unscathed, save for a few hilarious memes.
But one thing is clear: The vitriolic reaction to Roy and the focus on this drama overall says a lot about our tendency to make infidelity, betrayal, and sexual transgressions more about the "other women" with no mention of the men involved -- and in Beyoncé's case, no mention of the work she turned this very specific type of pain into. What's more interesting: The fact that Jay Z may or may not have cheated on Beyoncé? Or the fact that she turned the pain of his infidelity into a breathtaking work of art?
It's normal and human to relish the drama of celebrity lives. But we need to take a step back and examine why we're focusing on this years-old drama that the Carters seem to have moved past, especially when Beyoncé has given us so much more. "Lemonade" isn't tea to spill. It's truth. It is Beyoncé showing us not only her own vulnerability but the vulnerabilities of all black women, and by doing this she's proving that there's strength in embracing that vulnerability.
This isn't about dogging Jay Z or Matthew Knowles or black men as an entity. This also isn't about Rachel Roy, or whoever Becky may actually be. This is about exploring the pain that black women have been forced to carry, a pain that spans generations.
"Lemonade" is a celebration of the resilience and the fortitude of black women, in spite of everything. "Lemonade" is an exercise in moving on.
Intuition. Denial. Anger. Apathy. Emptiness. Accountability. Reformation. Forgiveness. Resurrection. Hope. Redemption. These are the themes of "Lemonade." And they are so much bigger, so much more compelling than "Becky."
Popular in the Community