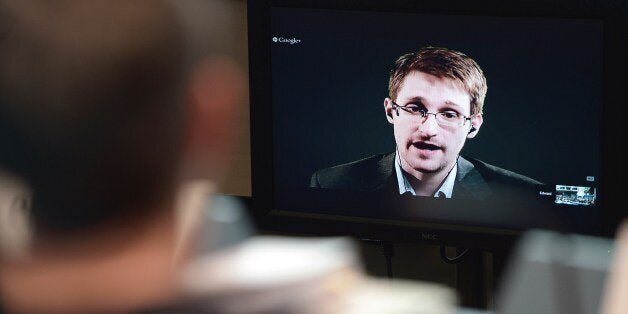 When the National Security Agency wanted to block the public release of former contractor Edward Snowden's emails, it found an unlikely ally: His privacy.
The government cited a federal law protecting privacy rights to deny journalist Matthew Keys' request for Snowden's messages. Experts said Snowden is far from an exception. From Osama bin Laden to former House Majority Leader Tom DeLay, "privacy" claims are the government's latest excuse to keep its secrets secret.
"For an agency whose core mission is the violation of our privacy, privacy is an especially Orwellian rationale for the NSA to invoke in justifying its non-compliance" with the Freedom of Information Act, said Ryan Shapiro, an MIT graduate student who frequently files public records requests with the NSA and other agencies. "That it's Edward Snowden's privacy the NSA now claims to defend only heightens the irony."
Privacy provisions in two laws are often cited by the federal government to deny records requests: the Privacy Act and the Freedom of Information Act. While striving to open the government's inner workings, the 1966 Freedom of Information Act's drafters also wanted to make sure the privacy of ordinary Americans or low-level government workers was respected from "unwarranted invasion."
Since the passage of those laws, researchers and the government have engaged in a game of transparency Whac-A-Mole. Rather than simply making files public, government agencies routinely cite new excuses to withhold documents until they are shot down by Congress or the courts.
Along with a "deliberative process" exemption that allows an agency to withhold documents produced as part of a decision-making process, the government regularly cites privacy. The exemption often is used validly, to protect personnel or medical records. But other times, it papers over sensitive subjects the government would rather keep secret -- and not just Snowden.
Take Osama bin Laden. When the conservative group Judicial Watch asked for files on bin Laden, the FBI redacted his name in files it released in 2005, citing his privacy interest.
There are workarounds, of course. Frequent public records requesters know now to include an obituary for dead subjects, and a privacy waiver signed by willing subjects still alive.
Even those privacy waivers don't always work, however, as one case that involved the Privacy Act demonstrates. When an American citizen charged with shooting a prison guard in Yemen, Sharif Mobley, was "disappeared" from a prison there in February, a U.S. Embassy official initially cited his privacy interests in refusing to tell his lawyer what was happening.
"He is not going to be able to sign a waiver for you in secret detention for you to talk to his lawyer, and it is unnecessary," his lawyer, Cori Crider, shot back in an email. The embassy official quickly found the waiver.
In the end, groups and individuals often have to take the more aggressive route of suing to free information. It's costly and messy.
The watchdog group Citizens for Responsibility and Ethics in Washington had its requests for an ethics investigations into former House Majority Leader Tom DeLay (R-Texas) impeded by the FBI's claims on behalf of his privacy, but it fought that decision in court.
"Generally in the area of privacy, judges are predisposed to privacy," said the group's chief counsel, Anne Weismann. "But we have made some real headway, and where we've made it is with these public figures."
The group won a major decision in the DeLay case in April.
"It's really frustrating, because we've spent a lot of money litigating in these cases -- and winning," said Weismann. "It doesn't stop them."
Calling all HuffPost superfans!
Sign up for membership to become a founding member and help shape HuffPost's next chapter
BEFORE YOU GO
PHOTO GALLERY
Edward Snowden