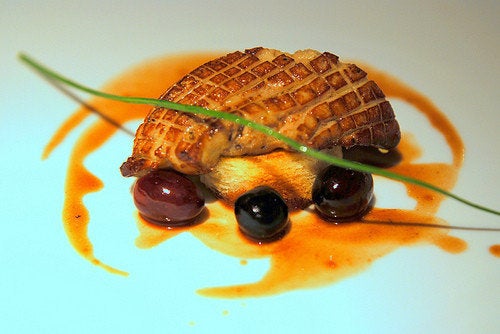 Petrossian West Hollywood's young chef, Giselle Wellman can whip up a staggering menu when she decides to get jiggy with the extravagant comestibles for which the Petrossian brand is known. Like the food of those in whose kitchen she previously toiled -- Thomas Keller, Mario Batali -- getting creative to Wellman means keeping things fairly simple, if you can call simple the "Farewell to Foie Gras" dinner she's serving every night in June as her swan song to the July 1 California ban on the delicacy.
When I told friends of my plan to down five courses, all featuring foie gras, the comments ranged from "you have the greatest job ever" to "ewwww! Gross!" to "how's your liver?," but a girl's gotta do what a girl's gotta do and last week I joined a quintet of smart and funny foie fans and foodies, every bit as captivating as the plates we indeed wiped clean.
Besides Wagstaff Worldwide VP, Trisha Cole, who organized the dinner, guests included Deep End Dining's Eddie Lin, a live wire even before he begins regaling with tales of raw chicken banquets and testicle tastings, Evan Kleiman, host of KCRW's Good Food, and the chef who took L.A. Italian food out of the red booth territory of Carmine's or Dan Tana's and onto Melrose Avenue; dapper Gary Baum from The Hollywood Reporter -- who can resist a bit of Hollywood gossip? -- and dineLA director Stacey Sun. This would be a fun and furious conversation anywhere.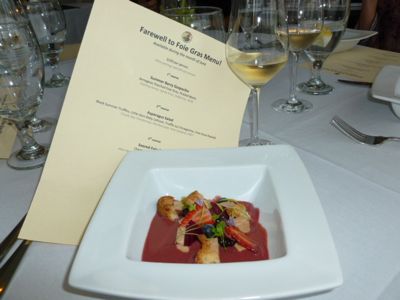 Berry Gazpacho. photo: Andrea R. Vaucher
But we weren't anywhere. We were at Petrossian, and Chef Wellman had just introduced our first course. Made not with just any berries, but with Harry's Berries, the Summer Berry Gazpacho, which was an amazing reddish-violet color with cubes of Armagnac-poached foie gras and pickled beets, reminded Evan how impossible it is to find Maramara strawberries this year. She was prepared to plant some in her garden, but even the plants were nowhere to be found.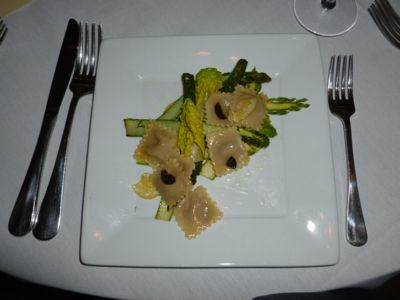 photo: Andrea R. Vaucher
By the time we had our second course -- my favorite! -- a seared, thin-sliced asparagus salad, with black summer truffles, baby gem lettuce, truffle jus vinaigrette and foie gras ravioli, Eddie was explaining -- in detail! -- how he and his mother prepared his wife's placenta for her to ingest eat after a difficult and depleting childbirth. Why not? January Jones took placenta pills. According to Eddie, Kaiser Permanente, where they delivered, will give you the placenta (in a container similar to the one used for Chinese takeout) after childbirth. A day later, his wife already felt revitalized.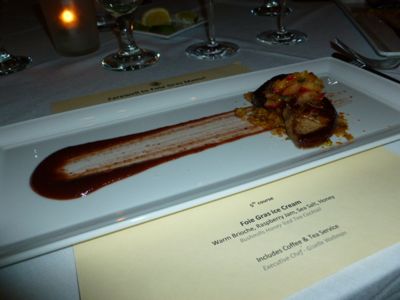 seared foie gras. photo: Andrea R. Vaucher
Now we were onto the real deal -- seared foie gras with cherries, pistachio and mint. Evan sadly recounted the recent shuttering of Angeli and how she helped her staff -- some of whom had been with her for 27 years -- find jobs. Next, she's writing a book about pie, but we're really waiting for the memoir that's surely in the wings. We slowed down a bit, as we ate our prime flat iron steak with foie gras mousse and Fresno chili, which was cooked to perfection, and the conversation veered to Mo-Chica (alpaca stew, anyone?) whose new space features little ceramic dolls decorated by local celebrity chefs (Evan turned hers into a decoupage project with her mom.)
As we segued onto topics like Rancho Gordo Beans, the renovation of Wilshire Blvd. Temple and Baja in the old days, we savoured the feast's finale: a peanut-butter foie gras ice cream sandwich on warm brioche, Chef Wellman's take on the classic PB&J.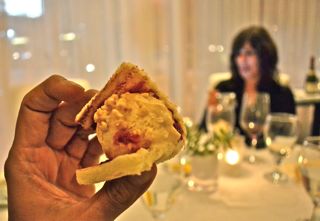 photo Eddie Lin
The menu, which may be paired with wines from across the globe, will be served nightly until the end of June. Do not miss it.
Popular in the Community