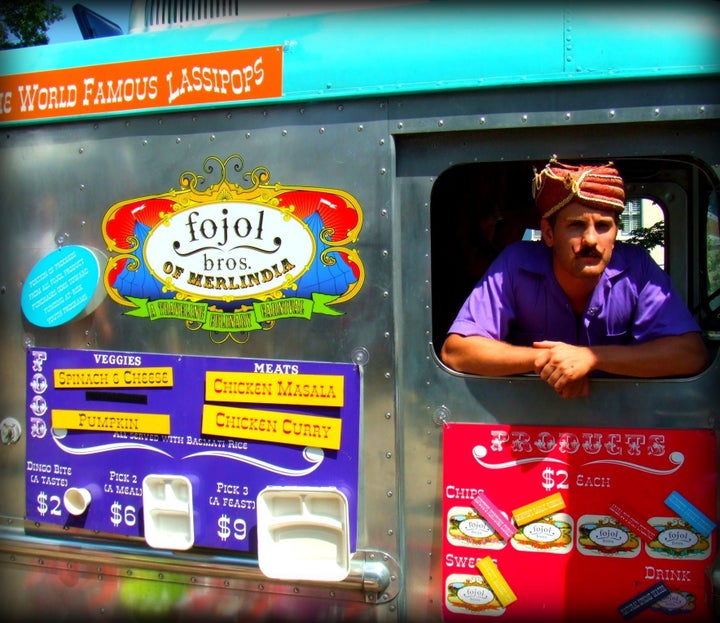 WASHINGTON -- The letter starts "Dear Idiots." That's the friendliest part.
These traditions are "over-the-top racist," Franklin wrote in his letter. The "brothers" themselves are "worthy ambassadors of poor taste" and "well-meaning (if woefully misguided) white boys with a contemptible sense of humor."
"I'm more worried about the Brussels sprouts going bad than this guy's comments," says Justin Vitarello, one of the food truck's owners, who in real life comes from D.C.'s Adams Morgan neighborhood.
Vitarello -- who says the truck is inspired, in part, by people his parents brought home for family meals, like a "medicine woman from some part of the world that I've never even heard of" -- tells The Huffington Post that since the business started in 2009, they've had "no more than five" people suggest that the truck's accoutrements have racist implications.
"It happens very infrequently. And so it doesn't seem very legitimate. It's generally people who are offended on behalf of another group," he says. "That's our reality. I think anyone who starts out a letter with 'Dear Idiots' is also not the most respectful person."
With regards the turbans, and if they might be comparable to "brown-face caricature reminiscent of minstrelsy," as Franklin put it in a follow-up comment to his letter, Vitarello says no. "They're beautiful. They're comfortable. They're colorful. They're worn by religious and nonreligious. There's no accents. Everything is in the make-believe."
"I think that in itself is a racist and disingenuous argument," says Franklin, who tells HuffPost he wrote the letter after hearing complaints from an Indian friend. "If that's fantasy to him, then that right there is the marginalization of rich cultures. They're selling Indian and Ethiopian food. It's pretty amazing to me that you can claim it has nothing to do with those cultures."
What would Franklin like the Fojol Bros to do? Not all the things mentioned in the letter.
"I don't really think the truck should be set on fire [and driven into the Potomac]," he says. "If only because I hold the fish in high regard. I don't want people polluting rivers. The only threat they should be worried about is that we'll escalate a campaign to raise awareness about this, and let people know that this is a problem."
Or the truck's owners could just stop wearing turbans. "Because it's not ok," Franklin says.
"We're not going to stop doing that, is what it comes down to," says Vitarello. "The people and the market will tell whether they like this or not."
UPDATE, 10:55 a.m.: There's a new open letter about the Fojol Brothers food truck, this one addressed to Drew Franklin, in support of the truck. Read it here.
UPDATE, 2:42 p.m.: The Fojol Brothers have issued an apology "to those who have been offended" on the business' Facebook page:

"The fojol bros. apologize to those who have been offended. That was not, is not, and will never be our intent. Fojol is a celebration of food and community, infused with creativity and entertainment. Fojol's owners were born and raised in Washington, DC, but our workforce includes women and men from around the world. Our mission is to embody a traveling culinary carnival. Our clothing and design have two distinct influences: the countries that inspire our food and the carnival's whimsical nature. Our mustaches are a symbol across all three trucks, paying tribute to circus showmen of the past. Fojol's aesthetic is in no way meant to be a caricature of any cultural or ethnic group. Fojol's goal remains the same – to bring healthy, affordable food to the streets, in a colorful atmosphere that lifts people's spirits and encourages community."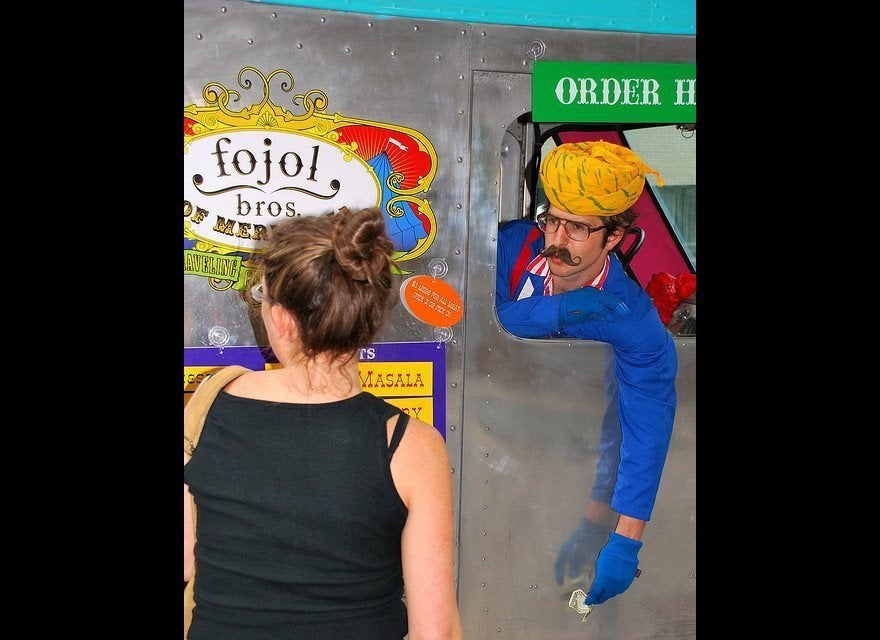 Fojol Bros Food Truck
Related
Popular in the Community