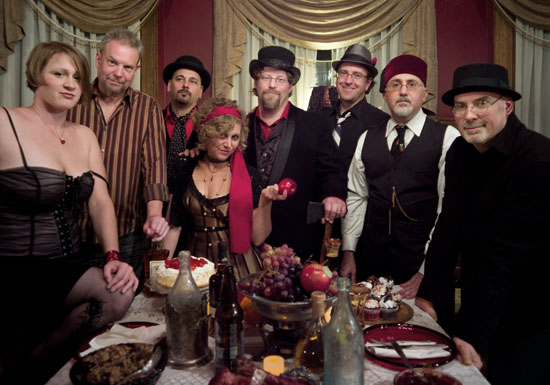 Spuyten Duyvil. Used by permission of Spuyten Duyvil.
I'm back with more reviews of material I picked up or heard about at the Folk Alliance International meeting. This time, I'm writing about Americans, so let's start with some real Americana, and one of the hottest bands in folk music, Spuyten Duyvil. Named after a creek dividing the Bronx from Manhattan, but based in Yonkers, they mix rural and urban vibes by combining blues, country, string-band, and jazz. They're a mighty eight-piece powerhouse of guitars, fiddles and harmonicas, with bouzouki and lap steel for variety, a rhythm section for punch, and high-energy vocals out front. The opener of their CD New Amsterdam, a high-powered version of "Shady Grove," is one of my favorites, but I'm most impressed with their mash-up of Elizabeth Cotten's "Freight Train" and Mississippi John Hurt's "Louis Collins." I wish I'd had this idea, since I've always loved both songs. Knowing that Cotten and Hurt became friends later in life, and hearing how well the tunes dovetail, I find the result inspired yet almost inevitable. Lead vocals are handled with guts and power by Beth Kaufman, who has a clear, gospel-tinged voice, and Mark Miller, who has the gravelly growl of Louis Armstrong or Leon Redbone. Miller's songwriting is fantastic, too, channeling straight honky-tonk country one minute and drug-addled mystical blues the next. All the playing is hot, but special mention should be made of fiddler Sarah Banks (whose harmony singing is great too), and James Meigs, whose harmonica wails up a storm. Here's a live version of my favorite track.
I was glad to receive a new EP from the long-running Celtic/Rock/World Music band Boiled in Lead (BiL to those in the know). Celtic Music fans from the 80s will remember them as a cooler, more American alternative to the Pogues, more skilled at their instruments, with more pure traditional music on one end and more rock electricity on the other. BiL's EP, marking their 30th anniversary, is titled The Well Below, a reference to the title track, "The Well Below the Valley," a hair-raising Irish ballad of incest and death. Their version is based on Christy Moore's, who himself got it from an Irish Traveler named John Reilly. BiL's version adds foreboding drones to the voice and bodhran, otherwise hewing close to Moore's stark reading. Other songs are a rich, complex arrangement of the Roscoe Holcomb classic "Wedding Dress," complete with Celtic bouzouki and Swedish fiddle; a set of Eastern European fiddle tunes; and an original country-rock song. It all sounds polished and impressive, with that old BiL energy and attitude... nice to hear them rocking again!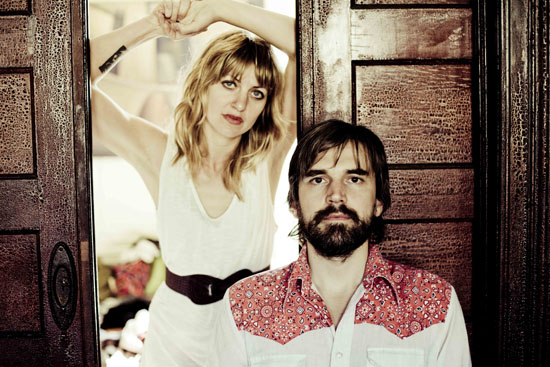 Anais Mitchell and Jefferson Hamer. Photo by Jay Sansone. Used by permission of Crash Avenue Media & Management.
Anais Mitchell is known for her innocent, girlish voice and mature, literate songwriting, while Jefferson Hamer's claim to fame is as a singer-songwriter and a member of Irish folk duo The Murphy Beds. The idea of the two of them together, performing classic old ballads, was a good one, and its promise is fulfilled on the album Child Ballads. Their close harmony singing, backed by guitar, fiddle, accordion, and bass, makes for powerful, uncluttered musical storytelling. And they have great stories: classic British ballads like "Sir Patrick Spens," about a doomed sea voyage; "Clyde Waters," about a mother's betrayal and a young couple's death; and "Riddles Wisely Expounded," a courtship conducted in questions. "Tam Lin," the classic faerie ballad, is stripped of faeries, but works with Tam Lin described as a "shade." All the songs are well played and sweetly sung, with a pleasant and unhurried feeling. It's like curling up with a good book--with Child's ballad book, in fact. I was disappointed that their other sources weren't better acknowledged, though; many of these ballads are not "straight from the book," but were made into singable artworks in my lifetime, by people who deserve recognition. Andy Irvine first set Willie O' Winsbury to this melody (originally the tune Child printed for "False Foudrage") in 1968. "Willie's Lady" was set to the melody of the Breton song "Son ar Chist'r" by the late Ray Fisher in the 70s; Martin Carthy anglicized Fisher's version, and Mitchell and Hamer's is virtually identical to Carthy's. Other selections have similar stories, which should be told along with the tales embodied in these lovely old songs. On the plus side, lovely artwork by Peter Nevins fills the accompanying booklet, enhancing each ballad with a woodcut-style illustration appropriate to its history.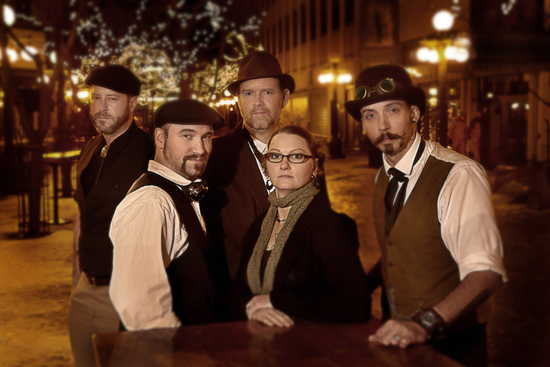 The Langer's Ball. Used by permission of The Langer's Ball
I've often thought that Pogues-style Irish folk-punk is as good a candidate to be called "steampunk music" as any, and St. Paul, Minnesota band The Langer's Ball shows why: they've got Victorian songs (real and pastiche); accordion, banjo, and whistles, which come straight from the 1880s; and a contemporary rhythm section. (Oh, and goggles on their hats.) On The Devil or the Barrel, they power through thirteen mostly upbeat Irish and Irish-style songs with skill and panache. Their songwriting isn't quite Shane McGowan or Phil Chevron, but it's an enjoyable venture into that vein. Their take on traditional songs and tunes, such as "Johnny Jump Up," "All For Me Grog," and "The Real Old Mountain Dew" will leave you elated, but thirsty for a pint; as you might gather, their songs celebrate drinking, love, drinking, drinking, breaking up, and drinking...with the occasional nod to emigration. If you liked the Pogues in their 80s heyday, you'll like the Langers too.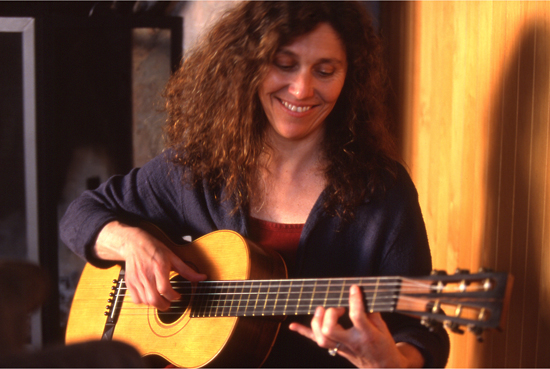 Lauren Sheehan. Photo by Michael Kevin Daly. Used by permission of Lauren Sheehan.
Okay, I'll admit...much of the above would fit comfortably in the "Celtic" bin. (Remember bins?) So let's circle back to Americana. At the meeting someone alerted me to a new CD by Lauren Sheehan, one of my favorite modern songsters in the Elizabeth Cotten/John Hurt vein. This lady is a one-woman Americana jukebox, and her new CD The Light Still Burns takes us on a tour of American music, from Foster's "Old Folks at Home" (with a thoughtful liner note about its cultural complexity) to Gillian Welch's "Hard Times," by way of our greatest blues, gospel, old-time country, and western pieces. The album is conceived as a companion piece to John Thomas's book Kalamazoo Gals, about the women who crafted instruments at the Gibson guitar factory while the men were at World War II or war-related manufacturing. It's twelve tracks with one or more different Gibson Banner guitars on each--fifteen guitars in all. But as a listener, all you'll notice is Sheehan's reverent ringing guitar on "America the Beautiful," her easy loping rhythm on "Home on the Range," her fingerwork and sensitive singing on "When Johnny Comes Marching Home," and her Piedmont picking on "Bearcat Blues." It all sounds deceptively easy, which is a testament to her huge talent and hard work. Like her previous albums, this one's easily one of my favorites of old-timey blues.
Related
Popular in the Community