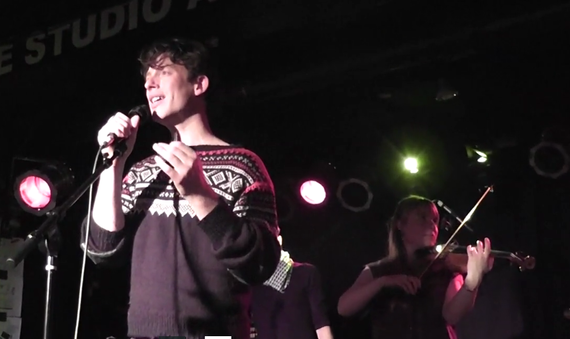 I had heard great things about Sam Lee's performance at WOMEX 2012. (I missed it for reasons too boring to go into.) So I was determined to catch his set at GlobalFEST. He went on right after the PA crashed during Emel Mathlouthi's set (to see how she dealt with that, go here.)
I think the sound man may have been attempting to reconstruct the settings from the earlier sound check, as Lee performed. As a result I felt a certain sonic confusion in the room that kept me from fully comprehending the arrangements. Or maybe it was the room itself that made it hard to hear every nuance. But Lee's music is nuanced to an extreme, and so I kept shooting and hoping that if I could get the sound from the board, I'd be able to revisit what I was hearing.
I was able to get that audio file, and so now I can present you with a marvelous rendition of "Moorlough Maggie" that takes a haunting and highly stylized Scottish folk song and turns it into a riveting piece of chamber music. Lee introduced it as an "end of day" song, one that is sung in appreciation of the stillness of nature. I would assume it is also meant to be sung in unison or unaccompanied, with no harmony singing to flesh it out. But Lee's arrangement with cello, drums, violin, trumpet and yoochin (Mongolian hammered dulcimer) milks every phrase of the song for textural, harmonic and melodic possibilities. Lee's baritone voice is a wonderful folk instrument, true and flexible, and he savors the notes with real pleasure. Why the jew's harp at the end? Perhaps his ethnically eclectic arrangement was hearkening to the Mongolian steppe, where the jew's harp is widely used, and where nomads, like the Travelers he learned the song from, still herd sheep under silent skies.
Calling all HuffPost superfans!
Sign up for membership to become a founding member and help shape HuffPost's next chapter