In the United States and around the world, roots music is thriving, bringing older and younger people alike in touch with traditions of musical, verbal, and social play that have provided pleasure and stimulated thought for centuries. You can see this close to home, by seeking out (for example) old-time jams and picking parties, grassroots rap events, Irish sessions, and drum circles. But you can also see it at the highest levels of the global music scene, in the work of Grammy-winning artists such as the Carolina Chocolate Drops and The Chieftains, both of which have new albums very much worth hearing.

The Carolina Chocolate Drops: Leyla McCalla, Dom Flemons, Rhiannon Giddens, Hubby Jenkins. Photo by Abby Brack, Library of Congress
The regular members of the Carolina Chocolate Drops are Rhiannon Giddens, Dom Flemons, and Hubby Jenkins, who among them play 4-string and 5-string banjo, fiddle, guitar, mandolin, bones, harmonica, quills (aka panpipes), and drums. They are augmented on Leaving Eden, the follow-up to their Grammy-Winning album Genuine Negro Jig, by cellist Leyla McCalla and human beatbox Adam Matta. In a recent discussion I had with the band members, they spoke about their propensity for mixing styles of American and global roots music, and they bring this to sweet fruition on Leaving Eden. From the wildest of rural traditions to the most urbane blues, they provide a taste of many of the styles that made the American music of the pre-rock era so rich and strange. They're also notable for their colorblind approach to American music, covering early (white) country tunes such as Cousin Emmy's "Ruby" and Shortbuckle Roarke's "I Truly Understand, You Love Another Man," alongside blues classics such as Ethel Waters's "No Man's Mama Now" and "Read 'em, John," a rural black ring-shout collected by Alan Lomax. For good measure, they also throw in contemporary songs "Country Girl" and "Leaving Eden," showing two sides of modern life in rural America. You can marvel at Giddens' vocals, appreciate Flemons's tasteful quills playing, or kick your heels up at Jenkins's banjo and bones... the one thing you can't do is get bored. Probably the band's biggest accomplishment is keeping all this variety from feeling like a hodge-podge. In the hands of the Chocolate Drops, it's more like a seamless integration of American roots -- black and white, rural and urban, old and young -- into a satisfying mix of art and entertainment. As such, it's far more deserving of the label "Americana" than a lot of what gets put in that category.
Listen to the Carolina Chocolate Drops' "Ruby, Are You Mad at Your Man?"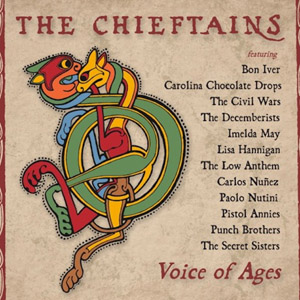 The Carolina Chocolate Drops are on the young end of the folk music spectrum, folks who are exploring and discovering the joys of folk music with fresh eyes and ears. The Chieftains represent the other end of that spectrum, celebrating their fiftieth anniversary as a band with the aptly named Voice of Ages. Made up mostly of Irish, British, and American folk standards such as "My Lagan Love," "Peggy Gordon," and "Pretty Little Girl," along with pieces by songwriters the Chieftains have known (Bob Dylan's "When the Ship Comes In" and Ewan MacColl's "School Days Over"), this album shows that tasteful pop vocals and sympathetic arrangements on Irish fiddles, bagpipes, flutes, and harps can be lovely settings for these folksong gems. On Voice of Ages, the four Chieftains (Paddy Moloney on uilleann bagpipes and whistles, Matt Molloy on flute, Seán Keane on fiddle, and Kevin Conneff on vocals and bodhrán, or Irish drum) are joined by rockabilly/jazz vocalist Imelda May, folky pop band the Decemberists, country stars Pistol Annies, bluegrass innovators Punch Brothers, Scottish singer-songwriter Paolo Nutini, Irish singer Lisa Hannigan, the Carolina Chocolate Drops, and other younger performers. Last time I spoke with the Chieftains was almost fifteen years ago, but they were engaged in the similar project Tears of Stone, and had already released several albums of collaborations with pop and country stars including Mick Jagger, Sting, Sheryl Crow and Willie Nelson. It's a stretch to say, as Colum McCann does in the Voice of Ages liner notes, that this approach constitutes a "virtual hearth" where friends gather for music and good times; it sounds much more like a high-end all-star concert with the Chieftains serving as house band. Still, it's a formula that has served them well since 1991's The Bells of Dublin, and the focus on younger people this time makes a nice contrast between the generations. It shows not only that the Chieftains and their traditional Irish sounds still have all the energy and vitality of youth, but also that many of these young artists have the wisdom and professionalism of veterans. Guests from the folk music world, less well-known than their pop counterparts, include guitarist Arty McGlynn, bagpiper Carlos Núñez, and former Chieftains Seán Potts (whistle), and Michael Tubridy (flute). The deluxe CD release comes with a "making of" DVD whose best moment is footage of NASA astronaut Cady Coleman playing the Chieftains' flutes on the international space station; if you think of the Chieftains as global artists, you may be thinking small!
Listen to The Chieftains' "When the Ship Comes In":
REAL LIFE. REAL NEWS. REAL VOICES.
Help us tell more of the stories that matter from voices that too often remain unheard.