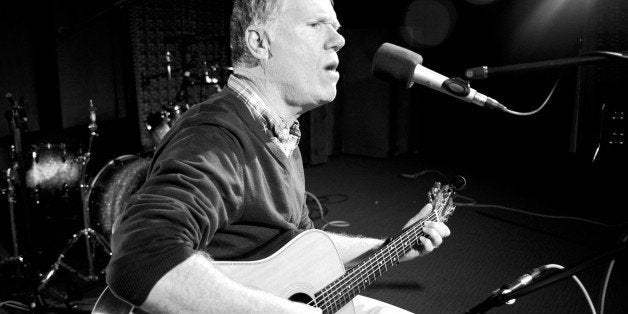 Having turned 68 last month, the iconoclastic folk singer and frequent actor in Judd Apatow films, Loudon Wainwright III looks sort of like Dennis the Menace all grown up. He's tall, lean, has a receding hairline with a shock of sandy-gray hair standing up from the middle of his head. He was wearing a button-down shirt, blue khakis, colorful socks and cordovan loafers for a one-off concert one recent Saturday in October at the Schimmel Center at Pace University in Lower Manhattan as part of a tour for his 23rd studio album released last month, I Haven't got the Blues (Yet).
A sense of playful menace is in his performance style, too. Like his son, the composer and pop stylist Rufus Wainwright, he seems completely at ease on stage, charismatic but with a soupçon or so of aggressiveness. "Thank you for that smattering of applause," he drawled at one point.

Introducing one of three affecting monologues fashioned from his father, Loudon Wainwright, Jr.'s longtime column from LIFE magazine in the '70s that took its cue from the novel and film Love Story, he misstated the author's name, saying "George Segal." Six or seven voices from the audience immediately called out "Erich!"

"Jeez," he said, as if to remark, "You New Yorkers, give a guy a break." And there you have it, this strange and compelling mixture of assertiveness and vulnerability. Saying the unsayable in his wickedly funny, well-observed folk songs, Wainwright is profane, smart, poking received wisdom in the eye and then grabbing your heart with a tender and devastating truth about life and love, mistakes and mystery.

Fathers and sons are a preoccupation of Wainwright's. One of the most touching songs of his 90-minute mostly acoustic guitar set, "I Knew Your Mother," that he said was written for son Rufus' 40th birthday a year ago last summer, touched upon their troubled relationship and his divorce from Kate McGarrigle, who passed away in 2010 and was part of a legendary Canadian folk duo with her sister, Anna, as well as mother to Rufus and Wainwright's other offspring, singer Martha Wainwright.

"I knew your mother, let me be clear.
We were lovers before you got here.
So, don't forget I knew her when.
Love was the means and you were the end."
REAL LIFE. REAL NEWS. REAL VOICES.
Help us tell more of the stories that matter from voices that too often remain unheard.