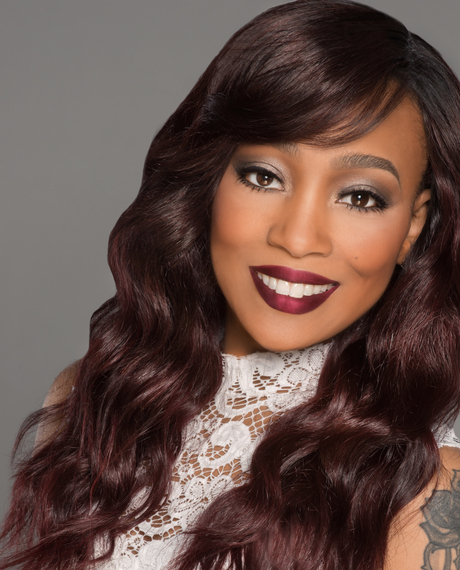 R&B singer Monica was just 18 years old and already a star. Touring the country in support of her second album, she was performing in Washington, D.C., belting out the first portion of "Angel of Mine" when...
"Everything in front of me basically began to go from color to black-and-white, fading in and out," she said. "I walked to the side of the stage to ask for help and collapsed into one of our staff people's arms."
Over the next eight days, doctors struggled to trace the source of her problem. Meanwhile, tabloids cranked out various theories.
The diagnosis: a heart condition called mitral valve prolapse. In simple terms, the flap between the upper and lower chambers of her heart wasn't closing properly.
And so began Monica's journey with heart disease, a ride that's grown wider and deeper as it has grown longer, now in its 17th year. Among the startling revelations was how much heart disease impacts others who are just like her: Southerners. Women. African-Americans. And, most powerful of all, her parents, grandparents, aunts and uncles.
On Feb. 11, Monica's adventure takes a bit of a glamorous turn as she will be among the celebrities participating in the American Heart Association's Go Red For Women Red Dress Collection. The event is the first of many ways she'll be spreading the word about heart disease and it's one of many ways my organization will celebrate American Heart Month.
February and hearts have been linked for hundreds of years because of Valentine's Day. In 1964, the connection took a more serious tone when President Lyndon Johnson declared February as American Heart Month to sharpen the focus in the fight against our nation's No. 1 killer.
We've made great strides in these 52 years, learning countless ways to save, improve and extend lives. Yet heart disease still tops the cause-of-death list.
We also know that heart disease is not just a man's problem. You may be surprised to know that heart disease kills more women each year than all forms of cancer combined. To help reverse all this, a decade ago we launched the Go Red For Women movement.
Before we get back to Monica's story, I'd like to spotlight a few of the exciting events we have planned for this month.
Friday, Feb. 5, is National Wear Red Day. We encourage you to don your favorite red attire and be on the lookout for newscasters and other celebrities doing the same. Local and national landmarks will be bathed in red light, too.
Tuesday, Feb. 9, Woman's Day will host the 13th annual Red Dress Awards to honor those making significant contributions in this fight. Today Show co-host Hoda Kotb will emcee, with The Band Perry among the performers. Honorees include Surgeon General Vivek Murthy; former White House chef Sam Kass; Dr. Kathy Magliato, director of Women's Cardiac Services at Saint John's Medical Center in Santa Monica (California) and the inspiration for "Heartbeat," a new series coming to NBC; Dr. Paula Johnson, founder of the Connors Center for Women's Health and Gender Biology at Brigham and Women's Hospital in Boston; and Dr. Joanne Lupton of Texas A&M for her leadership in studying how nutrition can help prevent heart disease.
Thursday, Feb. 11, is the aforementioned Go Red For Women Red Dress Collection live at New York Fashion Week, and available for viewing live at www.GoRedForWomen.org.
Now, back to Monica's story.
In the time that it took to get Monica from the concert stage to being treated at the hospital, she lost all feeling on her left side. This lasted more than a week.
Regaining full movement took a while. This teen who'd already notched back-to-back No. 1 songs on the Billboard R&B chart found herself pedaling a bicycle in a rehab unit filled with older strangers, all while stranded far from home. She was hospitalized nearly a month, then went back to work without drawing much attention to what had happened.
"That's just the way we did things back then," she said.
Such secrecy about health issues extended within Monica's own family.
She didn't know about her family history. That includes not knowing that an aunt had mitral valve prolapse, a surprise considering that aunt's daughter was (and remains) Monica's manager.
Among the things Monica's discovered is that many of her relatives have high blood pressure, which is also called hypertension. She recently joined the list, with the discovery coming in a painful way.
Monica had been suffering a series of migraine headaches. She chalked them up to stress. After enduring one so severe that it required a trip to the hospital, the diagnosis followed.
Medication can help get her numbers under control. That's a good short-term solution. For a long-term answer, she's changing her lifestyle, especially her diet, in hopes of ditching the pills.
"I'm literally learning how to cook, live and function completely different so I don't have to live like I've seen my aunts, uncles and grandparents do in dealing with their heart diseases," she said.
This is a big part of the message she hopes to begin spreading through her work with the American Heart Association.
Hearing someone who's already controlled her blood pressure talk about what worked can be instructional.
Hearing from someone who is trying to get her blood pressure under control while you're doing the same thing can provide another type of support. Teamwork.
Monica is motivated by the same reason as most people: her children. She has three beautiful children (Rodney, Romelo and Laiyah) and has been married to NBA player Shannon Brown for six years.
"I'm really trying to be here for them," she said. "I don't want them taking care of me when I'm in my 60s because I didn't take care of myself."
Here's her first tip. She calls it the "self-check." It's essentially her reminder to herself to do the small things that can have a big impact, such as drinking enough water each day. While on tour -- she recently performed in 24 cities in about 30 days -- it is easy to lose track.
"I might be getting my hair and makeup done and realize I haven't had the proper water intake," she said. "So sometimes I set an alarm to remind me to do certain things until they became a full lifestyle change."
I encourage you to do the same. This month, pick a lifestyle change, big or small, and make your own self-checks to help you stick with it.
After all, there's only one Heart Month, but caring for your heart is a year-round pursuit. Here's hoping a healthy habit you pick up this month can last a lifetime.

Related