It's one thing to dream of a 6 month trip, it's another thing to decide you are going to take a 6 month trip and it's whole other thing to start planning for a 6 month trip. No matter how much time you have to prepare, it always falls down to that last week before your plane takes off. And we are no exception. Although we both had over 2 months from when our last day at work was to when our adventure began, there still didn't seem to be enough time. However, fast forward to January 13, 2016, and I can proudly say we successfully checked everything off of our to do list (phew) including the following:
Figuring out which countries to go to, how long to go for, what we need to get in safely and securely, when the best time of year to visit is, etc.
Receiving over $2,000 worth of vaccines - Hep A, Hep B, Typhoid, Rabies, Japanese Encephalitis, Polio boost, MMR boost, Tetanus Boost, etc.
Obtaining a 10 year visa to India (had to send in our passport so that's always scary)
Organizing a 7 week trip to India and pinpointing the best modes of transportation to get from point A to point B throughout 15 cities (by far the hardest country I've had to plan for)
Spending as much time as possible with friends and family
Determining how to keep in touch from across the world and TMobile was the answer (so feel free to text, email, etc. as the word roaming doesn't exist now)
Enjoying time with each other knowing that we are currently living the dream and want to soak in every minute we possibly can
Moving out of our home and basically putting our entire lives into a single POD
Getting out of my car lease at the very last second I could, literally (so now I'm homeless, jobless and carless - boy does that feel good!)
Packing for a "we don't know how long" kind of trip with one backpack each, that we can carry on (mind you, Vinny didn't officially start packing until 12am on January 13th, finished around 3am and we had to wake up at 4am to make my Dad's roll call for the airport at 5:30am - talk about cutting it close)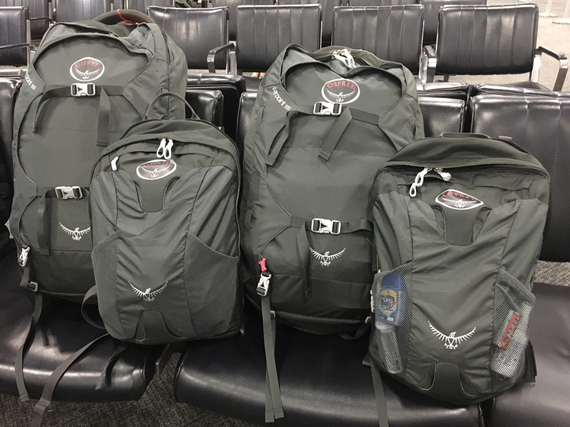 All that was left to do was board a plane (hoping our backpacks passed all the TSA tests for carry on) and enjoy some down time for 22+ hours until we officially landed in India on January 14, 2016 around 9pm local time. And this is where our story really begins...