Berlin-based artist, J. Jackie Baier, specializes in night photography and a black and white grainy aesthetic, which captures someone, or thing, barely emerging. Even when shooting in color, a gritty glamour soaks through lurid reds and yellows of bodies swimming out-of-focus. Her new website showcases professional work, and the personal project Real Cool Time, an exclusive magazine series of her original photographs from the Berlin underground punk-queer-trans performance scene.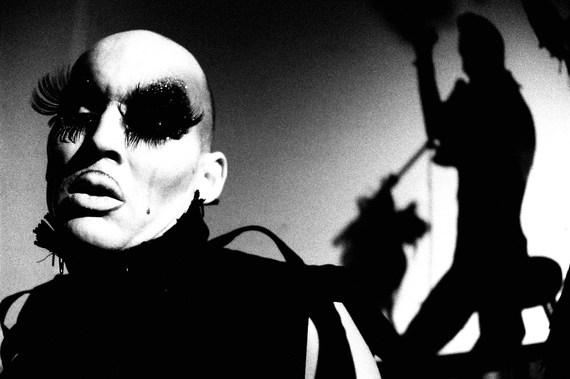 I first saw Jackie at Berlin's Moviemento cinema during the 8th Berlin Porn Film Festival in 2013, presenting her award-winning documentary, an extended portrait called JULIA. It was a hard-hitting doc about a poetic street sex worker from Lithuania, Julia, she met while working at a trans hostess bar, who becomes over 10 years her falling apart protagonist. I never saw anything as brutally honest in terms its portrayal of sex work, drug use, gallows humor, life philosophy, and ambition. Jackie learned to "follow your protagonist, always," because you must commit to their life for the collaboration to work.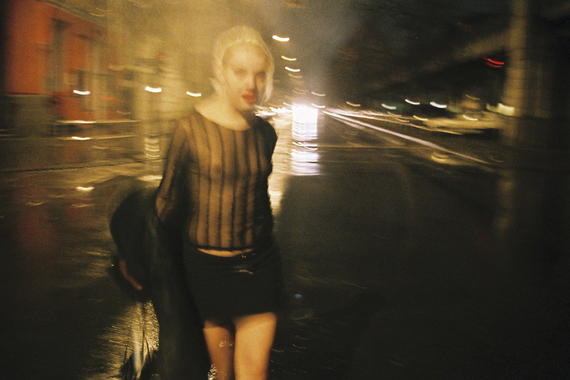 Jackie had been a drama series scriptwriter and director for German soaps like Marienhof for more than 15 years, prior to and after her transition. She turned 60 this year, and grew up wanting to be like Ingrid Bergman, heard about Renée Richards when her bio-pic came out with Vanessa Redgrave playing the trans tennis star, watched Fassbinder films and sympathized with the protagonist of In a Year with 13 Moons, and came to know Warhol's depictions of Candy Darling especially loving Women in Revolt, and falling for the series "Ladies and Gentleman" (1975) with bright, loud characters. She also lived through the AIDS crisis, and was a contemporary of the Dutch trans cabaret star and nightclub queen of Germany, Romy Haag, whom she has portrayed for poster art. She was attracted to the intimacy of Richard Avedon's images of feminine people and the rock-n-roll roughness of Anton Corbijn's stylized masculinity.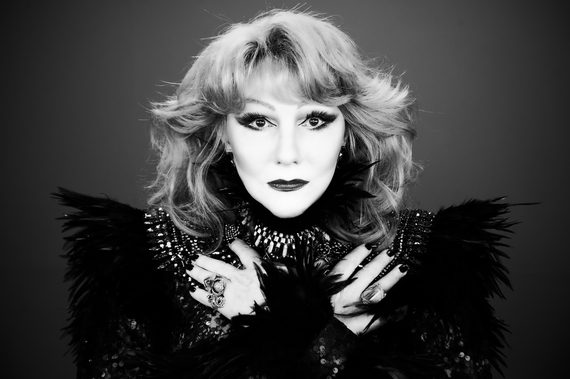 During 1997 when she reintroduced herself to her work environment, and started to lose jobs, something fundamental shifted: "somehow everybody I knew then felt quite uncomfortable with the fact that they should address me as a woman. Even some of the other transsexuals I've met, were constantly afraid that we produced a somehow painful impression." The problems she faced with occupying her new social position as a woman led to a creative crisis as well. "The point zero of perspective was empty. The mirror, center of reflection, was broken." She explains that transitioning meant loosing her perspective from a particular social role, and during 1997-99 her eyes wouldn't focus. She likens the experience to what Walter Benjamin identified in novels when the loss of the narrator function, Der Erzähler, left no subjective position to speak from.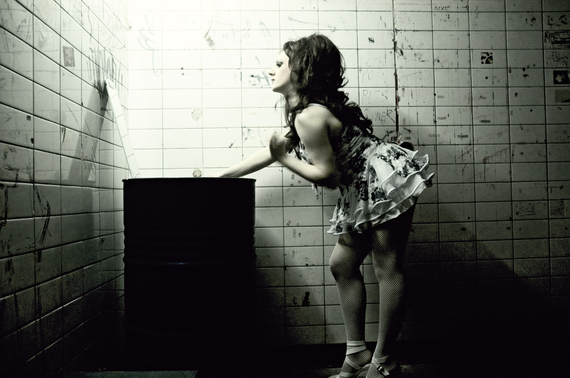 She picked up a camera to try to connect to a point of view, borrowing the technological position of the camera's eye for her own, using the prosthesis to see but also as a social connector that enables her to enter into a social scene and "get into contact" with people. Though doctors said nothing was wrong with her eyes, and in time it did resolve itself, Jackie feels she retrained her perspective by using a photographic camera's autofocus. But she also felt like these were bad photographs. She came to prefer the experiments of her own blurred vision, when the camera registered an impression of emergence and movement, which for her was more truthful than a readymade image.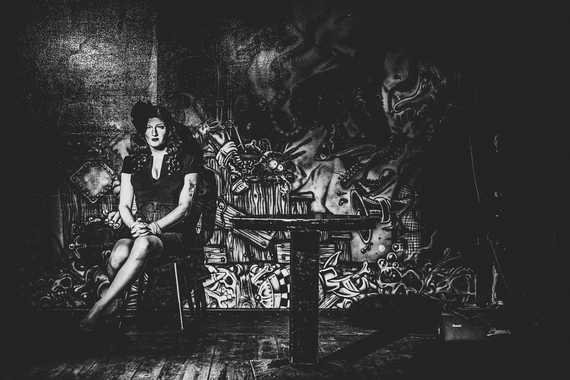 She soon found a weekly queer party in Berlin called "House of Shame" hosted by the first transsexual woman she had met who was not afraid to be one, the legendary Chantal. Week after week she would go in with her old Nikon to find protagonists. She didn't want a picture -- who could shoot in those conditions? -- she wanted to get connected. She writes of this experience:
I walk past a room, look around me -- it is dark and it is crowded. Music at full volume. A beer at the bar, further down a group of men at the soccer table, behind it -- kind of a backstage room, but it's not worth the name. Everything happens in the middle of the public, every action is party action, everybody is rolling around, dancing, spoiling beer and vodka. Men are shouting to make themselves heard, people pushing forward, heading for the urinal or for the toilets and the coke. Everything, every movement, even holding a camera in my hand and lifting it to the eye -- it's all in the middle of performance. Everything seems to be amorphous, the lighting disintegrates the forms. I throw myself into the revolving darkness and as I point and shoot, I desperately wait to be struck. I'm looking for a story that hides in the dark.
Many of these black-and-white photographs and others of nightlife people are published in her commercially available magazine series Real Cool Time, which document her shared timespace of possible connection, or disconnection, of dark gropings.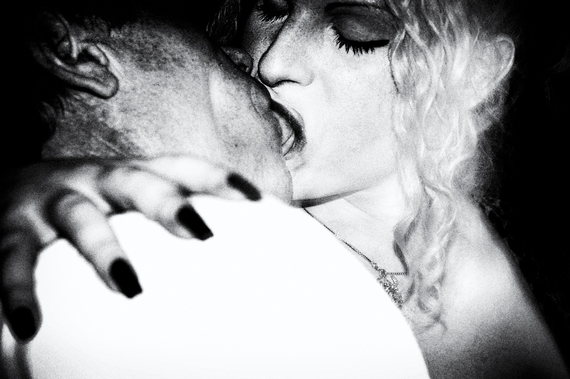 Jackie found a kinship to her trans aesthetic of shooting without a foundational, subjective perspective in the Japanese style of of photography are, bure, boke, translated as "grainy, blurry, and out-of-focus," popularized in Japan in the late 1960s, a challenge to staid versions of European style photojournalism. Whether through deliberate 'de-skilling' of camera technique, or simply her visual experience, Jackie found her way back into social contact through sticking to the truth of her unmoored, opaque vision, and developing a new sociality through its affective force. Whether drunk, love high, exalted, addressing, quizzical, attention seeking, showing off, feeling sexy, feeling down, Jackie says, "Follow the protagonist, always." That is her method. This is not portraiture that rehabilitates the outsider, conferring dignity. Her practice explores the possibilities for capturing individuation on the brink of dissolve.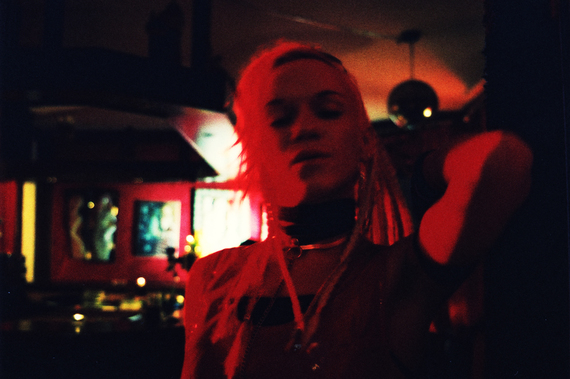 Jackie is currently preparing to shoot her third protagonist-led feature film; after House of Shame: Chantal All Night Long (2011) and JULIA (2013), this one, titled Bianca, Or Love Is All You Need, is about "La Bianca," a trans flamenco diva on the road back to her beloved Barcelona. This latest project is in the process of securing funding, with co-producers Spanish/Catalan ALHENA, young Berlin based Amard Bird Films and Jürgen Brüning on board, who also works with queer filmmaker luminaries Bruce LaBruce and Cheryl Dunye. With this third feature, Jackie becomes a protagonist in her own right, certainly someone to follow. Follow Jackie on her website. Support her work with the purchase of Real Cool Time, and join in the hazy, rollicking fun.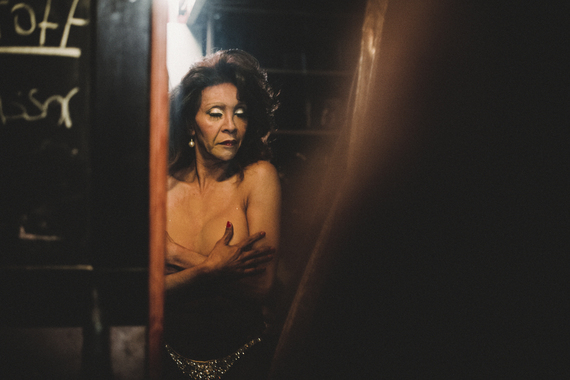 Calling all HuffPost superfans!
Sign up for membership to become a founding member and help shape HuffPost's next chapter