It was a raining cats and dogs in NYC Thursday evening. But that didn't keep Martha Stewart away from the Opening Night Reception of Kips Bay Decorator Show House. The Domestic Diva had a dewy glow and a warm smile as she took in all of the delicious interiors at this year's event. I know because I was literally behind her most of the night as I walked through the lushly decorated mansion.
As it turns out, walking a few steps behind Martha is not such a bad place to be. The public relations folks and design stars smiled -- some even visibly gushed as they saw her. "Look at how great her skin looks," one young woman said. I looked that gal straight in the eye and said, "That's because Martha drinks at least eight glasses of water a day." I don't know why I know this -- probably because my mother told me. But I digress.
While the masses flocked to Martha, I enjoyed the path she'd cleared, and really took in the wonder that was Kips Bay this year. Aside from Martha, the event was uncharacteristically void of celebrities. The weather kept them away, I suppose. A little torrential downpour won't deter Martha, or me either for that matter.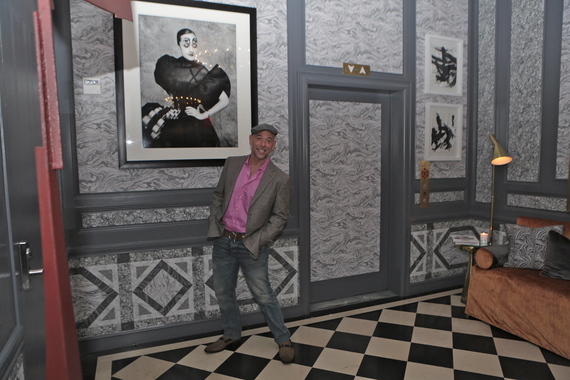 For those not familiar with Kips Bay, this 'Granddaddy of all Show Homes' is now in its 42nd year. It brings together the crème de la crème of the design world, each decorating one room or space. This year the event was held at the Villard mansion at 457 Madison Avenue.
At Kips Bay, the rooms are set up like an actual living spaces, so every part of the home is represented....from kitchen to bathrooms, living room to bedrooms. My photographer asked Martha if he could snap a photo of her in front of a futuristic fire screen in the living room. She graciously obliged. As she did, I envisioned a Barbarella-inspired photo shoot in the room, with Martha in the title role. Maybe for her next Halloween issue?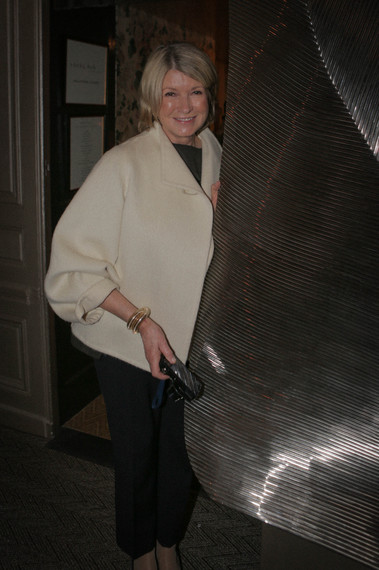 I left Martha outside of the kitchen, which was tricked out with every kind of bling imaginable. I know Martha feels at home in the kitchen, but I don't cook, so I headed upstairs. As I climbed the grand Romanesque revival staircase, I had to pause midway on the landing, which featured a chair, a console and a sculpture -- all of which were quite inviting. When I reached the top I was impressed with the large golden origami-like chandelier. All of this was wrapped in bold and handsome wallpaper with horizontal chocolate, cream and hazelnut stripes. (In addition to making the space feel larger, it also made me hungry!)
As a New Yorker, I appreciate the value of every square inch of space, and this one was designed to perfection. When I turned my head to look at it again, I noticed my friend John Douglas Eason. As it turns out, John was responsible for the staircase transformation. As a first-year Kips Bay Designer, this is what John was given. He clearly took the opportunity and ran with it.
John had this to say: "My first thought was scaffolding, scaffolding and Ka-ching,. Next thought was it would be really hard to get a great photo. In the end it was a big challenge but I felt like it was more than worth it to get my foot into the Kips Bay door."
In regards to the well-chosen elements, John said, "I have looked to reward the visitor's procession up the stair with resting points that dramatize the journey." I discovered that the sculpture is "Purity" by Barry X Ball, and the chandelier is "Oh Mei Ma Kabir" by Ingo Mauer.
The wallpaper? It turns out that it is hand painted on canvas and is a John Douglas Eason collaboration with Christianson-Lee Studios.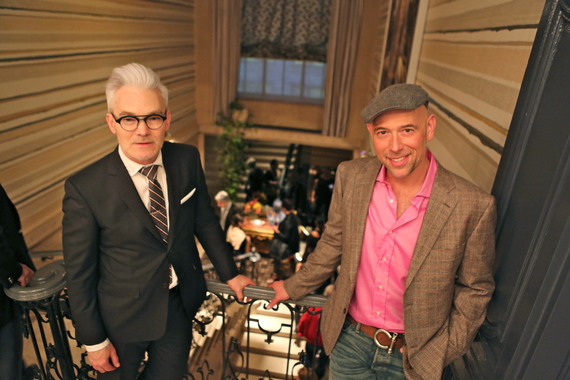 As I said my goodbyes to John, things started to heat up as I entered the first bedroom.I was greeted by the soft, cool strains of a saxophone. With framed black and white beefcake photos of NYC Firemen on the dressers and side tables, and large color photos of Laurie Simmons' "Love Dolls" series on the walls, I knew that this designer had a saucy vision of the room where most of us spend one-third of our lives.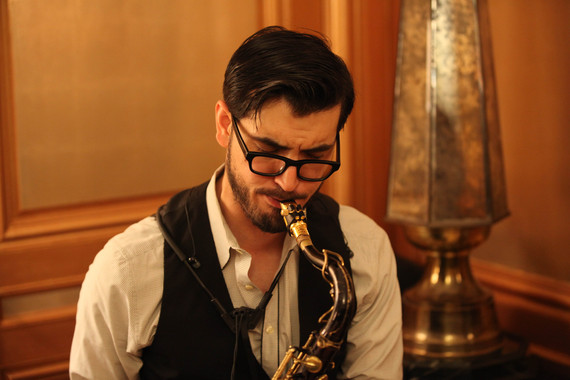 Before I could wrap my head around all of the suggestive décor, I was introduced to Ellie Cullman, the designer responsible for the space. As it turns out, her title for the boudoir is "Some Like It Hot," which explained the saxophone and the Art Deco furnishings that made me feel I was transported back to the film of the same name starring Marilyn Monroe, Tony Curtis and Jack Lemmon. The three were in an all-girl band (see the movie) and Marilyn (aka 'Sugar') bemoans getting the "fuzzy end of the lollipop" while all the while craving the sweet end.
Just like the film, this room was filled with double entendre, humor and sex appeal. And with bowls of gold and white candies, it was pretty sweet as well. The golden walls and carefully chosen lighting added to the room's warmth and intimacy. I hear Martha is trying online dating at the moment. I wonder if she got any ideas for entertaining that special someone?
As I exited the bedroom, the designer's publicist whispered in my ear and let me know that she recently published a book called "The Detailed Interior." Since Ellie is clearly an expert on details, I'm adding it to my wish list.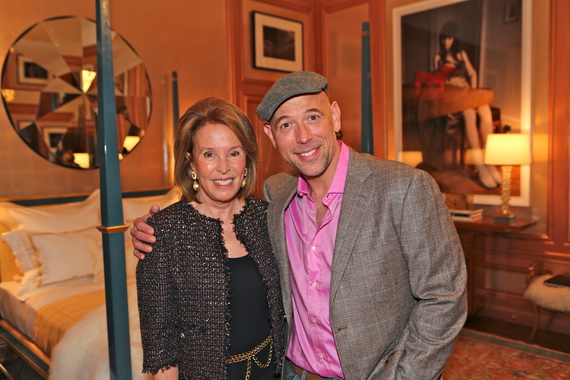 All of the rooms are fantastic, but I'm limited in time and space, so I'll wrap up with my favorite one. It was the last on my list, back at the base of that fantastic staircase. It was jammed packed in my first go-round, so I happily discovered it was much less populated by this time, except for You Know Who.
That's right. Just as I was about to enter the library, Martha was exiting. I smiled and said "After you," as I invited her pass me at the threshold. As I entered the blood-red room, I smiled and felt that I was home. Designed by my pal Architect and Designer William "Bill" Georgis, space was filled with a bravado and masculine energy that felt a bit like "Brideshead Revisited" meets "Night Gallery."
Bill was all aglow....perhaps from the lengthy visit with Martha (I'll bet this was her favorite room as well), or the scotch he was drinking, or the feeling of satisfaction that must come from creating a masterpiece of a room. Maybe it was a combination of all of the above.
Swooning over the well-chosen antiques, I made a beeline for a George II olive green lacquered cabinet, which I learned was English, circa 1730. That magnificent piece was flanked by two windows dressed with gorgeous cravat silk taffeta drapes. The holdbacks? Antlers. What a fantastic idea. It created a sophisticated yet tongue-in-cheek hunt feel.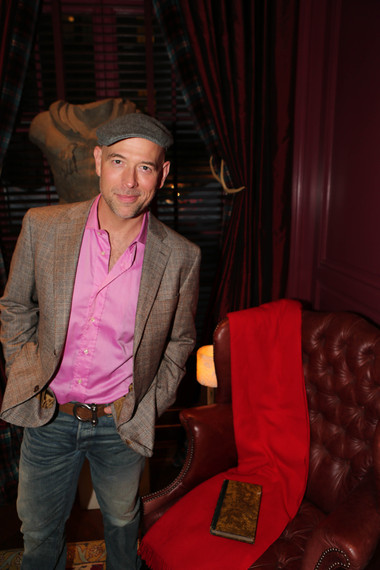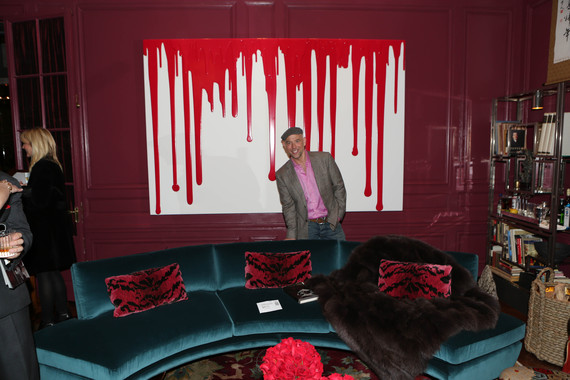 Speaking of hunting, a large canvas on the opposite wall actually appeared to be bleeding. While wildly contemporary, the painting (by controversial Polish artist Piotr Uklański) totally worked in the space.
When I pointed to a Roman torso on a pedestal, Bill smiled and told me it was from the Second Century AD. Then my eyes darted over to a signed photo of Joan Crawford I recognized from Bill's home. He laughed and told me that the now deceased Cardinal Spellman of St. Patrick's Cathedral was his imagined occupant for the study. (Bill gave it to me in a nutshell: Spellman was a staunch supporter of Joseph McCarthy, Richard Nixon and male members of the chorus in the Broadway revue "One Touch of Venus").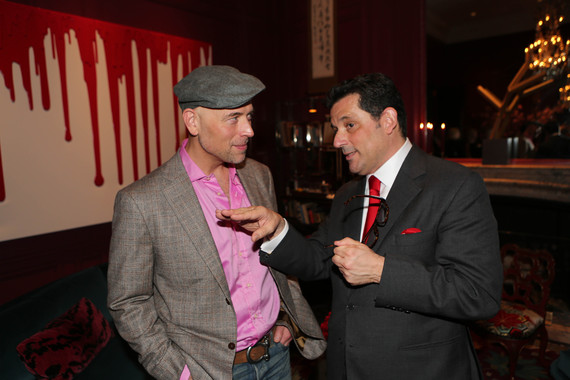 Why the abundance of red? According to Bill, "Red evokes royal interiors ecclesiastical vicarages, brothels and Diana Vreeland's Garden in Hell." Makes sense to me.
Bill is the author of a book I gave to several friends this past Christmas aptly titled "Make It Fabulous." It's a shame that this room was created after the book was published, since its fabulousness merits being immortalized in print.
Speaking of making fabulous things, Bill also created some of the standout pieces of furniture in the room. They included the Whalebone sofa, club chairs and Santa Sangre console, all of which are part of The William T. Georgis Collection for Maison Gerard, New York.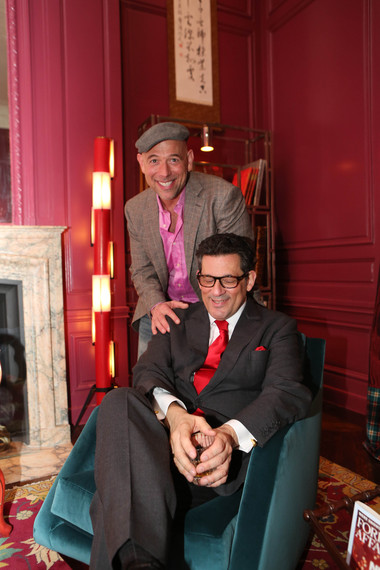 All proceeds from ticket sales benefit the Kips Bay Boys and Girls Club, which provides after school and enrichment programs for over 11,000 young people in The Bronx. And in the immortal words of Martha, that's a very "Good Thing."
All Photos By Blake Drummond
Calling all HuffPost superfans!
Sign up for membership to become a founding member and help shape HuffPost's next chapter