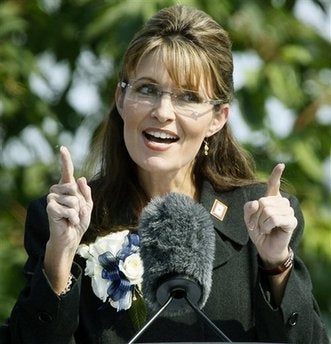 I'm not really great writing about politics but found myself in an odd situation of keynoting the same event as Sarah Palin in Hong Kong. I happened to give a talk in Anchorage the day after she spoke at the Dena'ina Civic and Convention Center in Alaska just after she was selected as VP candidate - so this was a funny feeling of deja vu.
In a packed room I sat between the other keynotes, Sir Ken Robinson and Robert Fisk, as she took the stage. While it was mainly a crafted speech the only real surprise was her open criticism of the GOP. It was almost more pointed than comments to the Democrats (or 'other guys' as she referred to them). Beyond standard talking points, the main theme was asking for a grassroots rebirth from 'local GOP politicians' over those in Washington DC. A sort of tough love on those who 'had sold out their conservative principles'.
I ended up tweeting the talk and other than her comment on the Fed, I think it's somewhat accurate. Her strongest parts of the talk, whether you agree with them or not, were on domestic concerns and what she called 'the view from Main Street'. I actually happen to live on a Main Street (in a small town) and not sure most of my neighbors wouldn't agree with her views on the success of Thatcher-ite policies and that cap and tax (trade) will cause more unemployment and do nothing for the environment.
Palin took time to urge Obama to increase troop deployment in Afghanistan and reminded attendees it was the 'US military presence in Asia that allowed it to prosper'. Then she took the risky move of criticizing China on Taiwan and Tibet, noting it needed to be a more responsible global citizen and allow greater freedom for its people.
It wasn't all politics; she slipped a few jokes into the proceedings including on the density of Hong Kong vs. Alaska and one made on Todds' expense (something about needing a wife?). As a shout out to the tech generation she noted her fondness of Facebook as a way to get around the main stream media - 'I love it!' she exclaimed; Palin felt that the company was a success story of US ingenuity and shows 'we still got it' - can't argue that, can we?
Anyway as a courtesy I've offered that she can tweet/facebook my talk tomorrow. It's on developing strong communities and how government failure led to an opportunity for rebuilding through public/private partnerships. It's more a view from a post-Hurricane ravaged Main Street.
Let's see if she returns the favor.
UPDATE: Twitter followers will donate $750 to our work in rebuilding Myanmar if she attends my talk, $1250 if she stays through Q&A. Will report on final tally AND if she shows.
A total of $2250 was on the line. Alas she was already gone, so the challenge become null and void. I did challenge the room of investors to redistribute my honorarium to charity (as we always do) - they surprisingly went for project-focused funding over capacity building.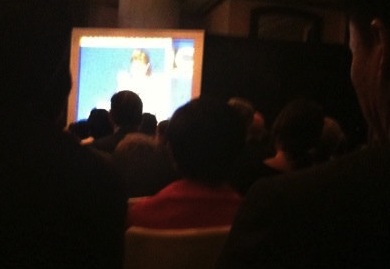 ...awful blurry image... (I won't give up the day job)
If you want a real account of the speech I suggest to download it when it becomes available. - here (leaked by Ms. Palin on her facebook account)
REAL LIFE. REAL NEWS. REAL VOICES.
Help us tell more of the stories that matter from voices that too often remain unheard.