LeAnn Hager writes from Bangui, Central African Republic, where she is the Country Representative for Catholic Relief Services, the official overseas humanitarian agency of the Catholic community in the United States.
On his recent visit to Africa, Pope Francis refused to change his schedule. Ignoring warnings from his own security staff, he visited what many think is among the most dangerous countries on earth - the Central African Republic.
And he brought the people, who've been in the crossfire of a protracted violent conflict and what he has called an "afflicted and tormented nation," exactly what they needed - hope.
One reason for that hope is that this visit by perhaps the most famous man alive today put the spotlight on a country - often called CAR - that is usually in the shadows, leaving them only when an occasional brave journalist ventures here and then only to chronicle the violence.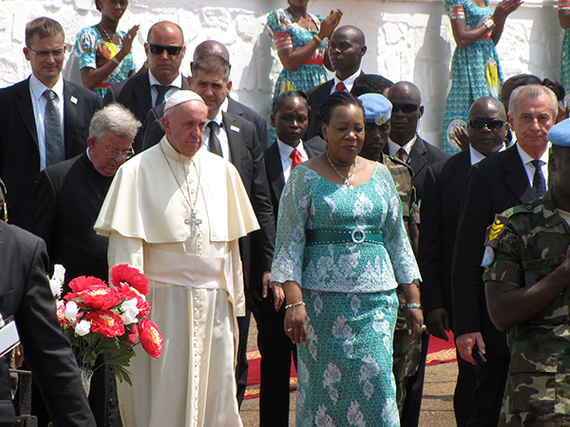 Pope Francis meets with Catherine Panza Samba, President of the Central African Republic. Photo by Leann Hager/CRS
The media coverage rarely contains a seed of hope. But then Pope Francis came and placed his healing hands on its people. He planted that seed. Now it is up to us to support the citizens of CAR to nurture its growth into a brighter future.
A country the size of Texas, CAR sits in the very heart of Africa. Despite considerable natural resources, it is one of the world's poorest nations, plagued by poor governance and violence. Human rights abuses are widespread.  The average lifespan is a mere 49 years. Tragically, 20 percent of children die before the age of five, mostly from malnutrition and easily preventable diseases.
 
Fighting in recent years has political and economic roots but has divided the country along religious lines, Christian and Muslim. The violence has at times been unspeakable.
The message Pope Francis brought to CAR, both in his actions and words, was simple and profound: peace is up to people. It is the choice of each individual. As he said in a tweet sent from CAR: "Christians and Muslims are brothers and sisters and we must act as such."
Not only did he say mass at the cathedral in the capital, Bangui, he also went to the Grand Mosque of Koudoukou here, saying, "Those who claim to believe in God must also be men and women of peace ... Together, we must say no to hatred, no to revenge and no to violence, particularly that violence which is perpetrated in the name of a religion or of God himself.  God is peace, God salam."
At a camp where some 15,000 Muslims are virtually under siege, he said, "My wish is that you can live in peace, regardless of your ethnic group, your culture, your religion and your social background... everybody living in peace because we are all brothers." He asked all to say together the words "we are all brothers."
Francis asked the people of CAR to bridge the artificial gaps that divide them, to understand that violence only damages their country, their towns, their neighbors, themselves. Revenge only continues the cycle that brings everyone down. It is time to stop and begin to build anew.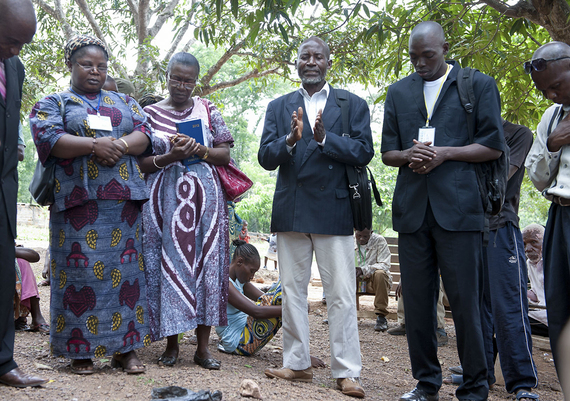 Religious leaders in Bangui, capital of the Central African Republic, pray for reconciliation of divided communities. Photo by Catianna Tijerina for CRS
We know what bridging those gaps looks like. Catholic Relief Services has trained thousands of local community and religious leaders of all faiths in peace and conflict resolution. Our reconciliation workshops, funded by the U.S. Agency for International Development, aim to restore social cohesion in communities and break the cycle of violence.
CRS has seen it work in Rwanda, and we're starting to see it work here, too. People are ready for the violence to stop. We have seen the transformation in people of all faiths as they learn peaceful ways to resolve conflicts. The light goes on. The darkness vanishes. We know it is possible. So do not let darkness return to CAR now that Pope Francis has returned to Rome.

Now is a critical time for CAR. Elections set for Dec. 27 offer a possible route out of this strife. Pope Francis literally risked his life to come here, in part so that we all would pay attention to CAR and its suffering people. The United States needs to do all that is possible to support reconciliation here.
The majority of people in CAR live in extreme poverty and have experienced a terribly violent history. Many are suffering from trauma. They need our help to rebuild their lives, their communities, and their country. Let us pray that this papal visit will be the catalyst that will lead to an inclusive election and lasting peace. Working together we can make that happen.
REAL LIFE. REAL NEWS. REAL VOICES.
Help us tell more of the stories that matter from voices that too often remain unheard.