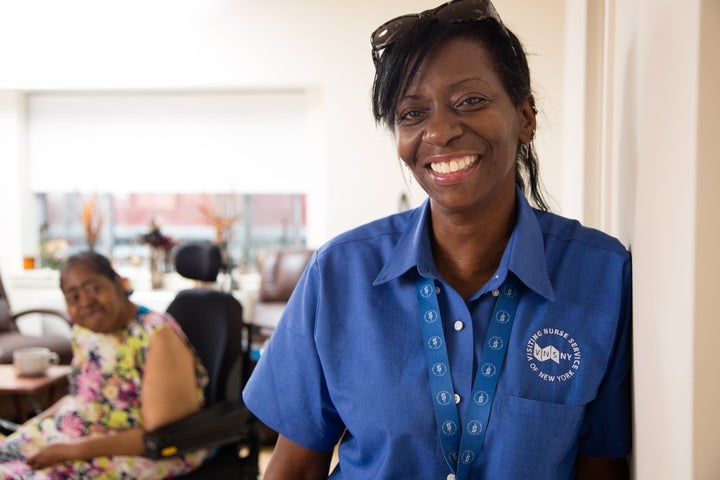 Pearl* felt so helpless and depressed during her first session with senior occupational therapist (OT) Giselle "Gigi" Harris that she broke down in tears. In her early 60s, Pearl was recovering from a stroke that had affected her entire left side. "Her left arm was so weak she couldn't even lift it, and her hand was locked in a fist and wouldn't open," recalls Gigi. As a result, Pearl was unable to do the most basic daily tasks. Gigi immediately began working her on a set of specific goals, including being able to dress herself and move on her own from her wheelchair to the toilet and tub, using a transfer bench, an approach that included working with Pearl on muscle reeducation exercises to increase her active and passive range of motion in her upper body.
As her function steadily improved and despair was replaced by accomplishment, Pearl's mood lifted as well. She did her exercises faithfully each day between OT sessions, and by Gigi's third visit she was able to put on a blouse using just her right arm—putting her left arm in first and then maneuvering her way around with her left. She proudly showed Gigi how she could even handle a button-down blouse and a pullover. "She's one of my star patients," says Gigi today. "She has what I call a good spirit. She likes to laugh and make jokes, and that helped her. She did cry a few more times—but they were tears of joy."
The "Other" Rehabilitation Therapy
It's important to recognize the skills and contributions of OTs like Gigi, who works with us at the Visiting Nurse Service of New York to help patients regain their ability to perform essential daily tasks following a stroke or other disabling disease or injury, or operations such as joint replacement or a spine procedure. People often confuse OT with the better-known field of physical therapy (PT), and Gigi is used to being greeted by patients who tell her, "But the therapist was just here!"
For this reason, Gigi often starts by explaining to her patients the difference between the two therapy types: While PT focuses mainly on improving ambulation such as walking, balance and stair climbing, as well as overall mobility and strength in other affected body parts, OTs work with patients on the more nuanced activities of daily living (ADLs). They may help a patient learn to control their arm or leg after a stroke so they can dress themselves, or show a hip replacement patient how to use a long-handled bath brush to avoid painful bending. OTs will also work with clients on instrumental ADLs (IADLs), such as cooking, shopping, getting the mail and preparing for community integration, and will take the lead in ordering special equipment for patients such as walkers or shower chairs.
In short, OTs focus on reconnecting people with their daily lives. "Occupational therapy practitioners ask, 'What matters to you?' not, 'What's the matter with you?'" notes the American Occupational Therapy Association. Their work can extend into areas of physiology and neurology as well, such as working with a cardiac patient on conserving energy so they can prepare a meal without getting fatigued, or teaching patients how to compensate for cognitive or visual deficits. In some cases they may help patients regain driving or work skills or, with pediatric patients, help them learn to navigate school and social situations.
This extensive clinical range is what drew Siomara Heron, another VNSNY occupational therapist, to the profession after seeing OTs in action during a college internship at Manhattan's Rusk Rehabilitation Center. "I liked the fact that OTs did such a broad spectrum of things," she recalls. "But what really impressed me was that they seemed to be having a lot of fun!"
Approximately 115,000 occupational therapists are currently employed across the U.S., and the healthcare industry is expected to add another 30,000 OT positions by the year 2024, making it one of the fastest growing fields in the nation. While requirements vary somewhat by state, all occupational therapists must complete a master's degree in OT that includes extensive fieldwork, and also be certified by their local credentialing body. Because OTs have such wide-ranging expertise, they can work across many settings, including medical centers, schools and workplaces. Many OTs are employed at inpatient or outpatient rehabilitation centers, which contain full-scale bedrooms, bathrooms and even kitchens where patients can practice tasks they'll be performing at home. At home health care agencies like VNSNY, on the other hand, our therapists go directly into the homes of our patients—providing an opportunity for OTs to work on ADLs in the patient's actual daily environment.
Bringing Occupational Therapy Home
Working with patients in their residences, our OTs focus on helping patients learn to survive in their home environment. In her sessions, Gigi concentrates first on basic daily tasks like dressing, bathing, toileting tasks, grooming, and feeding. "We'll look at things like, 'How are you going to put your socks on? How are you going to take a shower or get in and out of bed?'" she says.
"Providing rehab therapy in a home setting offers occupational therapists a unique chance to work one-on-one in a home setting, and focus your complete attention on a single patient," explains Joe Gallagher, a rehabilitation therapy instructor at VNSNY. Because home OT can play a critical role in helping people recover effectively from surgery or illness and age safely in place, he adds, it's become an increasingly important part of the continuum of care. "Today," he notes, "everyone involved in patient care understands that home care is the essential bridge to the community, and that visiting therapists play a vital role in helping to make that patient journey more successful—and cost-efficient."
While our OTs typically have substantial experience when they join us, we provide them with significant extra training to prepare them to go into patients' homes. This includes a two-week curriculum that covers all the clinical nuances of home-based therapy as well as home care regulations and documentation. We also recently added an element in which senior occupational therapists participate in this orientation process as mentors: After the classroom component is done, each new therapist then shadows a senior therapist for a number of field visits, then they'll switch off and the senior therapist will shadow them for a time, offering practical guidance and support.
Reconnecting Patients with Their Daily Lives
Because OTs work with patients on the most intimate aspects of their everyday activities, they play a special role in helping people overcome any disabilities they might have and stay holding onto what matters most to them. This is especially true of OTs in the home health care field. "Improving the quality of patients' lives on a daily basis is what a visiting OT's job is all about," says Siomara. Often this can include addressing a patient's emotions as well as their physical issues. Siomara remembers meeting an 82-year-old patient last summer for the first time. "She'd just had a total hip replacement and was very discouraged," says the OT. "She told me, 'I can't get into my bed or out of it—and I'm in so much pain, I don't know how I'm going to be able to do any of this."
With her infectious smile, Siomara shifted Ruth's focus by asking about her personal goals. Ruth explained that she didn't want to have to rely on her daughter, who had flown in from California to help out. "We can absolutely do that!" Siomara replied. In that first session, Siomara helped her learn how to maneuver with a walker and use the chair lift that had originally been installed for Ruth's late husband. The daughter also supplied a yoga strap that her mother could loop around her foot, allowing her to swing her leg up onto the bed.
"On my second visit, Ruth was a whole other person" says Siomara. "Even with her arthritis and bad knees, she was ambulating just fine with her walker. 'We've turned it all around!' she told me." Siomara went on to teach Ruth how to use a sock aid to slip socks onto her feet—which Ruth proclaimed "magic!"—and other techniques that allowed her to carry out activities of daily living despite her still-recovering hip joint. By Siomara's fifth visit, Ruth was cooking her own meals.
When the moment came to say goodbye, Ruth thanked Siomara for helping her regain her most valuable possession—her independence. "You showed me so many things that I never thought I'd be able to do by myself," she said. "You saved my life!"
* Name changed to protect privacy
Popular in the Community