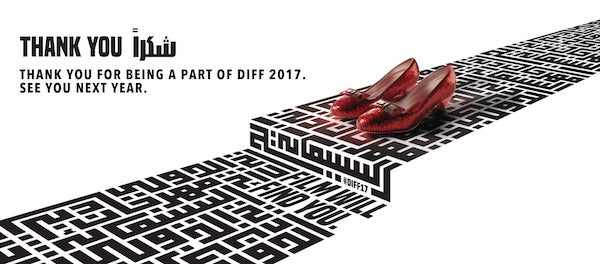 "Are you ready for us to make history again?!"
As I stepped into one of the magnificent Majlis — literally translating as a "place of sitting" from the Arabic — a meeting room inside the Madinat Jumeirah complex to catch up with the Chairman of the Dubai International Film Festival, Abdulhamid Juma uttered those words. I was taken aback for a moment and then I remembered that throughout the six years I've attended DIFF, I've sat down with him and together, we've come up with some of best questions about Arab cinema, its place in the world and its importance in dispelling stereotypes and breaking down walls.
This year, I came to DIFF with a heavy heart and I leave it still wondering if all the efforts — personal and collective have been worth it. We've witnessed how easily the mighty of the film stratosphere can be taken down in Hollywood when no longer of use to their business partners, destroying careers that should be looked at with respect, regardless of these men's questionable behavior. We seem to have forgotten that "the casting couch" is a term as old as the movies themselves. Now we just "throw out the baby with the bathwater" as the old saying goes...
I've watched the tsunami result of this witch hunt unfold before my very eyes and I've even tried to personally stop it on Twitter on a few occasions, but to no avail. As a woman who grew up in the company of cinematic role models like Princess Leia Organa, who did not need to be saved by any man, and one who is aware that the world celebrates and even gives Nobel prizes solely to women/girls who are victimized, I lash out at the idea that now women will forever be deemed as prey and tattletales because of a media conspiracy.
The resulting snub at the Golden Globes for women filmmakers — with powerful films in the running this year like Greta Gerwig's 'Lady Bird' and Sofia Coppola's 'The Beguiled' — seems exactly what the mostly-male film critics and journalism community had been waiting for.
I bet my male colleagues are all rubbing their hands together, snickering while counting up the great interviews they will be able to secure in the future, while I may have a hard time getting up-close and personal with a celebrity ever again. Even at DIFF, at the peak of celebrating "Women at the Helm" and such, they could agree on this point. Only two panels were moderated by women journalists.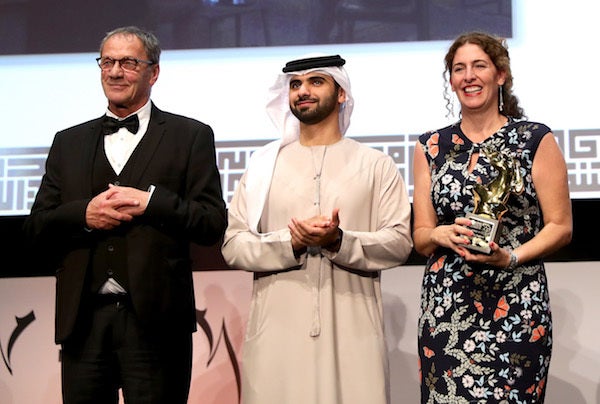 Then there is the issue of our President, and the Jerusalem announcement he made right as DIFF kicked off, thus swaying the balance and securing the winning spots on their Muhr Awards day to anything Palestinian. Yes, Palestinian cinema has been some of the best coming out of the Arab world — I mean, just think of the genius of Elia Suleiman and Hany Abu Assad's award winning work. But not everything needs to be about politics. Not now. When already the world is drowning in the stuff.
The best needs to be rewarded, not the most politically correct.
We live in a Twitter world which, as former President Obama said in his Prince Harry interview for the BBC Radio, is creating a sea around us of like-minded people, who will not tell us when we are wrong. Trust me, we are wrong, all of us sometimes, even the most brilliant among us cannot be right all of the time.
Politics. Does it have a place at a film festival? I don't believe it does, but undeniably, no matter where in the world I happen to be, films, and filmmakers are dragged into politics. This year, the absence of the Doha Film Institute, typically an encouraging presence to Arab filmmakers, was obvious at DIFF. And then there is the ever-conspicuous absence of one country in the Middle East, marginalized for its sheer existence from any Arab film festival in the Gulf. Will that ever change? I believe filmmakers are prophets, they can foresee the diplomacy of the future and maybe peace in the Region will only be achieved when all of them are called to the table.
If you need further proof of the undeniably strong power of cinema, and how it can change the world, then just read about an irate fundamentalist who tried to ban a Sanjay Leela Bhansali film in India last month with death threats. It's during these low moments in our humanity that I realize just how right I am to push for good cinema, as a tool to understand and unite this chaotic world of ours.
Abdulhamid Juma and the politics of cinema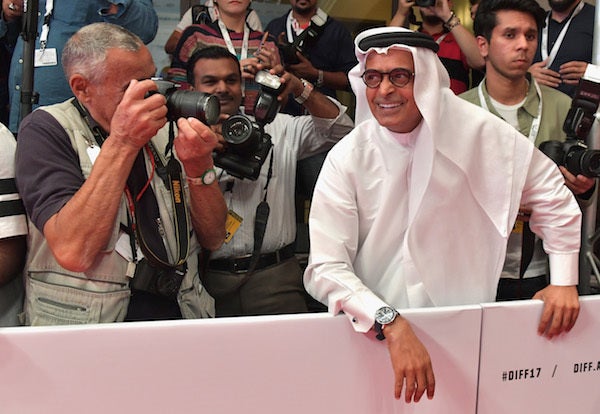 Among some of the highlights of my chat with DIFF Chairman Juma, we talked about the drama of surviving a bad film for a good filmmaker. Or just a film that isn't as appreciated as their previous ones in the world arena. "When you create something, it's your soul, you see the world in it. And maybe the dream is to go all the way to the Oscars," Juma said, then adding, "but life doesn't work like that, not in filmmaking not in anything. I'm not in the position to give advice, but to help understand you are not perfect, sometimes things will go wrong, and sometimes you do the right things and this is the beauty of movie making." I chimed in that cinema in a sense can be a metaphor for life then, where even taking a wrong step can lead us to the right place one day? Juma provided an anecdote in reply: "Like when someone tells me, I met your friend, and they said something about you. I tell them, if it was good it was not correct, if it was bad it was not correct — get your own opinion when we meet face to face."
On the politics of cinema Juma had quite a lot to say. "Politics is everywhere. How can you run away from it?" He started, then continuing, "we as a festival, what we need to do is give the platform: We build the stage, we put the lights, we give you the microphone and you come and do your dance. You can come and dance naked but probably in some places you can't do that. Although in a strip bar you can. So you have also to see where is the place where you'll dance? Where are you? In California, in Dubai or Saudi? Every place has its own atmosphere." He added, "all we want is to give as much of an open, possible, uninterrupted, and nonjudgmental platform for you to come and say your word."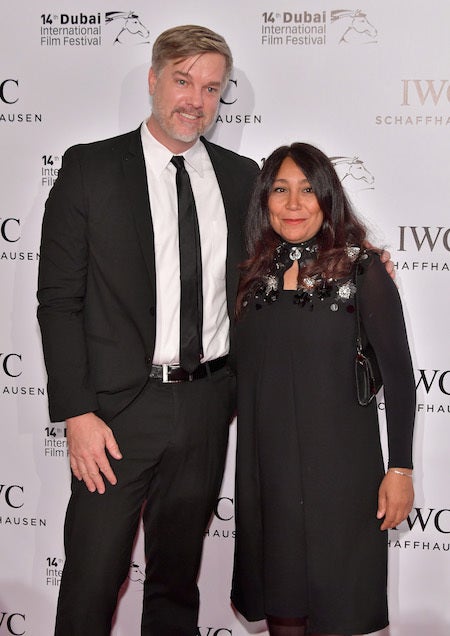 Regional politics were all around us coming into DIFF this year, what with the Saudi Saad Hariri fiasco and the Ritz Carlton Riyadh having been turned into a luxury prison for high level prisoners. Saudi Arabia tried to regain their footing by announcing they were planning to allow commercial movie theaters back in the country in 2018. I remain skeptical, since this will have much less of an impact on great regional cinema-making and provide more of a boost for those violent, unkind to women's images, destruction everywhere, Hollywood blockbusters. Just what a region in turmoil needs, watching more things getting blown up on the big screen.
I also look at my personal relationships, friendships I've tried to develop with some Saudi nationals, whom I like to call the trio of "the Filmmaker, the Fashionista and the YouTube-er". They have thawed to nearly polar temperatures lately and I cannot for the life of me figure out why... Maybe they are judging me by my President? As artists, they should know better.
Masoud Amralla Al Ali on the need for diversity, also within Arab cinema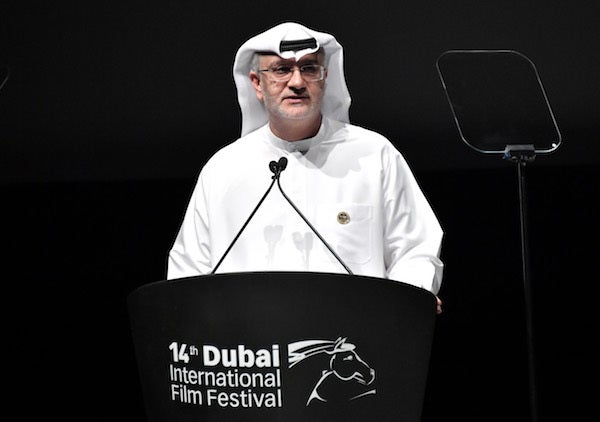 DIFF Artistic Director Masoud Amralla Al Ali is always a breath of fresh air. When I mentioned how the festival provided for a calm oasis in the midst of the world's chaos, he indulged me. "From the beginning we said this festival was coming for "bridging cultures, and meeting minds" — this was the motto." Al Ali continued, "there is a lot of chaos outside, a lot of ignorance and no respect for the freedom of human beings, just outside there [he points to the door] and what a festival does is this dialogue — which can fail politically but never on a human side." Further Al Ali added, "people can connect, but the politicians want to separate them. You need to go back to the basics, human to human. We want people to come together, to stand together, to learn from each other and inspire each other. I mean life without understanding is terrifying. If you don't understand "the Other" — why would you want everyone to be like you? The diverse if beautiful, it's around you in the nature. I mean, otherwise why would you need a million types of flowers?"
Speaking about this diversity angle, why are most Arab films viewed outside of DIFF so hell-bent on political messages, instead of telling us the human stories we crave, so we can understand this part of the world? Al Ali answered me with a question, "I don't know why you can watch an Iranian or Hungarian or Romanian film with a human story between a husband and wife in any film festival, but you cannot see this when it comes from the Arabs? Then you only see one dimension, the political side of it, the controversial… The refugees, why must we see only one angle from the Arabs." He continued, "they are still human like others, they have other stories to tell. Maybe we need to go and correct this now. Because if you consider the Arab as a troublemaker and then you want to reflect this in a film, first of all you will think that Arabs are terrorists and all the variants of that stereotype — but there are circumstance that happen beyond the wars, like a normal relationship between a man and his wife."
The word on women filmmakers from Shivani Pandya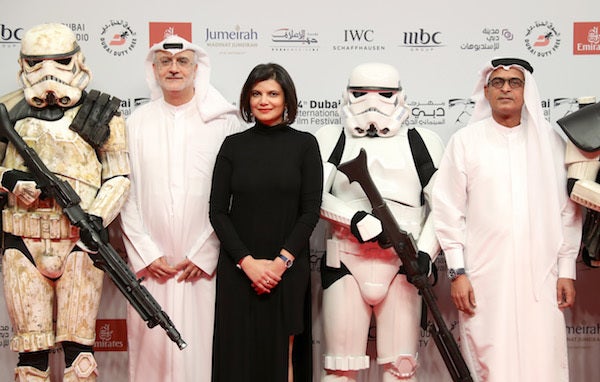 The Managing Director of DIFF is a woman who has kept her eye on the prize — the prize here being to create and maintain a great film festival in the Gulf Region. We sat down inside the bustling Dubai Film Market and caught up. Here is DIFF with all its women-centric films, how does the festival maintain that? She gave the credit to the women of the Arab film industry by saying, "there are a lot of women making films here which is very different to the perception that people have. I believe that women here have actually taken the lead and embraced the role to narrate stories and go out there and that's why there is such a large number of them. They are thorough and successful and a lot of them are award winners — they are traveling the world with their films. And it's great to see that they've taken on the initiative, this position. Film is a great medium to do that."
What are my own two cents about it all? Vote with your wallet to make a change, for better narratives, less stereotypes and more humanity in our entertainment, that's your own power of one, as another esteemed DIFF guest who later came out about his own sexual harassment issues declared in our interview. During which of course, he was a thorough gentlemen. They all have been, always, to me.
Calling all HuffPost superfans!
Sign up for membership to become a founding member and help shape HuffPost's next chapter
This post was published on the now-closed HuffPost Contributor platform. Contributors control their own work and posted freely to our site. If you need to flag this entry as abusive,
send us an email
.