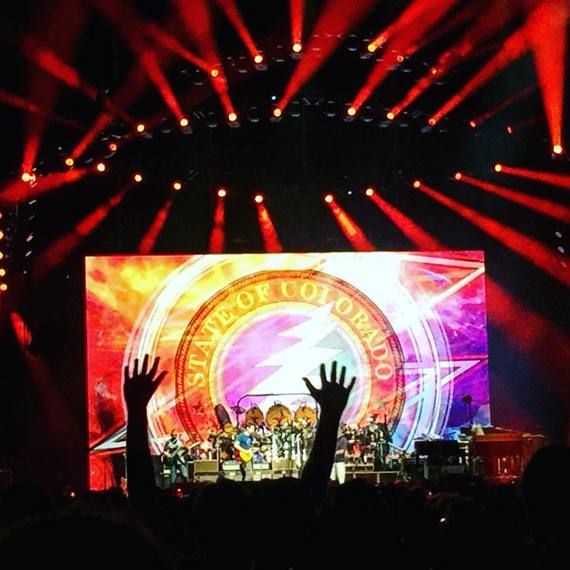 The crowd, all 28,000 of us, flowed from all directions toward the CU Boulder campus, converging on Folsom Field atop a thick cloud of anticipation. Dead and Company was in town to perform two evening stadium concerts under the Flatirons. Some of us hadn't seen a Dead-related show since before Jerry died. Others had tracked down and enjoyed (or complained about) every iteration of original Grateful Dead members and their talented friends since 1995.
On this night, the configuration was Dead and Company: Bob Weir, Mickey Hart and Bill Kreutzmann as original band members, plus Jeff Chimenti, Oteil Burbridge and John Mayer. I'll cut to the chase: they nailed it. From the easy-going opening riff of "Bertha" to the various guitar-powered peaks, the energy was just as I'd remembered it. And so was Weir's raspy, heartfelt voice, and so was the wonderful mood of ease and happiness that settled in the stadium as the sun went down.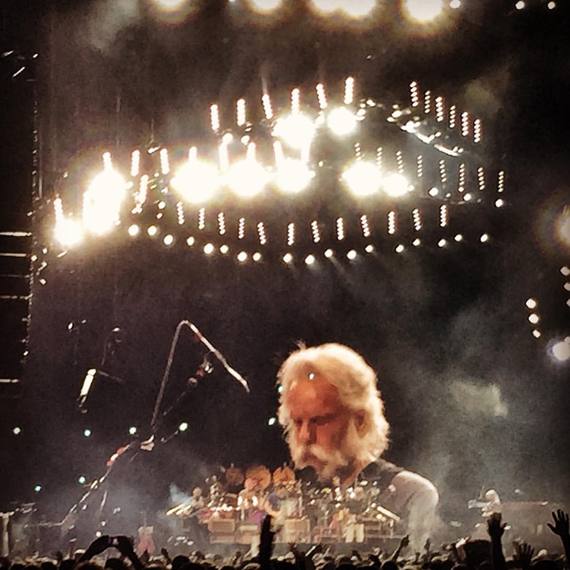 As for the ability of any musician to step into Jerry's massive shoes, judging from all the comments I overheard, consent about John Mayer appeared unanimous: he rips. Folsom Field was a convergence, a happily nostalgic night, but also a hopeful one too. These musicians could still experiment and surprise.
For me, one of the best moment's of the Dead and Company's Colorado visit came the night after their two Boulder performances, just down the Front Range at Blues Traveler's annual 4th of July show at Red Rocks Ampitheatre. Blues Traveler is a band that feels like old friends to me, since we go back to dorm-room radios blasting in the early 1990s, and their annual Red Rocks tradition holds a secret Colorado treat: if you walk to the south side or top of the venue during the concert, you can literally see hundreds of fireworks shows exploding across southwest Denver.
This year, Blues Traveler invited Oteil Burbridge to the stage. I go way back with this guy too, when I used to listen to Aquarium Rescue Unit in same said dorm room. What would happen here? First, the augmented Traveler played a cover of "What I Got" by Sublime; then, Popper and crew stood aside while Oteil and Blues Traveler bassist Tad Kinchla went head to head on an extended bass duo/duel, pretty much blowing everybody's minds before we even realized what was happening.
And then Oteil was gone, and the band played on.