One person's fear is another one's pleasure -- at least when it comes to missing out.
A new survey from the food delivery app Yelp Eat24 suggests that "FOMO," the fear of missing out on things, is being replaced by "POMO," the pleasure of missing out on them.
FOMO is a real thing for some, according to the survey, which polled 2,000 adults age 18-54.
Nearly 16 percent of women and 18.55 percent of men admit worrying they are missing out on the fun others are having.
However, 55 percent of people make excuses to get out of attending social gatherings some of the time, and more than 16 percent do it often.
Although 55 percent of those surveyed said they opt out of social events because they just don't feel like being around other people, 49 percent just don't want to spend the money.
There are some caveats to the poll. For one, it was sponsored by Yelp, which wants you to embrace POMO and use its new app to stay in and order food to your couch. Additionally, three-quarters of the poll respondents are female, and the sample skews toward those with very low incomes.
The income skew is especially important, since the difference in costs between going out and staying in can be substantial -- as this video demonstrates:
Even if the poll is meant to be taken lightly, its respondents noted some serous issues as a result of being social butterflies.
Over a third of those polled said they experience anxiety and stress as a result of going out, while almost 30 percent feel disappointed. Another 10 percent admitted shame, embarrassment, anger or jealousy as a result of the evening out.
So what did people do if they decided to stay in? The top three answers were watch a movie or TV, take a nap or get some chow.
Tessa West, an associate professor of psychology at New York University, said she thinks the interest POMO is related to what she calls "pluralistic ignorance regarding how much people really enjoy going out."
"[The respondents] probably think that others enjoy more than they actually do," West told HuffPost by email. "To situate this phenomenon in another social context, there is pluralistic ignorance with regards to hooking up among college students -- everyone thinks others enjoy it, but no one actually enjoys it that much.
"This process might account for why people are making up all sorts of excuses as to why they don't want to join the party," she wrote.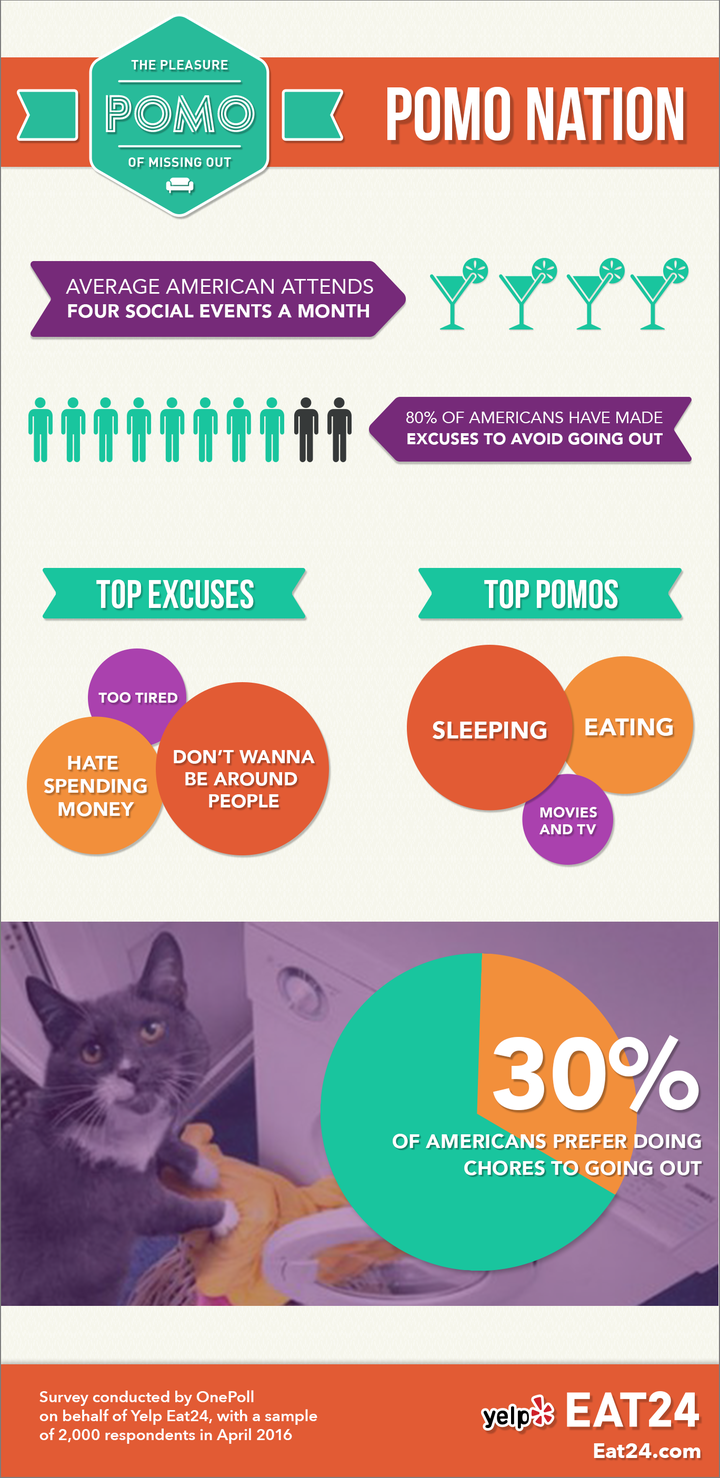 Popular in the Community