Unprecedented Collaboration Assists the Most Vulnerable
In the pre-dawn hours of Saturday, January 23, an unprecedented joint NGO-military operation delivered money by helicopter to ten locations throughout Haiti for payouts of money sent from abroad and to permit Haitians greater access to their savings.
The dramatic operation, which involved the U.S. Military and United Nations to complete the delivery, used disguised boxes of money airdropped across Haiti.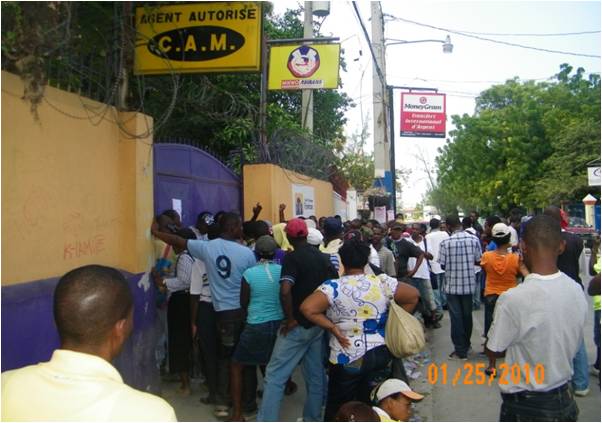 On January 25, days after the earthquake, Fonkoze was serving its clients in Haiti.
In the wake of the earthquake on January 12, Fonkoze was the only financial institution in Haiti able to stay open for customers making withdrawals and receiving money transfers, but within days Fonkoze grew short of cash.
Unable to access its commercial bank account in Haiti, Fonkoze turned reached out for international help to get the money into the hands of desperate earthquake survivors.
In less than 24 hours, Fonkoze secured approval to send $2 million in cash from Fonkoze's accounts in City National Bank of New Jersey to its 34 branches that had not been shut down by the earthquake.
The cash was packaged in Miami and transported aboard a military C-17 to Haiti.
Below is an abbreviated timeline of the mission:
Friday, January 22

4:52 p.m. - Operation is cleared by U.S. State Department, United Nations, and the U.S. Military

9:25 p.m. -- Boxes with cash separated into 34 packets successfully delivered to Homestead Air Force Base in Miami.

10:15 p.m. - A military C-17 is diverted from Langley, Virginia en route to Port-au-Prince to pick up the cash.

Saturday, January 23

3:30 a.m. - Military C-17 plane arrives in Port-au-Prince with boxes of cash.

1:30 p.m. - Military helicopters complete dropping off boxes at designated points across Haiti and return to Port-au-Prince.
"This was an absolutely tremendous experience for all of us - military and civilian, government and non-profit alike," said Anne Hastings, CEO of Fonkoze Financial Services.
"Our branches have been working since the earthquake to pay the money transfers our clients so desperately needed to begin to put their lives back together, Anne said."
"As people continue to migrate from P-a-P, Fonkoze's branch network will become even more essential. Probably most important, unlike the commercial banks, Fonkoze has re-opened many branches and has continued to pay out remittances using its cash on hand," said Jennifer Harris from the U.S. State Department.
The earthquake on January 12 left many, especially the poorest Haitians, unprepared to cope with disaster. Along with the immediate effects of the quake, many had no money in their pockets, their assets and resources destroyed, and lost key family members.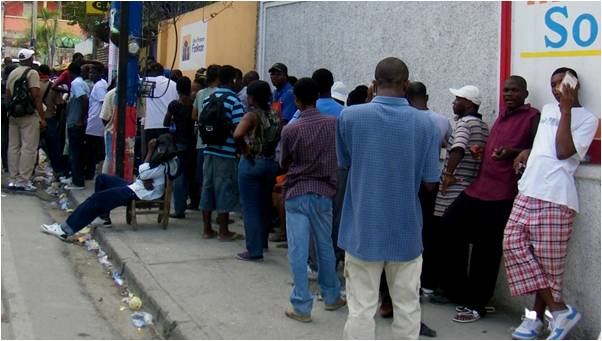 Fonkoze operating out of the parking lot of its P-a-P branch in the aftermath of the earthquake, where many lined up on Avenue Jean Paul II to get remittances.
After the earthquake, all Haitian commercial banks closed, cutting Haitians off from money sent by their family and friends in other countries. Despite suffering severe damage to its headquarters, Fonkoze quickly re-opened 34 of its 42 branches, including its branch in Port-au-Prince.
Within the first week of re-opening the branches, Fonkoze delivered more than $1 million in remittances and savings to Haitians.
It then acted quickly to bring in an additional $2 million from its account at the City National Bank of New Jersey, working through a unique collaboration of the United Nations, USAID, the U.S. State Department, the U.S. Department of Defense, Multilateral Investment Fund of the Inter-American Development Bank and City National Bank.
The migration of people out of Port-au-Prince to other areas will mean that Haitians will need infrastructure and financial services in some of the most rural, remote areas of the country which Fonkoze has been serving for over 15 years.
"After the earthquake it became evident that with large numbers of Haitians migrating from Port au Prince to the provinces, Fonkoze, as the only MFI that pays remittances, would have to play a major role in providing Haitians with access to cash in order to be able to buy food, water and shelter," said Julie Katzman of the Multilateral Investment Fund.
Fonkoze, Haiti's alternative bank for the poor, is helping the most vulnerable Haitians stabilize their lives by opening its doors so that customers can access their savings and remittances from friends and family abroad.
Fonkoze has the deepest reach into Haiti's rural poor and already has built a remittance network that would take years to create from scratch.
Fondasyon Kole Zepol (Fonkoze) is Haiti's largest, most innovative microfinance institution with over 200,000 clients. It operates 42 branches across Haiti and in every province of the country, including many towns and villages where no commercial banks operate. It is the institution on which Haiti's poor relies, especially during crisis.
Microfinance helps unlock the entrepreneurial potential of the poor with small loans and other assistance they need to lift themselves out of poverty.
Fonkoze provides micro-loans and micro-insurance services and other social programs to poor Haitians and also offers remittances and savings accounts for more than 200,000 people. Overall, Fonkoze directly touches the lives of more than one million Haitians.
Fonkoze targets the poorest of the poor in Haiti. As of 2007, 79 percent of Haitians were living on less than $2 per day and 55 percent were living on less than $1 per day. More than 99 percent of the people receiving Fonkoze loans are women; the average size of Fonkoze's basic loan is just $172.
Fonkoze pioneered micro-life insurance in Haiti with its Haitian partner Alternative Insurance Company. Families who make claims receive relief from their loved one's debt and $125 to help the family cope with the financial shock. Fonkoze has its own remittance service and is also a vendor for MoneyGram, CAM and Unitransfer.
Fonkoze partners with the Multilateral Investment Fund of the Inter-American Development Bank, Partners in Health, USAID, World Vision, Whole Planet Foundation (Whole Foods Market), Grameen Foundation (Alex Counts, Grameen Foundation President, serves as chair of Fonkoze USA), Oikocredit, MEDA, CGAP and other major development agencies and organizations.
With over 95 percent Haitian senior staff and a highly skilled, Haitian-majority management team, Fonkoze is building the foundations for democracy and sustainable development.
Fonkoze and its director Anne Hastings, CEO, Fonkoze Financial Services, have been recognized worldwide for their innovative approach in helping the most vulnerable build better lives in the Western Hemisphere's poorest nation.
On March 23, I lead twelve individuals connected to partner NGOs including my own Orphans International Worldwide (OIWW) to Haiti. Our objective is to provide post-disaster family-care programming for 100 orphaned children living with their extended families in Leogane, near the Port-au-Prince airport.
In addition, we will be involved with our partner NGOs to provide education, health care, and clean water for these and other neighborhood children. The project will also have a communications center supported in part by Skype, possibly using Verizon on-line curriculum.
There are right now 2,500 homeless Haitians in Leogane Stadium, and another 800 across the street at the school ground. Fonkoze has a strong presence in Leogane -- as they do across all of Haiti.
I have known Anne Hastings for ten years and commend her for her enormous efforts. Knowing her, I realize she could have done none other. She is a true -- and highly capable -- Thought Leader and Global Citizen.
Edited by Marissa Gray-Lewis
Popular in the Community