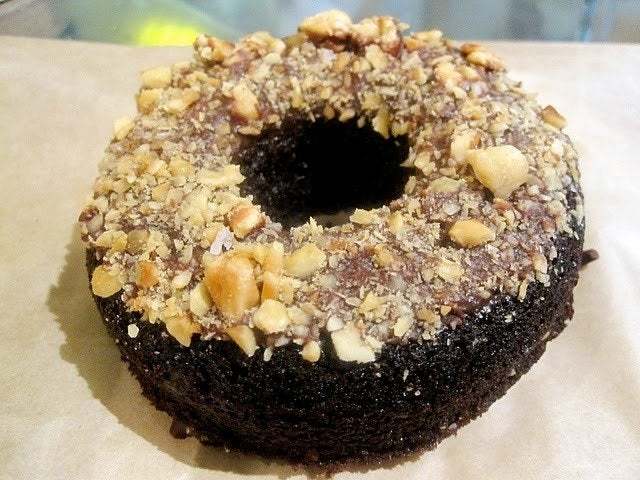 Los Angeles, you've waited too long for your unfried, gluten-free -- maybe even vegan -- doughnut. Finally, on Wednesday morning, the baked faux doughnuts of Fonuts will be out-of-the-oven ready to feed your wheat-tolerant but doughnut-yearning body. Bakers-in-crime Waylynn Lucas and Nancy Truman will open their West Third Street bakeshop tomorrow.
Two words: chorizo cheddar. Be ready to utter the following: "I'll have the chorizo and cheddar fonut, please."
What last night's pre-opening fete at Fonuts revealed is that not only is a baked doughnut -- be it chocolate-hazelnut or strawberry-buttermilk -- the It thing to satisfy a modern sweet tooth, but a savory faux doughnut is what's doing an Angeleno's mouth good, too. The maple bacon of raised (or yeasted) dough, as well as the chorizo and cheddar of baked cake were easily the winning fonuts of the night. A packed crowd of food bloggers, adorable Angeleno kindergarteners, Los Angeles County sheriffs (to which Truman "threatened" healthy doughnuts upon), Son of Gun chefs and West Third Street neighbors Vinny Dotolo and Jon Shook, and even Olympic volleyballer Gabrielle Reece all showed up for a celebratory fonut and a ribbon-cutting ceremony.
All photos by Lien Ta. Story continues below.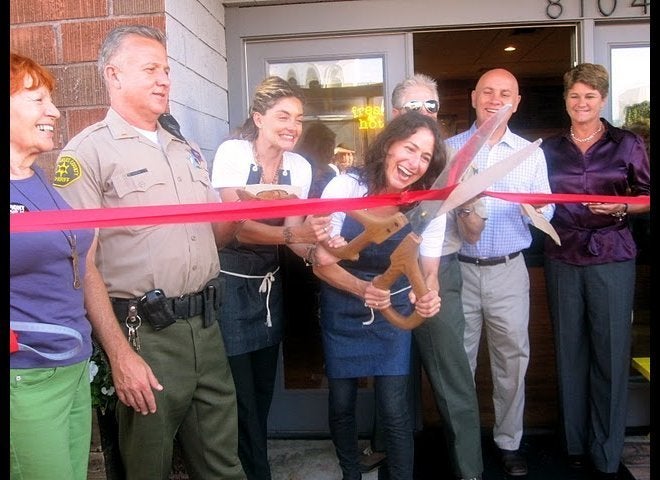 Fonuts
Lucas, the former four-star pastry goddess of The Bazaar, partnered up with Truman, a voice actor, who first forged a relationship as dog-owning neighbors. (Truman was nice enough to let Lucas' canine out while the chef was making it rain awarding-winning sweet things at The Bazaar.) Now Lucas has partnered with the wheat-tolerant Truman, an at-home baker who had never used an electric mixer. Fonuts showcases Truman's unusual recipes that, frankly, complement an LA diet quite beautifully.
Wheat and gluten-free flavors include banana-chocolate, chocolate-hazelnut, lemon and peach -- the latter two are also vegan. Of the cake variety, you'll discover chorizo and cheddar, strawberry buttermilk with strawberry yogurt glaze, rosemary with olive oil powder, and one that is simply rum. The raised fonuts include maple-bacon, peanut butter and chocolate, and filled holes of peanut butter and jelly, plus, the Hawaiian with a coconut filling. Pair your fonut with LaMill coffee -- particularly, the Fo-Shaken, a riff on Vietnamese iced coffee.
Fonuts will open at 9 a.m. tomorrow and close at 4 p.m. (or when the last fonut is sold!), but expect its regular hours to be 7 a.m. to 6 p.m., closed Tuesdays.
Related
Popular in the Community