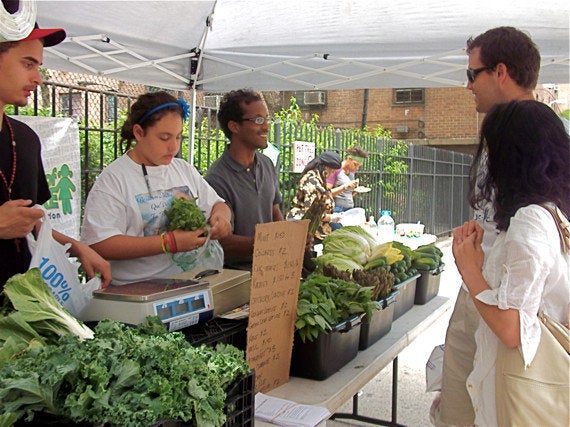 NEW YORK -- As Linda Crosby hastily chopped fresh escarole for a cooking demonstration at the opening day of a small farmers' market in Chelsea, she lamented the lack of access to fresh vegetables in her neighborhood.
"They're closing down markets to put up pet salons," said Crosby, a single mother of seven who lives in New York City's public housing development Fulton Houses.
She was one of many residents participating in the launch of the new market, an initiative aimed at giving Fulton Houses inhabitat access to farm-fresh produce. The new project is a collaboration between the Chelsea public housing development; Fulton Youth of the Future, a non-profit organization for youth in Fulton Houses and nearby housing developments; and Holton Farms, a 200-year-old, family-run farm in Vermont that uses sustainable farming methods and recently achieved organic certification for half of its 250-acre farm.
"Overall good health is what we're after." Linda Crosby said of the initiative during her cooking demonstration. "My wish is to have freshly grown, local fruits, vegetables and herbs in every bodega and supermarket. It would be beneficial to the community, making it available to everyone, everywhere ... That would be an ideal situation."
"We totally don't have that," Crosby added.
Low-income communities often have few options to purchase fresh produce, which is usually more expensive than processed foods, and often face health consequences down the line because of unhealthy diets. The incentive to eat healthy is often not there: A University of Washington report found that $1 buys 1,200 calories worth of cookies, but only buys just 250 calories worth of carrots.
Other studies suggest there is an indirect correlation between income and obesity rates in the U.S. But beyond affordability, limited access to fresh food is a key stumbling block for getting people to eat a healthier diet.
Holton Farms Co-Director Adam Foreman and Miguel Acevedo, Executive Director of Fulton Youth of the Future, hope they can make fresh vegetables more accessible by launching an inexpensive farmers' market near Fulton Houses as part of a program that encourages kids to eat healthier foods through paid work and educational programs.
Jayson and Michael, two teenage members of Fulton Youth of the Future, work every Saturday from 9 a.m. to 2 p.m. selling fresh produce. On the first day of this season's program, they were behind the farm stand, eagerly selling vegetables. When Jayson started working with the organization two years ago, he attended training where he learned about produce and acquired business skills for customer relations.
Before joining the program, "I didn't know anything about fruits," Jayson said. "My family doesn't really eat anything like that. We just eat meat, corn, mashed potatoes, stuff like that." While Michael eats healthily for his boxing class, he admitted, "We try to get away with eating junk foods; we're 50/50 with healthy eating and not."
The new initiative is not Holton Farms' first attempt to bring fresh foods to low-income communities. Last year, they participated in an effort to rejuvenate La Marqueta, a once-booming marketplace in East Harlem. But their efforts were more of a setback than a success."It was a great idea, but it wasn't financially viable," said Teddy Winthrop, a Holton Farms employee.
One challenge for small farmers trying to make an impact is that they themselves are often struggling to survive. Jurrien Swarts, co-owner of Holton Farms, spoke frankly about last year's initiative: "I made really optimistic sales assumptions that didn't pan out. I didn't have enough cash to properly staff, promote, stock or outfit the retail location ... I was naive to think I could do all kinds of good while trying to build a profitable and sustainable ag-business."
Despite last year's setback, Holton Farms still wants to expand access to fresh foods -- but in a way that doesn't leave them financially vulnerable. While they have offered a customizable CSA delivery program to New York City for three years now, the program requires an upfront payment that is prohibitively expensive for some. Foreman said the farm decided that they would have a better chance at success in low-income neighborhoods if they sold directly to residents instead of going through wholesalers, which pay less money for produce that retail prices. This idea was made easier after Holton Farms received a free EBT machine (often prohibitively expensive), allowing them to accept alternative forms of payment.
"We're not going to make a ton of money, yeah," Foreman acknowledged. "We're not going to get rich off of farming because nobody has yet, but if we can be socially responsible and help people eat healthier, and drop these obesity rates that are plaguing New York City's youth, then why not?"
After the first day at Fulton Houses, Adam Foreman thought the new project was on the road to success.
"We showed up and had products that people bought, and they welcomed us to the neighborhood with open arms." While they didn't "break the bank," Foreman said, the farm had enough money to pay their workers and return the following week.
There are many initiatives to bring fresh foods to grocery stores and bodegas, but the void still exists. Swarts suggested visiting a bodega: "See what's on the shelf. Other than root vegetables, plantains, and the occasional pepper, I wouldn't want to buy or feed that produce to anyone."
Still, Holton Farms maintains high hopes for the future.
"The more we grow and the more neighborhoods that we reach, the more low-income work we can do," Foreman said. "We want to change the way New York eats, but that sounds silly and people get defensive, because we're talking about their food and how they feed their families ... We're just trying to provide an affordable alternative for people and get fair wages for farmers who are the backbone of this country, who are putting all of their blood, sweat and tears into these products."
He continued, "Why should only the wealthiest, or people in the right areas, have access to farm-fresh food?"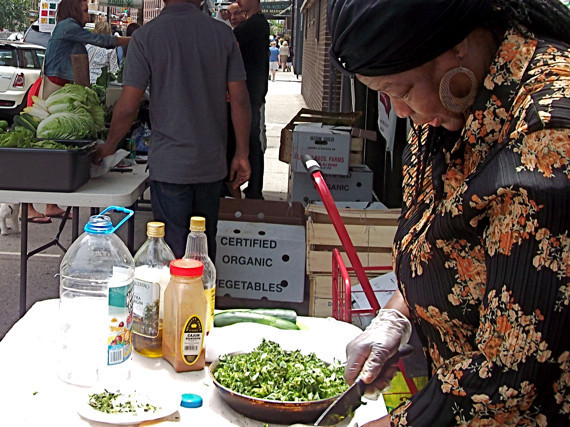 Linda Crosby and her family are part of the Fulton community. She offers cooking demonstrations at the market to show her neighbors different ways to cook fresh foods.
Popular in the Community