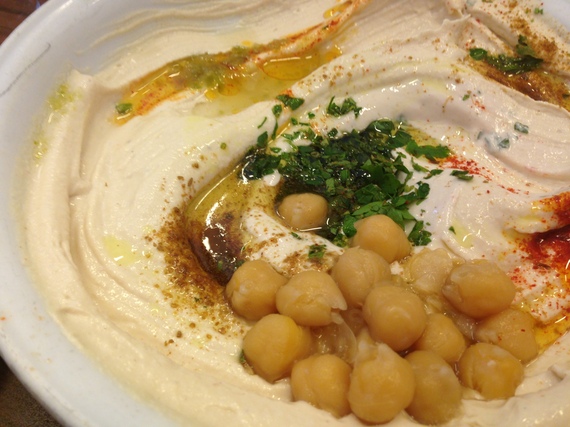 Mmm hummus at Abu-Hassan. Photo by the author.
"In Israel, everything is political, including the hummus."
My guide, Yuval Zelinkovsky, said this as he tore off a piece of pita and expertly folded it into a small, origami-like boat -- a technique that, as he demonstrated, provided for optimal dipping. We were sitting in what is generally regarded as the best hummus joint in Tel Aviv, Abu-Hassan, a family-owned and operated business on one of the ancient side streets of Jaffa.
I guess in some ways what we were doing might be viewed as political: Jews breaking bread with a demographic mix of customers at an Arab-run establishment. But fortunately, the only territory we had to fight over was a space at one of the few narrow tables in the otherwise tiny restaurant (if the term restaurant can even be applied to Abu-Hassan, which serves precisely three dishes: hummus, a variation of hummus, and a creamed fava bean dish named fal which also includes, you guessed it, hummus).
When we arrived on a weekday at lunch time, a line stretched out the door and perilously into the narrow cobbled street. It was not the kind of place to get huffy about tables: if you weren't willing to grab the next available seat at a shared table, you could take your hummus at the curb. Abu-Hassan was my first stop on what would become, truly, a magical exploration of Israeli culture, primarily through food.
Although it was my third trip to Israel, I'd never taken the time to appreciate this side of the country. Like so many tourists on a limited schedule, I'd largely skipped Tel Aviv in favor of the major historical sites in Jerusalem and beyond. On one of my journalistic visits, I'd met with Arab and Jewish spiritual leaders; I took tea in a Palestinian house on the West Bank, and that same evening dined with Israeli politicians to discuss the unceasing, troubling issues of peace.
This time I wanted to side-step politics altogether -- to the degree it was even possible, as Yuval pointedly observed. I wanted to experience Israel as those who live there experience it -- not hustling myself through a series of sites, nor focusing on the news headlines -- but as the vibrant and diverse society it has become.
Joining our table at Abu-Hassan, in fact, was a prominent Israeli musician, whom Yuval recognized. We'd spent the morning working our way up the hill of Jaffa, the oldest port in the world dating back some 4,000 years and from where the eponymous orange comes from (which, in 1948, became the new state of Israel's first major export -- politics again!).
Jaffa now resembles an exotic Middle-Eastern version of Manhattan's Meat Packing district. Old warehouses and fish stalls have been hollowed-out and refashioned as studios for artists; Ottoman-era balconies protrude from newly renovated condos; there are picturesque galleries selling paintings, sculptures and jewelry; hip coffee houses happily co-exist with old-style shawarma vendors; and the ancient Jaffa flea market is still a bustling destination for bric-a-brac of all kinds, from antique Arab tea tables to, well, junk. As in, junk junk.
If you didn't already know about Abu-Hassan's hummus, it would not be the sort of place you'd be likely to stop in. Despite the tell-tale line, it is -- like so many authentically ethnic restaurants in Israel -- completely indifferent to aesthetics: plastic chairs and veneer-top tables are arranged in the claustrophobic space higgledy-piggledy, so as to maximize dining discomfort. You must either squeeze into a chair or past one. The server -- there is a server, give them that -- has to pinball it through the room and reach over heads to deliver the bowls of hummus. P.S. the restaurant doesn't believe in napkins.
Yuval ordered the works: the original hummus, which interestingly came with a side sauce of hot pepper and lemon juice; subuch, which is a chunkier, warm version of hummus traditionally eaten at breakfast; and fal. These dishes were dealt to the table like cards from above our heads, along with an incoming basket of fresh warm pita, and our Fanta drinks of choice (don't ask for a wine list).
That being said, Wow. Wow wow wow.
The hummus was as creamy as yogurt; the recipe somehow achieved the perfect balance of tahini (crushed sesame paste) and ground chickpeas, which had been soaked and stewed for hours. The hummus was then garnished with olive oil, cumin, sweet paprika and warm whole chick peas; you added the hot-pepper-lemon sauce to taste. Admittedly I am used to eating store-bought hummus out of the fridge. The room-temperature fresh hummus combined with the warm chickpeas and seasoning was an entirely different creature from its loser supermarket cousin -- as different, say, as homemade gelato is from frozen-hard, generic-brand ice cream.
The subuch was similarly divine, warmer and more filling; the fal was fine, but blander and less satisfying than the two hummus dishes.
Yuval and I went silent as we reverently, if greedily, plowed our little pita boats back and forth between the hummus and the subuch, leaving oily wakes on the plates. Finally we were full and willing to surrender our seats to the next in line. One our way out, Yuval asked our server what was in the subuch recipe so we might share it with HuffPost readers. The server laughed.
This recipe for hummus comes as close as any to Abu Hassan's. It's adapted from Sami Tamimi and Yotam Ottolenghi's cookbook Jerusalem. Ottolenghi writes: "Our basic hummus recipe is super-smooth and rich in tahini, just as we like it, and can be kept in the fridge for up to three days and used simply spread over a plate, drizzled with olive oil and eaten with a pita or bread."
For more content like this, and beautiful modern products for Jewish lifestyles, please visit www.figtreeandvine.com. Fig Tree & Vine is a new and stylish destination for contemporary Jewish living. Follow us on Instagram @figtreevine and Facebook, or subscribe to our newsletter.