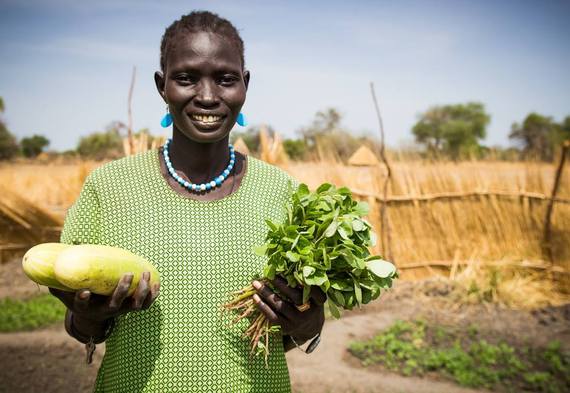 Doctor Norman Borlaug the Father of the Green Revolution founded the World Food Prize in 1986 to promote the work of scientists and agricultural organizations that promote the production of food through technology. Over the years the prize has been given to dozens of top agricultural scientists and organizations which have pioneered biotechnological solutions for increasing food production, especially in Asia, Africa and Latin America. Yet the solutions and science honored at these ceremonies aren't solving the hunger problem in our world.
The Food Sovereignty Prize begun in 2009 to champion social movements, activists and community-based organizations around the world working to ensure that all people have access to fresh, nutritious food produced in harmony with the planet. Food Sovereignty means that people should be able to grow, eat and sell their own food in the manner they choose. Members believe that increased dependence on technology, as heralded in the World Food Prize honorees, in the form of pesticides, herbicides, chemical fertilizers, and GMO seeds is not the answer to hunger and food production. Control of the food system by large corporations is not the way to protect the environment and decrease hunger and poverty. Access to land, clean water, native seeds and fair markets as well as protection from land grabs and state-sponsored violence are what small farmers need. Millions of small farmers have embraced agroecology, a method of growing food sustainably that combines the best of traditional agriculture with many of the best new agricultural breakthroughs that are affordable and safe for the environment, the food and the farmers. It is a way of life in which whole communities come together to share resources and learn from one another.
The Food Sovereignty Prize celebrates the achievements of organizations that have succeeded in growing food and promoting economic and social justice often in the face of oppression and violence from large landholders and repressive governments.
This year, the Eighth Annual Food Sovereignty Prize will honor The Alliance for Food Sovereignty in Africa (AFSA), which brings together a number of different constituencies: small farmers, pastoralists, hunter/gatherers, indigenous peoples, women, youth, consumer networks, people of faith and environmental activists in the fight for food sovereignty. Small farmers and the poorest of the poor have a strong voice in the Alliance for Food Sovereignty against land and water grabs and for a more just system for its members. As Bern Guri, AFSA chairperson, noted in the official press release, "Africa has a myriad of ways to feed her people and to keep her environment safe. However, a few international corporations from the global North have generated approaches strictly for their own profit by misleading our leaders and our people, stealing our seeds and culture, and destroying our environment."
Also receiving the prize is the Farmworker Association of Florida (FWAF). Farmworkers all over the U.S. have been unjustly treated for years and those in Florida have suffered from low wages, unsafe working conditions, sexual violence in the fields and illnesses from agricultural chemicals. FWAF has helped farmworkers to gain control of the economic, social, health, workplace and political issues they face such as racism, pesticide exposure, environmental contamination and economic exploitation. It has brought people together in communities to practice agroecology and bring healing to the communities through good food and herbs.
Elvira Carvajal, FWAF lead organizer in Homestead, Florida explains, "We have a vision to bring together the community around the art of healing with good food and herbs, which is part of our culture. We practice agroecology in the community by sharing the knowledge we bring from our grandparents, our mothers, our families, our ancestors. The meeting of cultures that happens in the gardens, where we grow our own food without chemicals, and sharing plants and traditions and knowledge across generations is a beautiful thing. I am proud of our own people practicing food and seed sovereignty."
The Food Sovereignty Prize ceremony, free and open to the public, will be held this year for the first time in Seattle at Town Hall on Saturday, October 15 at 6 PM hosted by the US Food Sovereignty Alliance, Community to Community Development and Community Alliance for Global Justice. Learn more at foodsovprize.org
Which prize really takes the prize? The World Food Prize certainly has more powerful people supporting it and is a much richer prize. The Food Sovereignty Prize will, in the long run, change the food system and help feed more people with healthier food with less cost to the environment. That is a prize beyond compare.
Popular in the Community