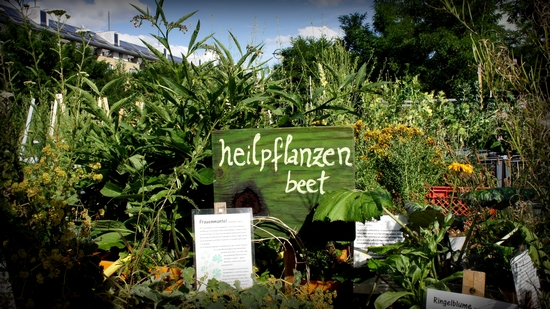 If you got kid's, you most probably love urban farming - and if you don't (have kids), you might love urban farming as well. Because it's not just big fun to watch three-year-olds marveling at food plants growing, which they will later on eat deliberately for that very reason. It's most fascinating for adult's alike. Indeed, there's no better way to enhance your knowledge about the looks and needs of kale, old tomato sorts, blue potatoes and hundreds of herbs you've never heard of. And more than this, few people can avoid the charm of some rural idyll right in the middle of the city.
Let's put it like this: Urban farming might be among the most popular food topics in recent years -- in North America as well as abroad. There are some very good reasons for it from literally locally grown food to community building -- and why should that community not be your next travel destination? One of the best reason's to go on a far-far-away vacation has always been some exotic food anyway (or any Italian treats), hasn't it? So let's put urban farming places on a traveling foodie's agenda as well.
If you like this idea, be sure not to miss Berlin Kreuzberg's Prinzessinnen-Gärten which translates to "Princess Gardens" -- and the name says it all: the urban agriculture and community farming lot is a beautiful and bohemian little wilderness with a touch of fairy tale. It's initiated and maintained by a nonprofit organization and offers one of Berlin's most charming beer gardens, workshops about recycling, indoor farming, healing plants and many more and lots of vegetables and herbs for self-harvesting, among them special and old tomato sorts. Seems like we are especially fond of the latter -- we mentioned it twice already.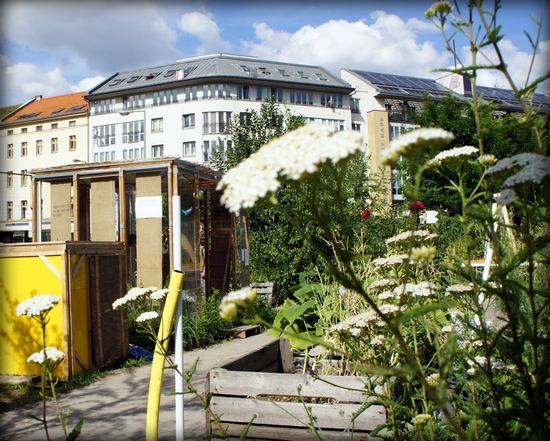 The terrain and former municipal fallow right in the middle of the city near the former Berlin wall has not always been such a rural-urban idyll, and for quite some time it had not been sure if the garden can stay in place as the ground had been leased on a temporary basis only. Therefore, the whole garden still is as mobile as plants and pots can be -- basil, kale, and beans are grown in sandbags and boxes, and so do the many flowers and useful plants that make a natural plant protection. There's fixed community farming days where anyone can stop by and lend a hand for some garden work, and a sign at the entrance indicates what crops are currently for sale. Whether you want to do a little harvest, buy whole plants or give the greens a shower, there are always some friendly people around who show you where and how. And don't forget to have a beautiful little lunch or cake -- before, in between and after.
open during summer season
community gardening days every Thursday from 3 to 6 pm, every Saturday from 11 am to 2 pm
garden café and restaurant is open every day from 11 am to 10 pm, lunch is served from 12 to 3 pm and dinner from 6 to 9 pm, the food is made from locally and regionally grown organic products
tours are offered upon advance reservation
re-use days about recycling on every month's first Saturday
flea markets every 14 days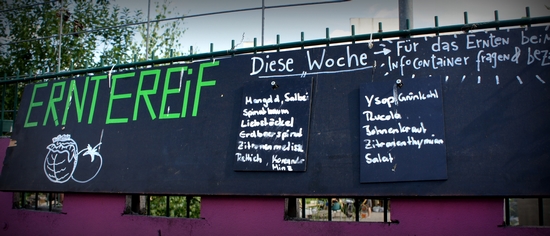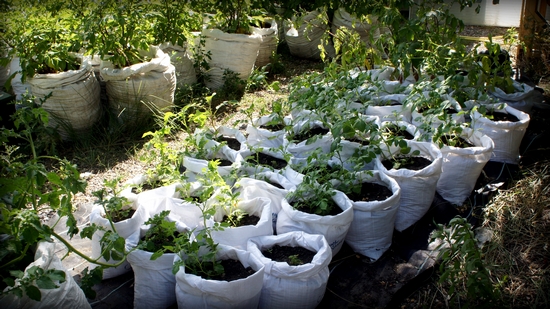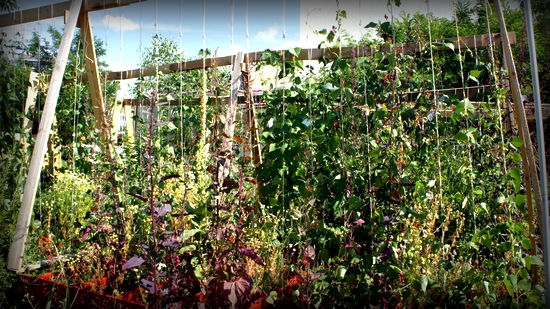 For further information, follow the link above -- and if you'd like to see more of our photos of the place, join us on our food & photography blog Food with a View and take a look at the photo essay post about Prinzessinnengärten. Have fun!
Related