The seasonal tsunami of new books on food and wine, grilling and baking, dieting and gluten-free, are increasingly just more of the same. Another Greek cookbook? Two more Thai street food books? Tedious reveries of living, loving and cooking in either of the two Portlands? Given that most of these end up selling fewer copies than a new translation of Sartre's Nausea, one wonders why the publishers bother to keep ripping off their authors via their in-house Departments of Sales Prevention.
So, unless, you are dying to try out another 120 recipes for Lebanese pastries or read about 1,001 dishes you'll never get around to eating, the only sensible thing to do for summer is to search out food and wine books worth the actual reading, books that inform, entertain, educate and enlighten. Here is my pick for those kinds of books most likely to claim a place on my bookshelves past Labor Day.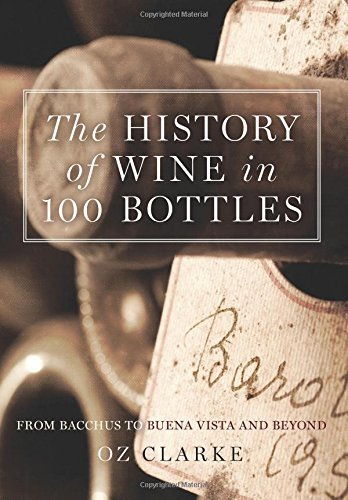 THE HISTORY OF WINE IN 100 BOTTLES by Oz Clarke ($24.95)--A wonderful read and antidote to all those windy 700-page volumes of out-of-date tasting notes and winery histories. Clarke, who is one of the wine world's savviest and most readable authors, gives us the reasons why wines as illustrious as Mouton-Rothschild and as commercial as Mateus are milestones in wine history and for the industry itself. Along the way there are stories of Egyptian tombs full of wine jars, the reason for Greek resinous wines, how the modern wine bottle came to be (in the 1740s), the importance of Louis Pasteur, and opinions on international wine consultants like Michel Rolland.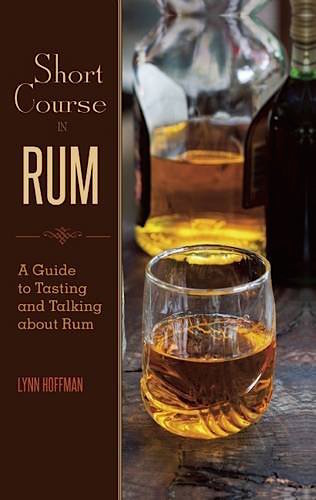 SHORT COURSE IN RUM by Lynn Hoffman ($14.95)--Let's face it, who outside the spirits industry needs a long course in rum? There is, of course, a very long, sometimes sordid, history to the liquor that involves pirates, slave trading, and Prohibition, and Hoffman gives a good taste of that. But he also gives a rollicking picture of working in a small rum distillery, why great rum need not be expensive (it's all made from cheap sugar), and plenty of recipes, from cocktails to dessert.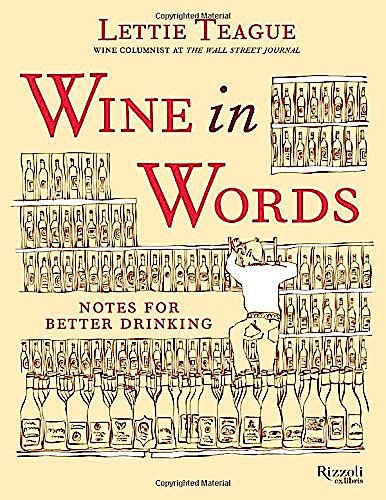 WINE IN WORDS by Lettie Teague ($29.95)--Lettie Teague followed years of embarrassing wine coverage in The Wall Street Journal with her down-to-earth, honest reporting on the industry, pointing out its foibles and marketing ploys and the emptiness of the 100-point scoring of wines. The chapters constitute a series of essays with titles like "The Well-Dressed Wine" (about expensive, often useless wine accessories), "Tasting Blind," "In Praise of Mediocrity," and "The Country of Cheap" (Chile). Teague is precisely the kind of wine-knowledgeable person who will never bore you with Winespeak, because she knows that such arcane verbiage is usually just a mask for having nothing intelligent to say about a bottle.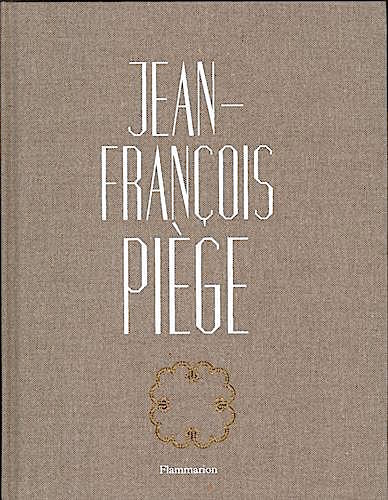 JEAN-FRANÇOIS PIÈGE by Jean-François Piège ($85)--The cliché that you can't tell a book by its cover has never been more true than in the case of this all-gray volume, whose cover hides within some of the most stunning French cuisine of a contemporary Michelin-starred master. Piège, 45, brought back the luster of Paris's Hotel de Crillon Les Ambassadeurs and made a further mark at his own eponymous restaurant on Rue St. Dominique. These are not dishes the home cook is likely to attempt, but the book is a template for modern French cuisine, which gives the lie to those who contend the gastro-scene in France has become sterile and stultified. The photos of the dishes show the complexity of Piege's cuisine, so it's too bad the recipe pages themselves are printed in black ink on battleship gray paper.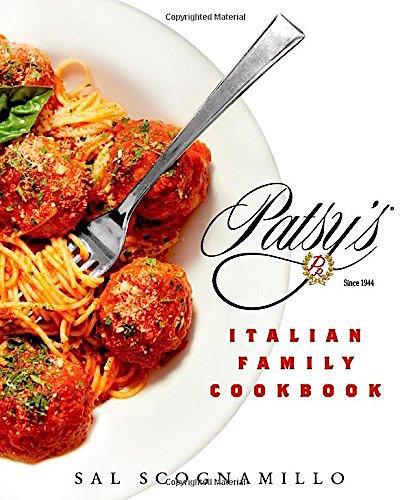 PATSY'S ITALIAN FAMILY COOKBOOK by Sal Scognamillo ($29.99)--Patsy's is far from the last remaining Italian-American restaurant in New York, but it is to my mind the best, not just for the quality of the cooking and for the wall of celebrity photos it is famous for, but for the hospitality of the Scognamillo family that has run this ebullient Theater District restaurant for seven decades. Patsy's seems never to change, but in fact Chef Sal is constantly working to improve dishes with better, seasonal ingredients, without ever compromising what made them so beloved in the first place, from mussels marinara and eggplant rollatini to osso buco and spaghetti and veal meatballs. Open any page, look at the photo of the food, and just try to stop yourself from salivating.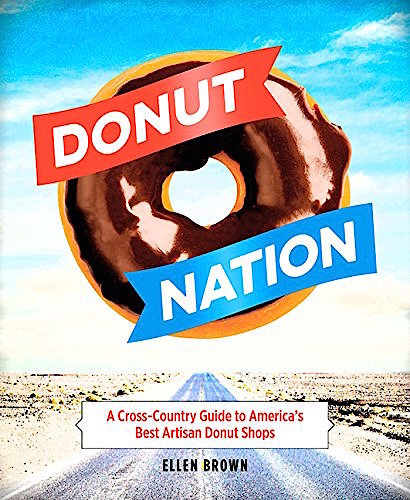 DONUT NATION by Ellen Brown ($22)--I always await with an appetite the next volume from the prolific Ellen Brown, whose topics often seem narrow but whose scope is daunting, even when it comes to an item like the donut. For this is not just a book of recipes--and they are all tempting, with names like "Dutch Monkey," "Chocolate Stout" and "Zeppole"--it is also a Baedeker to the myriad donut shops all over America, each thoroughly researched and lovingly described. Brown, who was USA Today's first food editor and now is a weekly columnist for the Providence Journal, has enormous affection for American fare and she writes about it with gusto, as when she describes the nurse-like uniforms of Psycho Donuts in San Jose, CA, where the donuts types are scribbled on prescription pads.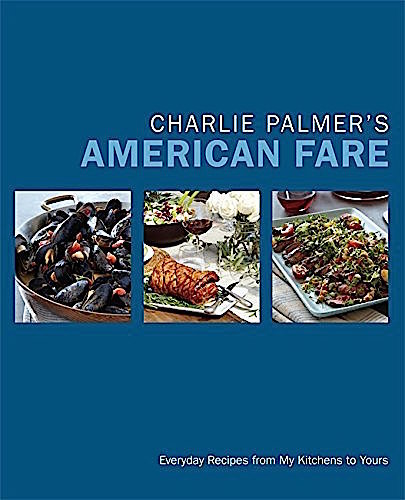 CHARLIE PALMER'S AMERICAN FARE by Charlie Palmer ($40)--The marriage of French technique and American good taste has affected both cuisines so that the distinctions are not as evident as they were before chefs like Charlie Palmer, who graduated from the Culinary Institute of America to go the classic route of apprenticing in illustrious restaurants in France, came on the scene. Today he runs 14 restaurants and hotels, and his long residency in the wine country of Sonoma has been a crucible for developing family meals based on everything he knows, from baked ratatouille and green tea soba noodles with tuna to pork loin with orange and mustard-crusted rack of lamb. Recipes are simply and clearly written and geared to the home kitchen--perfect for outdoor cooking this summer.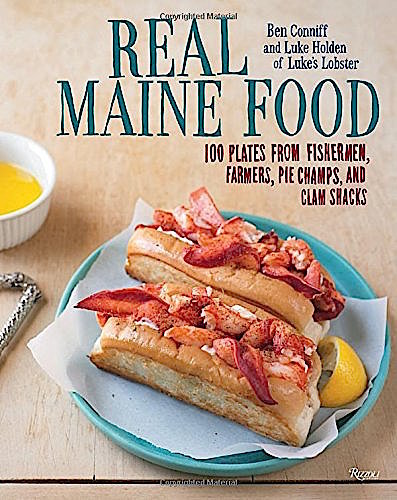 REAL MAINE FOOD by Ben Coniff and Luke Holden ($35)--I don't know that there is a "fake" Maine food, but Coniff and Holden will convince you that the 100 recipes culled from "fishermen, farmers, pie champs, and clam shacks" have a distinct regional flavor based on the glory of Down East bounty, both from the sea and the land. There are communal dishes like the "Washtub Lobster Bake" and recipes using kelp in a salad; there's a finnan haddie gratin and pastrami mackerel with whole grain mustard; and there is "Bean Hole Beans" along with anadama bread, maple kettle corn, and Whoopie Pies. The evocative photos are first-rate, too.