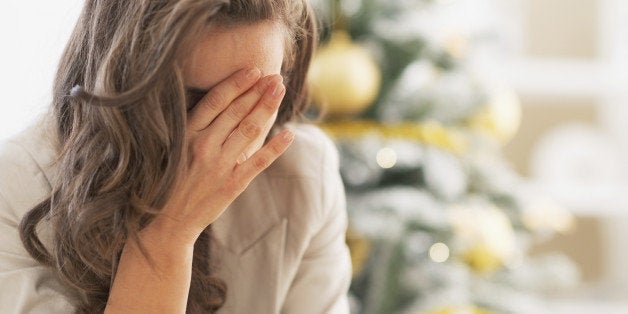 From festive tunes and decor to gift exchanges and gatherings, the holiday season fills me with child-like glee. All throughout, however, I'm cognizant of the fact that many people have near opposite views due to food angst. I know because for years, I was one of them.
I wish I could multiply and divvy up my healing and derivative joy and inject it into every person struggling with disordered eating. Since I lack that superpower, I'll instead share some useful strategies with hopes that they might find appropriate eyes.
8 Ways to Manage Food-Related Anxiety Through the Holidays
1. Know you're not alone. Little feels as lonely as fighting inner-food demons amid gleeful bashes, and little fuels those demons like loneliness. One-third of holiday stress derives from overindulgence, according to Mental Health America. Add to that the fear of being judged or watched and general food-related discomfort and it's safe to say that you're far from solitary. Considering how hidden many of these issues are, it's likely that someone nearby struggles similarly. While you'd never wish your challenges on others, viewing yourself as one of many courageous folks who "get" it can help.
2. Confide in a personal cheerleader. Many of us have at least one person in our court who we can openly confide in during tough times. Share your concerns with that person before stressful events. If you fear mid-feast panic, have a code word or signal ready, along with a plan of action. When you ask your cheerleader a particular question, for example, he or she could ask you to step away to help you with something. If the person is a distance away, keep your phone at the ready for an SOS text or call.
3. Plan ahead food-wise. Keep "safe foods," foods you're comfortable with, well-stocked in your kitchen and workplace. Bring dishes you can eat with ease to holiday events, with plenty to share. Avoid arriving to parties and feasts on an empty, rumbling stomach. Eating a balanced snack beforehand can help reduce anxiety physically and emotionally. Balanced snacks, containing complex carbohydrates and protein, help your brain produce and utilize calming brain chemicals and staves off overeating. Have whole grain cereal with low-fat milk, for example, or yogurt topped with fruit. (Neither will make you "fat.")
4. Get creative. I'm not talking about creative ways of food avoidance or pound shedding, which can fuel anxiety. Invest that energy into something therapeutic. Creativity helps take our minds off of stress, allows us to work through challenging emotions and provides emotional fulfillment. Sing. Write. Bake (if you're comfortable doing so). Draw. Paint. Dance. I've personally found free writing, writing quickly and without judgment, near miraculous.
5. If you're concerned about overeating or guilt-ridden for doing so, cut yourself some slack. Everyone feasts on occasion. One calorie-laden meal or day, or even several, won't break your wellness or trigger "fatness." Starving ourselves to make up for overeating by depriving the body of nourishment and making way for the bingeing/starving roller coaster, however, can. Even if you don't attempt to compensate, guilt and self-loathing aren't helpful to anyone. If you end up bingeing, forgive yourself and move on by eating, rather than skipping, your next meal. In other words, break the cycle.
6. Don't view foods as "good" or "bad." Demonizing certain foods makes them more tempting, increases stress and perpetuates negative attitudes and behaviors. All foods provide nutrients. Our bodies need carbohydrates, protein and fat to function and thrive. Many holiday foods, such as turkey, whole grain bread, potatoes, pumpkin and cranberries, are chock-full of vitamins and minerals. Emphasize healthy fare. If desired, allow yourself treats. Eating a modest-sized, rich dessert when you're desiring it keeps it from turning into a craving, which can trigger bingeing. Once you're finished, engage in a non-food-related activity, pronto.
7. Give yourself permission to opt out. If a particular event is too much to manage emotionally, decline. Tell the organizer you're not feeling well and make tentative plans to catch up with friends and family another time on more comfortable grounds. People who care about you wouldn't want you to attend a function that feels debilitating. (Would you force a friend who's deathly afraid of flying onto an airplane?) Opting out when it "in" seems impossible isn't selfish, but self-nurturing.
8. Focus on others. When the food monster overtakes your brain, it can feel all-consuming. While understandable and not your fault, it's also a rather self-involved state. Shift your focus. What can you do to brighten another's day? Seek the good in people and offer compliments. Ask questions about others' lives with genuine curiosity. Hug loved ones. Send greeting cards. Volunteer. A bit of warmth will help others (who may even feel equally anxious), and give you far more in return.