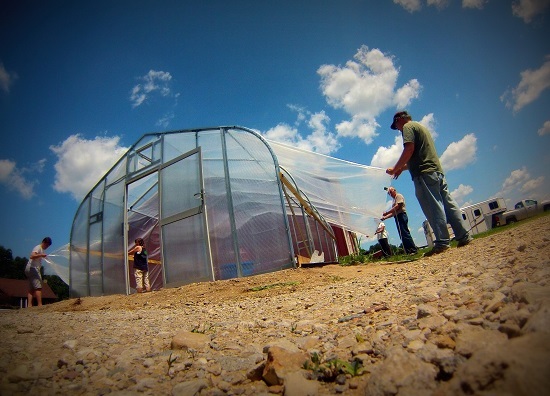 Food is so much a part of the fabric of our lives, reflecting our health, lifestyle, time, and values. Like so many of us, my childhood memories of specific events revolve around food and meals shared. Sunday dinners with my Polish grandmother preparing pierogis and czarnina. Luscious cream puffs eaten greedily at the Wisconsin State Fair. Ruby red tomatoes and thorny kohlrabi plucked from our backyard garden, fried fresh for that evening's dinner. Food was a bond of love, care, and connection to our families and the wider community.
But what if we re-imagine food today? In what new ways might food bring meaning and purpose to our busy, fragmented lives? And how might food make us whole again?
I found myself asking these questions after my oldest son, Chris, who has autism, graduated from college with degrees in chemistry and environmental studies. Chris is a highly-capable young man, but the social challenges of being in a traditional job were very hard for him. After only several months as an environmental researcher, he was asked to resign despite his best efforts at self-advocacy. Clearly, he needed a different path to apply his talents in the world of work.
When he returned home after losing his job, we thought and dreamt and talked. As we helped Chris transition back home, we made a sobering observation: nearly all of his peers with autism were chronically unemployed despite having post-secondary degrees. Our world seemed small and bleak, and Chris' future quite uncertain.
It was food that slowly brought us back to life. Meals shared, cooking lessons, tastes savored in the kitchen. Food became our saving grace during difficult, soul-searching days. And then we considered the place food played in Chris' life, and saw a pathway to his future.
Chris had always loved food. Attending Hope College in Michigan, he and his best friend started frequenting farmers' markets, visiting local farmers to buy produce and meats fresh from the farm. He loved the science of farming, the chemistry of the soil. A summer organic farming internship at the White Violet Center for Eco-Justice in Terre Haute, IN right after college graduation only whetted his appetite to be a farmer. That remained his dream.
I knew then how important it was for me to partner with Chris to help him achieve his dream. I didn't have much hope to change the minds of potential employers to help Chris get a job. On the other hand, I saw an opportunity to be entrepreneurial about the staggering 90 percent unemployment rate confronting people with autism. Why not a social venture based on Chris' great passion -- growing fresh, local food -- and use food to connect him and others with autism back to the world of work?
That spark of an idea led us to tour and study models of urban agriculture around the country. Growing Power in Milwaukee, a pioneer in the field, was a source of not just inspiration but practical farming skills for us. There, we saw inner-city youth involved in job training programs that taught farming, and once again realized the power of food to heal, make whole, and build community. We learned about Archie's Acres in San Diego, where military veterans transition back to civilian life and are trained to farm year-round. In the process, we discovered aquaponics, a highly-productive method for growing fish and vegetables together in a closed-loop system. Aquaponics intrigued Chris, and I realized it was a perfect skill-match between the skills people with autism have and the tasks needed to run an aquaponics system successfully -- like monitoring, precision, and scheduling.
After this research and a period of extensive planning and outreach, Chris and I launched our social enterprise, Green Bridge Growers, last year. Our niche is to grow using aquaponics and other year-round methods. This summer we built a prototype greenhouse in collaboration with one of our partner agencies, Hannah and Friends, where we're now growing and harvesting fresh vegetables and developing training protocols to teach aquaponics to people of different abilities.
Commodity crops are king in our home state of Indiana. With 90 percent of the food we eat trucked from out of state, we're happy to be contributing to the supply of locally-grown food in our region. We count restaurants, grocers and campus food services among our customers once we're operational, and we'll also sell direct to customers at local farmers' markets and coops.
From here, our next step is scaling to commercial aquaponic greenhouses. Each greenhouse Green Bridge Growers builds has the impact of creating five jobs for young adults with autism and producing 45,000 pounds of vegetables annually. To move forward, we have a current campaign on Indiegogo where our video shares even more of our story: http://www.igg.me/at/gbg.
Food has great power and potential. For us, it has made our lives whole once again and been a path for greater inclusion for Chris and others with autism. Indeed, a place at the table of life.
Related