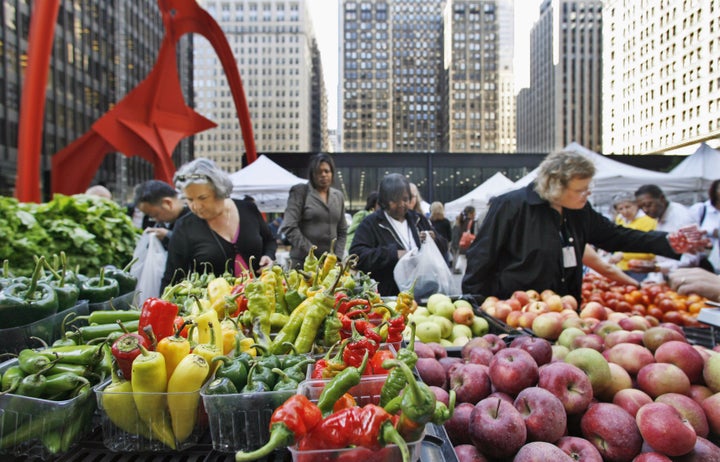 As the ground begins to thaw, and we start venturing out of the house with a few less layers, I become giddy with thoughts of spring. As a pastor in a local church, I notice that our attention moves to our tables. As Christians, our tables have always been in the center of our worship together. Every month, we celebrate communion, a meal where we take the common food of our daily lives -- the bread and wine -- and remember how the simple act of eating together can become sacred.
Inviting people to tables, this simple act of hospitality, is important in our D.C. congregation, especially when we remember that the communion table is connected to the tables in our courtyard room, where we laugh and eat together. It is connected to the tables in our homes, where families of every size and configuration build their lives. It is connected to our tables in Miriam's Kitchen, where we welcome our homeless guests in from the cold, so they can receive a hot, healthy meal. This simple table is central to our worship, and it has become vital for our work in our community.
When we look closely at what we put on our tables, it can become frustrating. A head of lettuce takes a journey of a thousand miles before it lands on our plates. The petroleum that we use in shipping and fertilizer is hard on our environment. Local farmers, who rotate and diversify their crops, using methods that are better for our soil, often cannot compete with the low prices of food that is shipped from an agribusiness headquarters.
When we look at all of these issues, we know that food is an act of faith. So what can our congregations do in response?
Start a Farmers Market. Often our congregations are in a perfect place to start a farmers market, so that we can support local growers. Many of our church buildings come with parking lots, lawns and storage areas. All of that can be put to good use for farmers who want to sell their produce to local communities.
Glean for a local soup kitchen. Each Wednesday, when the farmers markets hours are over, members of our church go "gleaning." They aren't in fields, picking up fruits and vegetables as traditional gleaning is done, but they are next to the Foggy Bottom Metro, stopping by each booth, asking the farmers if they have any food that will not be able to sell at the next market. Miriam's Kitchen has saved thousands of dollars on produce because of the generosity of local farmers. Of course, there are many farmers who will let you do some traditional gleaning as well. If you contact the growers in your area, you can schedule a time to gather produce for those who may not otherwise be able to enjoy fruits and vegetables.
Encourage farmers market nutrition programs. Income may not affect diets in the way that we think. Often children who grow up below the poverty level will struggle with obesity or diabetes. That's because a parent who is trying to feed a family with limited income and time might reach for more inexpensive, calorie dense food. Likewise, seniors who struggle on limited incomes may not get the nutrition that they need. They might avoid the outer edges of the grocery store, where fresh fruits and vegetables are sold. The organic food feels completely out of reach. In response to some of these issues, the USDA sponsors a nutrition program for low-income seniors, women, infants and children. They can use coupons at farmers markets to buy fresh, local fruits and vegetables.

Begin a community garden. Since we're in the city, we don't have any soil to start a community garden -- but that hasn't stopped some congregations. I have heard of urban churches that have planted rooftop gardens. All over the country, congregations are beginning to dig up their pristine laws so that their community can attempt to grow the perfect tomato. Community gardens are not only a source of fresh produce for the neighborhood, but they can also be learning tools for children. As kids cultivate the dirt, we can remind them of how important it is to care for the earth. As they plant seeds and watch that miraculous process of growth, they can begin to have a clearer understanding of where our food originates.
Food is at the heart of our practice together. So it's important to remember that what we put on our tables can be an act of faith.
Related
Popular in the Community