All around you, a massive crowd the size of which you can't even fathom sways, sings and mills about on 600 acres of farmland. People have been dancing, splashing in the mud and tripping on LSD for two days. It's Sunday morning, you haven't eaten in over 24 hours because you don't want to surrender your spot near the stage, and in a haze, you turn around to find someone passing you -- no, not a joint -- a Dixie cup full of granola. It's 1969, at where else but Woodstock.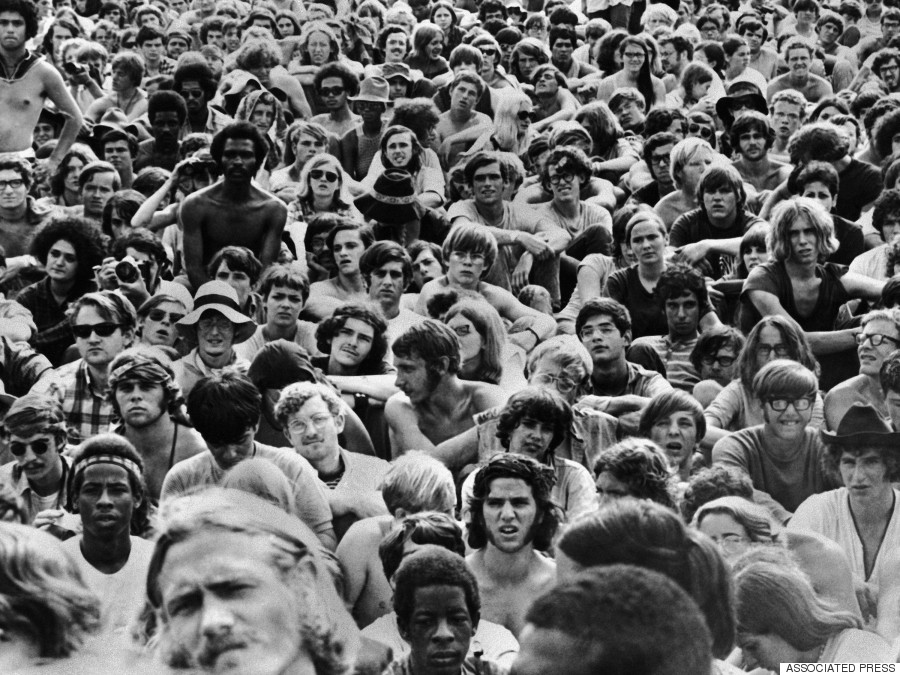 Several hundred thousand people attended the gigantic rock festival at Woodstock, New York, on Aug. 14, 1969. Photo credit: AP
With the well-known association between hippies and granola, this scene may sound like a fictionalized story made up to fit a stereotype -- to feed a mythical connection rooted less in reality than in the romantic vision of an era. The link between hippies and granola, however, is more than just a cozy connection that fits our sentimental perception of the time. It just so happens that there were major food shortages at the defining music event of the '60s, and one of the foods that provided relief was granola. Yes, hippies actually ate granola at Woodstock.
In August 1969, more than 400,000 people attended the three-day festival. Surpassing everyone's expectations, the crowd that flocked to dairy farmer Max Yasgur's land was so massive that it became the third-largest city in the state of New York for that weekend. Concert-goer Dee Lewis of Brooklyn recounts not even being able to hear much music because she had to camp so far from the stage. She got glimpses of the music when she trucked in to use the portable bathrooms.
Not only was the farmland massive, but it was difficult to reach, and there were "no telephones" and "no running water, no electricity and no easy access," according to the VH1 documentary "Behind The Music: Woodstock." Needless to say, concert promoters were ill prepared in some departments when more than twice the expected number of people showed up. Relying on quick reinforcement from places like New York City, 90 miles away, was unthinkable. As Jon Pareles recounts in The New York Times, the traffic to get to the festival grounds turned some people away and forced others to walk miles to the entrance.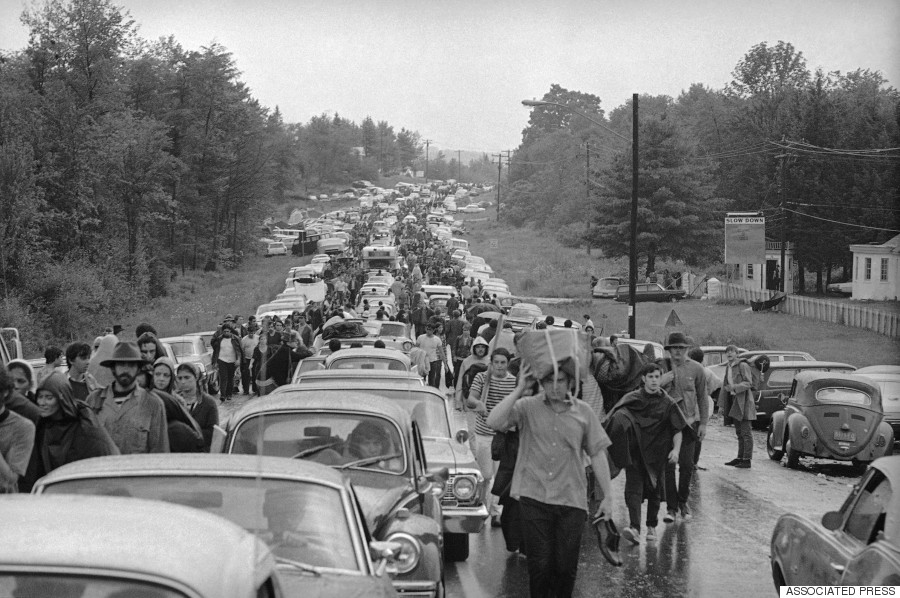 Rock music fans jam highway leading from Bethel, New York, Aug. 16, 1969, as they try to leave the Woodstock Music and Art Festival. Photo Credit: AP
There were copious amounts of illicit materials for consumption at Woodstock, but food was hard to find. Smithsonian Magazine described the lack of food at the festival in an article published in 2009 titled, "Woodstock -- How to Feed 400,000 Hungry Hippies." The festival organizers quickly learned procuring enough food was more difficult than they expected. Nathan's Famous hot dogs, which was going to provide food, declined to participate when the location was moved. In his book The Road To Woodstock, festival promoter Michael Lang recalls that none of the major food suppliers for ballparks and arenas wanted to work with Woodstock. "No one had ever handled food services for an event this size," Lang wrote. Little did they know how big the event would become.
Two weeks before Woodstock's opening day, Lang hired a group called Food For Love to serve food at concession stands. Of course, Food For Love was underprepared. Lines grew long at concession stands, and prices increased dramatically. They charged "$1 for hot dogs when the going rate was a quarter," Smithsonian Magazine quotes from Lang's book.
Hot dogs weren't the only thing with a surcharge. Richard DeLisi of New Jersey remembers that on his way into the festival, he saw "locals coming up to cars with Dixie cups full of water they got from garden houses and selling them for the outrageous price of 50 cents to $1 per cup." Mary Akerson of Cambridge, Massachusetts, told me: "I remember some empty tables along the perimeter where people had been selling or handing out granola bars and some soda and water, but they were sold out of everything and I don't remember having the option of buying anything later. We had to rely on the kindness of strangers."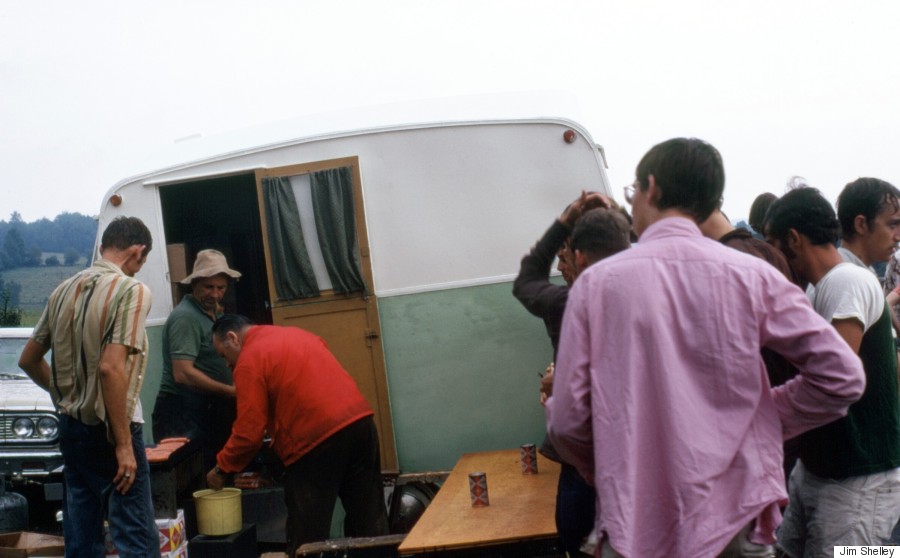 Photo credit: Jim Shelley
Food trucks assembled at the top of the natural amphitheater on the grounds, but they quickly ran out of provisions as well. Jeff Bloomberg of Boston recalls that if you left your blanket or tent, you'd have to walk miles to get supplies. Without any aisles or seating pattern marking the grounds, it was then near-impossible to find your way back to your blanket.
Jim Shelley, a volunteer and docent at the Museum at Bethel Woods, which preserves the historic Woodstock site and hosts exhibitions on the festival, told me his "story is a hungry one." He had planned to buy food once he arrived, but found everything had been sold out when he went to look on Saturday night. On his way back to his blanket, somebody shared some oranges with Shelley and his friend, and that's all they ate the entire weekend. He remembers the $1 price of hot dogs.
The festival promoters hired Hugh Romney, the founder of a famous West Coast commune called the Hog Farm, and a team of his commune members to run security for the festival. Better known as Wavy Gravy (yes, the Ben & Jerry's flavor was named after him), Romney would prove far more useful in staving off hunger than violence.
Woodstock is famous for a surprising lack of violence amid a massive gathering of young people. One instance of violence did take place, however. It was related to the food shortage and price-gouging. Wade Lawrence, director of Museum at Bethel Woods, said "a group of unruly attendees burned down one of the booths overnight, prompting Hugh Romney (Wavy Gravy) to announce from the stage the following day that the stand was burned down, and for those in the audience who weren't too against capitalism and wanted to help him out, he still had some hamburgers left."
When Food For Love ran out of supplies, jammed traffic kept new deliveries from restocking the concession stands. Fortunately, Wavy Gravy and his team were at the ready. "The stories of the Hog Farm's free kitchen are legendary," Lawrence told me. Lisa Law, a well-known photographer at the time and a member of the Hog Farm, along with fellow commune members, had driven to New York City to buy kitchen equipment, paper plates, cups and staples. The group had gathered fresh produce from local farms and served vegetarian food with brown rice to concert-goers. Rosemary Forrest told me she had only brought "a can of spray cheese (it was very new then), box of crackers and a can of chicken," expecting, like others, to be able to buy food. "Fortunately, a large group of macrobiotic hippies came prepared with brown rice and veggies and cooked up a mess of it and shared with all. It was crazy, no doubt, but a fond memory nonetheless." Members of the Hog Farm also "introduced a lot of suburban kids to granola," Lawrence said.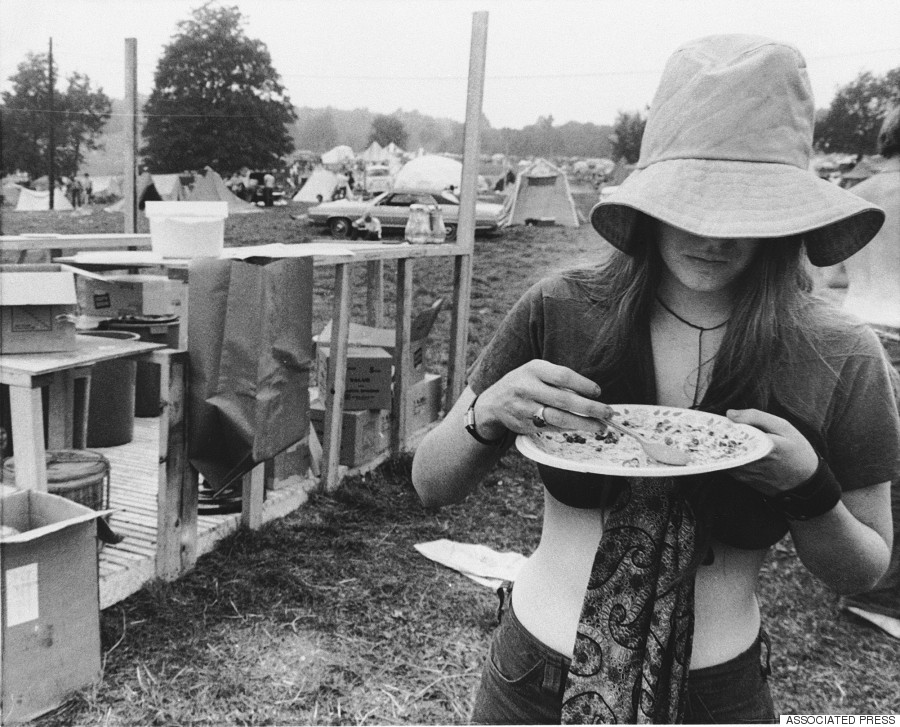 "A girl helps herself to a free food ration in the camp area at the Woodstock Music Festival in Bethel, New York, on Aug. 15, 1969." Photo Credit: AP
On Sunday morning, Wavy Gravy stood on the stage and famously announced "breakfast in bed for 400,000." In "Behind The Music: Woodstock," Gravy credits that moment as hippies' introduction to granola. "They had never seen granola before and we brought it to them in sleeping bags in Dixie cups." Of course, granola wasn't new to everyone at Woodstock, but it would be difficult to find a better publicity agent at the time than Woodstock.
Food relief didn't just come from inside the festival, either. The local community heard about the food shortages, and instead of resenting the hoard of people invading their small town, they came to the rescue. Sheriff Lou Radner of Sullivan Country, explained in "Behind The Music: Woodstock" that his county flew in an Army helicopter with food, blankets and medical supplies. According to Smithsonian Magazine, that air drop including around 10,000 sandwiches, in addition to water, canned goods and fruit. One festival-goer who calls himself Tommy Purple Haze told me he remembers eating a cold can of spaghetti, in addition to being "treated to oats and raisins from Wavy Gravy and the Hog Farm."
It's hard to imagine a music festival today where food isn't a highlight. Food is a major draw at festivals like Coachella, where food trucks and restaurant pop-ups bring menu items like bacon sticky buns, kale salad and salt and straw ice cream cones. At Lollapalooza last year, concert-goers ate prosciutto and smoked mozzarella sandwiches, white truffle-Parmesan fries and sea-salt and caramel-coated bacon strips. On the website for the Governors Ball music festival in New York City, "Food" is the third heading, after "Lineup" and "Tickets." It all shows how deeply food has permeated society today.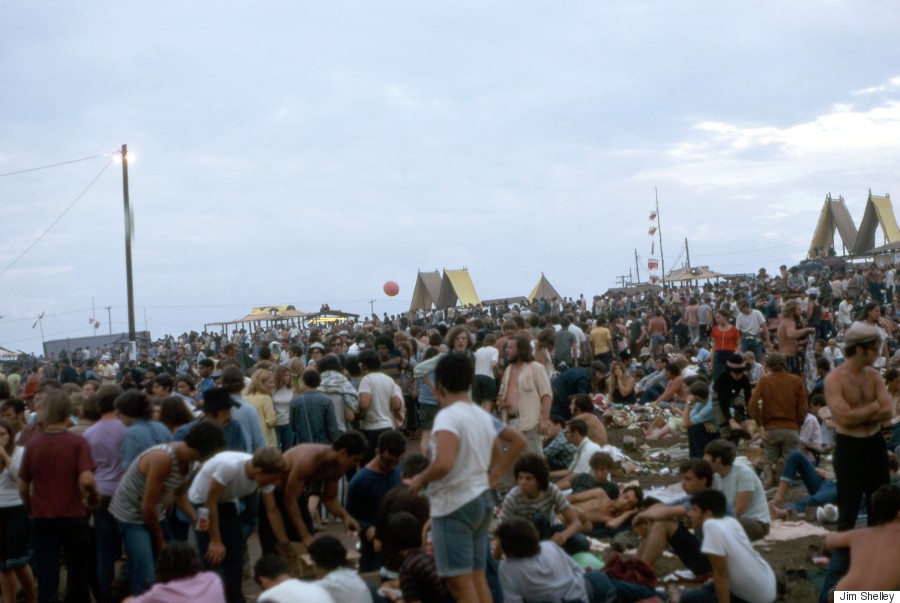 Photo credit: Jim Shelley
Listening to people tell their experiences at Woodstock, one common thread is that everyone remembers very little about the food except for two things: The food ran out fast and everyone shared what they had. "There was a sharing mentality and the people who had come prepared were generous with what they had," a festival-goer from Boston told me.
"It's pretty crazy to reflect back after all these years. We were so open and trusting," Akerson said. Between the sheer size of the farmland and the crowd, the rain, the mud, the drugs and, of course, the music, concert-goers got swept up in the moment. Food was an afterthought.
Shelley, the Bethel Woods museum volunteer, told me a funny story: "I was not allowed to bring my girlfriend (now my wife of 43 years) to Woodstock with me because it was overnight and that was a no-no. The plan was [my friend] Tony and I would drive back on Sunday, pick her up, bring her for Sunday, and leave. She was going to make chocolate chip cookies. Obviously that plan never happened."
The fond memories that make Woodstock a highlight of the decade and of many people's lives had nothing to do with food. It was about community, compassion and being in the moment. While food may be called the new rock and roll today, as Shelley reminded me, "the music never stopped."

Support HuffPost
A No-B.S. Guide To Life
Related
Before You Go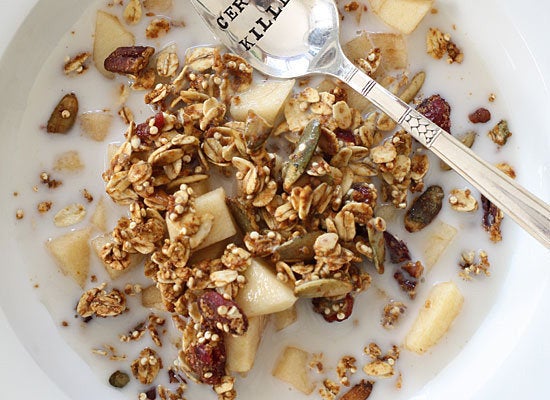 Granola Recipes
Popular in the Community