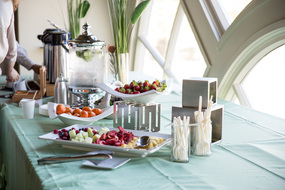 Chances are, if you work, you eat food at work. If you work full time, at least one in four meals is likely consumed at the office or during work hours. If you're a young engineer in Silicon Valley, you might even eat all your meals at work. Compared with the 1970s, Americans work 200 additional hours per year. Unfortunately, foods eaten away from home tend to be less healthy than foods prepared at home. And each year, Americans are cooking less and eating more premade meals. This, in part, is contributing to the nation's unsustainable obesity epidemic. Given cultural shifts in eating habits -- and despite many challenges -- the workplace offers a fruitful opportunity to promote health, while also earning a vibrant return on investment. The question is: How?
Providing high-quality, portion-controlled food to employees is a gap in workforce health programs that must be addressed. Businesses vary in the content and quality of programs offered, with sizable disparities in food options across sectors and regions. Even when companies allocate funds for food, fundamental tensions underlie workplace food provision. In particular, a tension persists between hospitality and health. What employees say they want to eat and actually eat are often quite different, and excessive quantity and portion sizes are of serious concern. Consider the Silicon Valley high-tech firms, home of free, ubiquitous food and renowned chefs. They score for talent recruitment and retention, yet some employees gain weight. Abundant food in endless variety leads to overconsumption, with cumulative implications for America's crisis around obesity and the related chronic diseases.
Importantly, why should employers care about food at work in the first place? Health care costs, for one. The annual obesity-related toll on the US economy is staggering: 39 million lost work days, 239 million restricted activity days, and 63 million doctors' visits, for a total cost of $142 billion to the private sector alone. An overweight employee costs an employer $450 to $2,500 more per year in medical expenses and absences. Yet, 70 percent of all illness-related costs in the U.S. are for illnesses that are preventable. Chief contributors include diet, tobacco use, and physical inactivity -- behaviors often linked to long hours and stress due to work. Conversely, employers who invest in workforce health see a positive return on investment: For every dollar a company spends on workforce health programs, it saves $3.27 in medical costs.
It is important for companies to utilize proven techniques -- such as cafeterias designed to support healthy choices through environment cues, as well as reduced portion sizes, effective labeling schemes, and other innovations -- that make it easy for employees to eat healthy food on a daily basis, and maintain a healthy weight over time.
To learn about the state of food at work, the Vitality Institute conducted interviews with a number of businesses across the country, ranging in sector and size, from eight to 80,000 employees. We also hosted a forum to explore and advance the workplace food agenda. Held in San Francisco's historic Ferry Building, the Food@Work forum brought together business leaders, food and health experts, academic researchers, and entrepreneurs.
Overall, we learned that food is an important aspect of organizational culture. To engage employers to take a more active role in tackling America's obesity problem through workplace food programs, our most salient calls to action include:
Use healthy competition and peer pressure to encourage companies to collectively create a corporate culture prioritizing food at work. Business schools could rank organizations using standardized scorecards, and companies could sign a "Real Food at Work Charter," similar to the Real Food Challenge that many universities have joined.
Harness the power of storytelling. Create a platform to share best practices and success stories across companies.
For companies lacking the budget or executive buy-in for such comprehensive food programs as those at large high-tech firms, we were inspired by alternative innovations garnering positive employee engagement. These include:
Healthy vending machines (LeanMachine, Farmer's Fridge, VendScreen) and subsidizing healthier vending machine products to reduce price and increase consumption. One study found that halving prices on low-fat vending items increased those foods' sales by 78 percent.
The Vitality Institute is catalzing efforts to elevate the importance of food at work. We encourage you to help us address this important gap in the national obesity conversation by raising the issue at your workplace, signing up for updates on our website, and following us on Twitter and Facebook. Please email vitalityinstitute@thevitalitygroup.com to work with us to shape the future of food at work.
Photo credit: Lionel Tan; Food credit: Rebecca Jean Catering.
Related