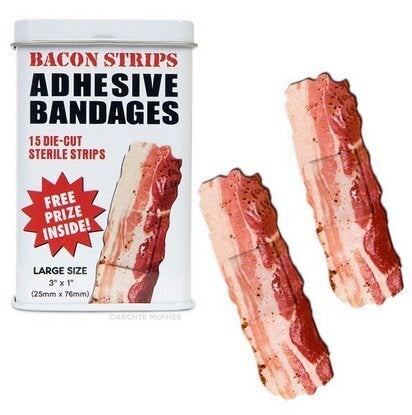 Shana Iverson is all laughs when she describes her office, which sounds less like a workplace and more like a kook's menagerie.
She ticks off a few items sitting on her desk -- an alarm clock with a monkey sitting atop it, a chenille cat from the 1950s, a yellow-skinned "Simpsons" figure -- all exactly what you'd expect from a woman whose official title is "High Priestess of Rubber Chickens."
Iverson has been with gifts and novelty wholesaler Accoutrements for more than two decades, and in that time has been witness to trends ranging from kitschy tiki paraphernalia to Jack Sparrow-esque apparel a la "Pirates of the Caribbean." She's part of a team that conceives, develops and markets these novelties.
Determining what sells well is most often a study in popular culture, she explains. Novelties are a commentary on the world's absurdities, and in a world of "Top Chef," "Iron Chef" and Food Network, food is big business.
"There's definitely been an uptick in the sales of food-related products," Iverson says. "And we've responded to it by adding more food-related products to our lines."
A quick click over to the web site of Accoutrements' direct-to-consumer offshoot, Archie McPhee, reveals just how many. There are food accessories, like the lederhosen slip-on wine label, or edible oddities like the onion ring-flavored mints. (HuffPost recently profiled another new item, foie gras bubble gum.) It's hard to overlook, too, an entire portion of the site devoted to bacon.
Although food-related products have long been a mainstay of joke and novelty outfits, sales of such items at Accoutrements began creeping up about five years ago. Since then they've increased by 50 percent, and in time food-related products began comprising a greater portion of the company's total inventory.
"I think some people like to relate to themselves as being foodies," Iverson muses about her clientele, adding, "some people are so annoyed by it that they want to make fun of them. Both angles work for us."
Bacon in particular has proved fertile ground for Accoutrements. For evidence why, look no further than the furor sparked by the recent warning from the U.K.'s National Pig Association of an "unavoidable" bacon shortage next year. Bacon is clearly something people care about.
In 2005, Accoutrements introduced "Bacon Bandages." "Ouch! That smarts!" reads its page on Archie McPhee. "Treat your minor cuts, scrapes and scratches with the incredible healing power of meat." The dolled-up bandages, which come in a pocket tin, are cut to resemble small slabs of bacon. For $4.95, you get 15 per tin.
The "Bacon Bandages" product wasn't the company's first foray into bacon territory -- it had released bacon gift wrap back in 2002 -- but it marked a turning point. "That was the biggest product of the year, we just couldn't believe it," Iverson explained. "It made us believe in the power of bacon."
Iverson and her team were quick to see the value in developing more bacon-themed products. Most aren't really made with bacon (even edible products often use a smoked flavoring in place of the actual ingredient), but that hasn't stopped sales from skyrocketing. In the last decade, Accoutrements' sales of bacon items have increased by 300 percent.
As it currently stands, one third of Accoutrements' 450 items are food-themed. A significant portion of those are riffs on bacon, in some form. Similar trends are evident on other top novelty product web sites.
GagWorks.com, which claims itself "American's Largest Joke Shop," features no less than 22 bacon items, including things the likes of "Bacon Candy Canes" and "Bacon Toothpaste." It's worth noting, too, that Accoutrements' "Bacon Bandages" also make an appearance here.
They're also featured on Neatorama's NeatoShop. Here, there are more than 50 bacon-themed offerings, including a bacon costume sized for infants, which gets even a family's youngest member in on the bacon fun.
Iverson says she doesn't believe the popularity of food-related novelties, particularly bacon items, will wane anytime soon. At the moment, Accoutrements has several more bacon-themed items in the works.
"We are just coming out with a new bacon item," she revealed giddily. "Bacon sticks ... it's kind of like Pocky," referring to the popular Japanese snack food of chocolate-coated biscuit sticks. They'll come out at the end of October.
The proliferation of bacon products does leave one to wonder: when will the trend run its course? A person can find only so much humor in bacon. When popular trends change, it would seem, so will the novelty industry.
Iverson confirmed as much. "If we don't think it's funny, we're not going to go for it."
Take a look at some of Archie McPhee's bacon novelty products in the gallery below. Would you buy any of these?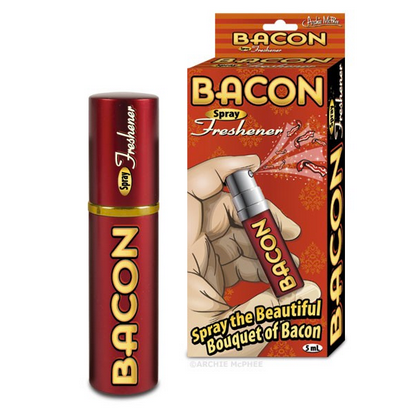 Archie McPhee's Novelty Bacon Products
Popular in the Community