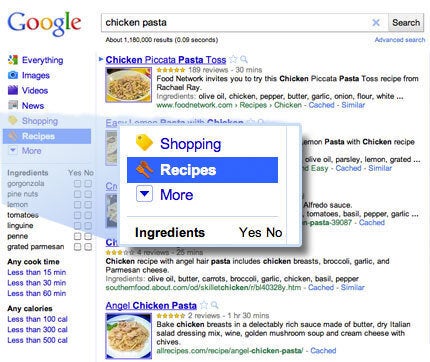 As you probably know, web pages are created with hidden tags, called source codes, that tell the web browser what that page should look like. To see the codes, go to any web page and find the option "View Source" on your web browser's drop down menus. It will open a page and show you the source code the browser must interpret to display a proper page and that Google must interpret to decide how to list your page.
I chose the Microformat language because it was easy for me to add it to my CSS and because it seems to be the language being used by the big corporate food sites. Here are the codes you can use, and below I have given you the CSS that you can copy and paste into your CSS document. Further down you can see them in use in a sample recipe. I do not use WordPress, so I don't know how to implement them in that environment. But there is a WordPress plugin described below.
Allison Day, a programmer and
, has created a
. I don't use Wordpress, so I haven't been able to test it. But it appears to be laid out pretty well. You just type or paste recipe info into fields and it inserts the code. I don't think it inserts tags for photo, author, recipeType, and a few others, but you can adds those manually if you wish. She promises further enhancements including the ability to edit existing recipes, custom recipe styling options, and microdata for HTML5 websites. Did I mention it is free?
These are the tags I use (I don't have reader ratings or nutrition info yet). You can change the order.
. It is a condensed version of my popular
. But don't go looking at the code on my other pages. I am currently creating a new database for my recipes that will store them and insert the proper microformats. If you know of one, please let me know!
If you have suggested corrections additions or references, please let me know in the comments below.
Related