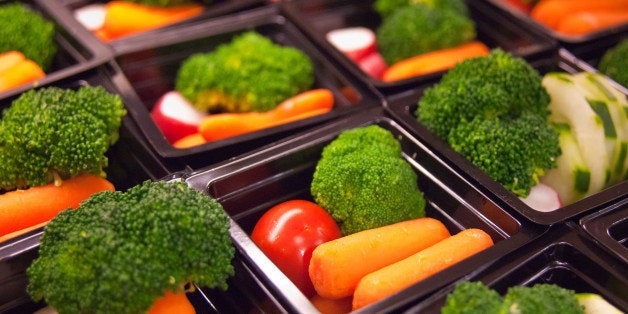 Fall River, Massachusetts, is a low-income community, and for that reason alone, food and obesity are big issues here. Greater Fall River Partners for a Healthier Community (Partners) began twelve years ago to look at how we could lower our high rates of overweight and obesity, and we came up with the often-tried ideas of adding farmers' markets, identifying restaurants that served low-fat meals, and listing corner stores where one could purchase low-fat milk and other products. We also started an aggressive campaign to teach children the dangers of drinking sugar-sweetened beverages. But our approach didn't seem to be getting good results.
It wasn't until the documentary, "FED UP", came out last summer that we realized that our approach needed some serious tweaking. The movie follows a group of families who were largely following our dietary advice but were not making any progress in seeing their children lose weight. What producers Katie Couric and Laurie David told us through those stories was that much of our message was wrong. Reducing calories and dietary fats were supposed to help anyone with a weight problem, and exercise was supposed to be half of the equation for curing the obesity epidemic in our city. But, like the children in the movie, our families weren't having much success.
While our messages about the dangers of soda and fruit drinks were spot on, our messages about low fat diets and "energy balance" from exercise might have been making the problem worse. We learned that low-fat foods were actually loaded with added sugar to make up for the taste that fat gives whole, unprocessed foods. And, sugar wasn't just in soda, it was in a lot of foods. Gary Taubes' book, Why We Get Fat, helped us understand how all carbohydrates stimulate insulin, which is mostly responsible for weight gain. Then, later in the year, we read Nina Teicholz's book, The Big Fat Surprise, and learned how the early Dietary Guidelines Advisory Committee's recommendations to lower dietary fat were actually based on faulty science and were a major element in fueling the growing obesity crisis in America.
We also heard one of the nation's most revered childhood obesity researchers, Dr. David Ludwig at Boston Children's Hospital, advocate for reducing dietary carbohydrates, and not fats, to help obese children and adolescents return to a normal weight. Now, he and the Dean of the Friedman School of Nutrition Science and Policy, Dr. Dariush Mozaffarian, are advocating for the Dietary Guidelines Advisory Committee to lift all restrictions on fats and to focus instead on carbohydrates, especially sugars and refined grains, which often underlie not only weight gain but also heart disease and diabetes. We are now working with these two researchers to better inform physicians and dietitians how to change their weight loss recommendations to be much more in line with current science.
Partners is working to correct our original message and stop recommending limitations on fat. Our current "Guide to Healthy Meetings and Events" suggests that people consume full-fat products like cheese, milk, yogurt, meats, eggs and salad dressings. We recommend that people reduce their intake of products with added sugar, as well as those made with refined grains and flours. You might say that we turned the Food Pyramid upside down as we see fats as an essential element in a healthy diet and foods heavy in carbohydrates as something to be eaten in moderation. We have even produced a twenty-minute video of our own, "Fed Up on the Southcoast" to teach people in Southeastern Massachusetts about these new recommendations.
And, what about our recommendations that everyone should exercise more in order to reduce their weight? It turns out that we were wrong about that, too! The Institute for Health Metrics and Evaluation has reported that people were exercising more than ever over the past ten years even as obesity rates have continued to go up. We have learned that, while exercise is good for a dozen reasons, in the long run, it does very little for weight loss. The notion that one can consume high amounts of carbohydrates and simply "work it off" is one that is heavily supported by Coca-Cola's Global Energy Balance Network that would like everyone to believe that poor diets can be "balanced" with sufficient amounts of exercise. It seems even Michelle Obama's Let's Move campaign, while well intentioned, has been heavily influenced by the food lobby to play up exercise over diet as the key to weight management.
Now when we hold our annual sixteen-week Greater Fall River Fitness Challenge, the longest-running event of its kind in the country that draws over hundreds of people each year, we tell participants that they won't see any significant weight loss unless they also make substantial changes in what they eat. A low-carb information and support group follows each weekly hour-long work-out, and our cooking demonstrations show people how they can switch to a low-carb lifestyle and lose weight without going hungry as they used to with low-fat, calorie-restricted diets.
Diabetic and overweight patients in a local hospital are already getting terrific results following a low-carb, high-fat approach. While it's too soon to see measurable changes in overall obesity rates in our city with our new approach, we think we are now on the right track in advising our residents to stay away from low-fat products and diets and to incorporate healthy fats while limiting sugars and refined grains. For those who are already following this advice, we are seeing terrific results.
In 2013, Fall River was chosen as one of six communities in America for its inaugural Culture of Health Prize by the Robert Wood Johnson Foundation. Part of that recognition was for our leadership in helping our community to identify and work on its own health problems. Over a third of our five-year Action Plan goals now focus on efforts to make changes related to nutrition, and a new Food Education Kit created by the team that created the Fed Up movie, offered free to all U.S. schools and teachers, will help us bring food education into our classrooms. Head to their Kickstarter page to learn how you can join and help bring Fed Up to every classroom across the country: http://bit.ly/FedUpinSchools.We think this is a great way to celebrate Food Day this year!
David S. Weed, Psy.D. is the Executive Director of Partners for a Healthier Community, Inc., a community-based public health effort in Fall River, Massachusetts. Following a 33-year career as a clinical psychologist for the Massachusetts Department of Mental Health, he retired to begin working to address many of the health-related problems that he observed in his community.
REAL LIFE. REAL NEWS. REAL VOICES.
Help us tell more of the stories that matter from voices that too often remain unheard.