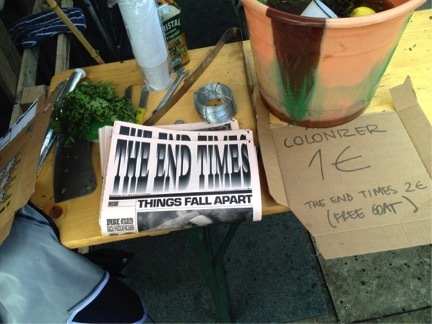 In the past months, food design has appeared in some of my posts as a new and exciting area of research and professional practice. As we gear up to host the Second International Conference on Food Design at the New School in New York City on November 6th and 7th, I will post profiles of food designers that have I have had the fortune to interview or to collaborate with. These short profiles are meant to highlight the richness and diversity of the field in terms of projects and approaches, as well as its limits and potential.
I start with the collaboration of Brazilian architect Guido Giglio and South African designer Hannes Bernard, who will present one of their projects at the New York conference. They call themselves SulSolSal, which in Portuguese means "South, Sun, and Salt.'" I had the opportunity to meet Hannes in his workspace in Amsterdam a few months ago. Sulsolsal's work, spanning Europe, Africa, and South America, reflects how food design in inherently international - if not global - in its scope and outlook. Its practitioners all over the world, fully aware of each other's work, often cooperate. Giglio and Bernard's projects also show the potential of food design to tackle complex social issues. As stated on their website, "SulSolSal combines cultural, historic and economic research to create communal spaces, publications and food performance as a means of investigating the complex relationships between design, economy & society... Their practice falls somewhere between the overlap of critical design, urbanism, art installation and public food initiative."
An endeavor that fully represents their approach is "The End Times," which they launched in Cape Town in July 2012. The End Times was a printed newspaper that, building on Bernard and Giglio's graphic and communication design skills, aimed to celebrate the creativity of the South Hemisphere, where large segments of the population live in a situation of permanent austerity, and to offer a critique of how austerity is discussed in Europe, a continent in the throws of a deep economic crisis. The printed material celebrated food initiatives that reflect South African's entrepreneurship, ingenuity, and adaptability. Pop-up restaurants spill out of private kitchens onto the street, providing affordable food and occasions for community building. Whole goats are roasted on terraces and courtyards, to be sold to neighbors and passers by. A whole informal economy is built around the basic necessity of food, reacting to and taking advantage of the interstitial spaces where the government control and order are absent or weak. As Bernard explained to me, this attitude has "a lot to do with gestures, it has a lot to do with how people live... which I think somehow are much better adapted for kind of a system where things are more chaotic, or changing, or flexible." The End Times wanted to present a visible alternative to the middle class "foodie" scene in Cape Town, which despite its relative affordability may not always dialogue with the foodscape of the area in all its class, and ethnic diversity.
This experience in South Africa urged the designers to consider food as a medium for their practice. By prodding audiences to reflect on the production, transformation, consumption, and disposal of food, Giglio and Bernard explore both the potential but also the structural and cultural problems in the contemporary food system. For instance, the designers opened a temporary drink bar in Amsterdam where they offered only three choices: Booster, Snoozer, and Builder, all based on what Bernard describes as "legal smart drugs." They took inspiration from functional drinks, whose goal is to respond to clearly identified needs, while reducing food choices to pure utility and ignoring their cultural and emotional aspects.
The project SulSolSal will present in NYC focuses on Pineapple Beer (Cerveja de Abacaxi) that the two designers produced in a rural area of the state of Bahia, Brazil, using raw cane sugar, pineapple skins and yeast, all locally sourced, as well as solar power (no electricity was available in the location) and recycled bottles. Even the label was created by using an old government printing machine, operated by foot, which had been in the area for decades. The designers' motivation was to develop the idea of zero-impact design, which although speculative can generate insights towards the establishment of a more resilient and sustainable food system. Sulsolsal's projects constitute an interesting example of how food design can engage creatively with public issues and community dynamics.
Popular in the Community