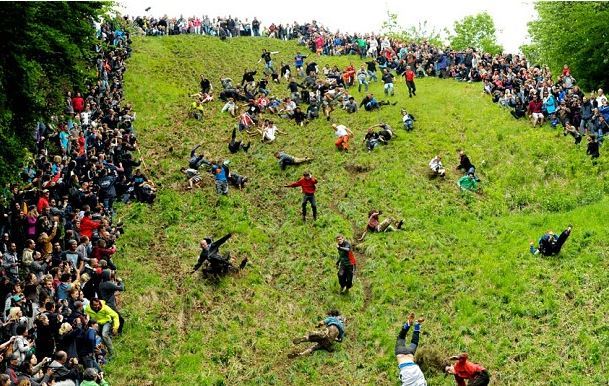 In my never-ending quest to seek out new activities to keep us over 50s occupied, I recently discovered that some Europeans seem rather fascinated with food. I don't just mean eating it, which of course would be quite normal, but inventing games or activities surrounding food.
I was brought up strictly, and told repeatedly not to 'play with your food', but now I'm officially old enough to ignore any advice from my parents, and I have decided that some of these look rather fun. Here's a few to titivate those taste buds and bring out your inner child -- the naughty one.
Let's start with a food product we should all be enjoying now that we are older -- prunes! Prunes are supposed to be good for you, since they are full of antioxidants and fibre, so make sure you eat plenty of them and then use the stones wisely to practise this activity which comes all the way from la belle France -- prune stone spitting.
Prune stone spitting competitions take place in Sainte-Livradesur-Lot in France each year. It is an area renowned for its prunes, and approximately one hundred competitors line up in the town centre to spit the pits. The furthest shot wins the honour of being that year's best spitter. The record stands at over twenty metres. That's a pretty big spit.
If spitting isn't your thing, then what about having a go at a slightly more refined activity -- Yorkshire pudding racing? This weird activity takes place in Brawby, North Yorkshire, and was dreamed up by Simon Thackray in the early 1990s as he stared out of a window at his local pub one sunny Sunday afternoon.
Large Yorkshire puddings are made in the traditional way with flour, eggs and water -- although stronger bread flour replaces the normal flour used in this dish -- and are cooked and strengthened on the inside with wire. The outside is coated in varnish, to help repel water leakage.
The Yorkshire Pudding Boat Race® attracts much media attention each year. The races are usually undertaken by children, who are lighter than adults, but we all know that we Boomers are mere children at heart, and we too would love to leap in and have a go. If this doesn't float your (Yorkshire-pudding) boat, you could just learn how to cook them, and enjoy them with your Sunday roast.
Still on the theme of Yorkshire puddings, you might want to join tourists from as far away as Australia, and take in the annual World Black Pudding Throwing Championship in Ramsbottom, Lancashire where the ancient grudge between Yorkshire and Lancashire is played out again -- this time by hurling black puddings at a pile of competition sized 6oz Yorkshire puddings, stacked in a pile on a 20-foot high plinth. Competitors are allowed three attempts to knock down as many Yorkshire Puddings as possible but must throw underarm from a purpose-built stand called the oche. This competition dates back to the 1980s but it is alleged that during the War of the Roses, the two sides exchanged fire with foodstuffs when their ammunition ran out!
Let that inner child have a field day at the pea shooting festival at Witcham, Cambridgeshire. This is loosely termed a festival since the food isn't celebrated. In 1971, local headmaster Mr Tyson held the first pea shooting competition as a way to fundraise for the upkeep of the village hall. Be warned! The competitors take this sport very seriously and you'll need hi-tech gear (like the laser-guided pea shooter) to stand a chance on the field with these seasoned pea shooting veterans.
You might prefer something just as challenging and fancy taking part in the cheese-rolling event at Coopers Hill in Gloucestershire. (See above photograph.) The annual event has been going on for hundreds of years. It's a simple idea. You take a round cheese, (I don't recommend a tiny Babybel as they get trodden on easily), stand at the top of the very steep hill, and then roll it down the hill to the finish. Both you and your cheese need to reach the bottom of the hill. Sounds simple enough? It isn't. In 2009 there were 15,000 competitors, so you can imagine the bedlam, with people and cheese running and falling in every direction. It's a fun day out though and attracts huge attention. You can find out more from the official website and even watch videos of the races. Should your cheese get flattened en route, you can always take it home and turn it into a cheese sandwich.
Once you master the knack of cheese rolling, you should try your hand at orange rolling. It wouldn't be summer in the UK without the odd spectacle of watching people race and chase oranges down the steep high street in Totnes, South Devon. This tradition reputedly dates back to the day Sir Francis Drake bumped into a delivery boy, causing him to spill his fast-moving fruit down the hill. Personally, I prefer my oranges to be freshly squeezed, rather than horribly squashed.
Not exciting enough? Then go visit the Ivrea Orange Festival in Italy, originating from the 12th century when, during celebrations and parades, girls threw oranges from their balconies to attract the attention of any boy they fancied. The boys began to reciprocate (typical!) and this evolved into a messy rivalry between the girls on the balconies and the boys on the street. Nowadays, anyone can participate for free and join one of the nine teams on foot or become a member of the carriage crew.
More famous than these events, of course, is the annual tomato throwing spectacle in Spain. La Tomatina is a food fight festival held on the last Wednesday of August each year in the town of Bunol near Valencia in Spain. Thousands upon thousands of people make their way from all corners of the world (anywhere from 40,000 to 50,000 people) to fight in this 'World's Biggest Food Fight' where more than one hundred metric tons of over-ripe tomatoes are thrown in the streets. Come on, admit it, the thought of hurling tomatoes at strangers has a certain appeal. It's much more fun than flicking a few sprouts at your friends in the dining hall when you were at school.
Of course, competitions and festivals involving food and drink are not just to be found in Europe. Who hasn't had a go in the USA at beer pong, also known as Beirut? Normally carried out at college parties, it can now be considered a sport and even has its own world series. For those of you who managed to lead a sheltered life, it is a drinking game in which players throw a ping pong ball across a table to try and land the ball in a cup of beer at the other end. I favour this last event and suggest we start our own Boomer version? Maybe we should try it with a ping pong ball and a cup of cocoa?
PHOTO GALLERY
Never Too Old To...
Calling all HuffPost superfans!
Sign up for membership to become a founding member and help shape HuffPost's next chapter