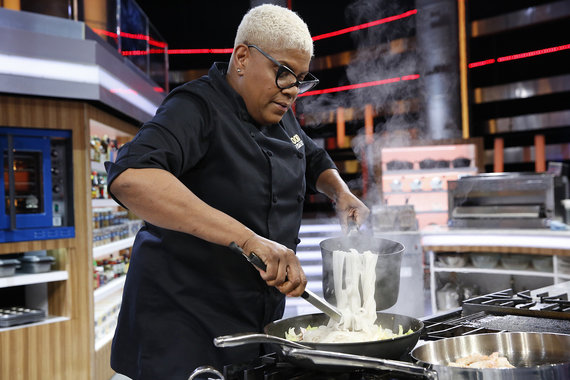 (Photo: NBC/Universal)
If you've been watching NBC's game show meets culinary show Food Fighters, then Chef Deborah VanTrece is on your radar. The former flight attendant turned caterer turned restaurateur, developed her love of food as a kid growing up in St. Louis, Mo. She enjoyed home economics classes and would try out recipes for her family and classmates.
As a college student at University of Missouri at Columbia, her love of food continued. "I was the student with the electric grill in my dorm room cooking up plates of food for my friends," says VanTrece who goes by the moniker Chef Deb. Upon graduating, she became a flight attendant, living abroad and traveling the world and building her taste profile. "I worked with and met people around the globe. I had the opportunity to eat at different restaurants and to sample global cuisines," says Chef Deb. Her continued love of food eventually led to enrolling in culinary school at the Art Institute of Atlanta, where she was valedictorian. "I took the recipes I learned from my family, coupled it with what I learned about food from my travels and partnered it with book knowledge to develop my concept of soul food," she offers. "Food reflects my personal experiences. It is a combination of what I was brought up on, what I traveled and saw, and what I've learned from textbooks," she adds. "I'm drawn to the recipes that are created in homes by mothers and grandmothers, no matter the culture. To me that is soul food," says the game show contestant.
I had the chance to catch up with Chef Deb at her bustling soul food fusion restaurant Twisted Soul in Decatur, GA. Chef Deb, who owns the restaurant with her wife Lorraine Lane, makes it a point to know her customers and her food, milling about to find out what works well. Lane is sort of a mad scientist of cocktails, working her magic behind the bar to create concoctions that compliment Chef Deb's cuisine in an eclectic, welcoming space. Together, they create an atmosphere of family, food and twists on classic soul food cuisine like chicken and waffles, pimiento cheese grits with chicken sausage (Halal), black-eyed pea salsa, twisted soul salads and flash fried chicken wings in coconut gravy and jasmine rice. Chef Deb's cuisine is now being featured on national television on Food Fighters. She talks choosing a career in food, Food Fighters and what's next for her career trajectory.
NB: You were successful as a flight attendant. Why did you decide to pursue a career as a chef?
DV: At the time I was married to my former husband who played professional basketball overseas. I was working as a flight attendant and doing well, but then there was a strike. I felt vulnerable and realized that my livelihood was in someone else's hands. I needed more control over my life, which is why I ultimately went to culinary school. I always loved food and travel and this was a great way to bring the two together and to be more in control of my life.
NB: How did you end up on NBC's Food Fighters?
DV: Interestingly enough NBC called me. They were looking for a soul food chef and through their research found me. At first I didn't believe it. I said, "This is who?" and "You want what?" I really didn't believe them until they sent paperwork with a peacock on it. Then I knew it was real. I had a Skype interview and the next thing I knew, I was on my way to L.A.
NB: What has been your experience on Food Fighters?
DV: It is a positive show and has been very educational for me. As chefs, we sometimes get so caught up in our world that we forget what other chefs do, so it was nice to meet other chefs from all over. Being here in Atlanta, there are so many reality shows that focus on negative drama that it is overkill at this point. I'm glad that I was able to be a part of a positive show that shows a different side of people living in Atlanta.
NB: What's next for Chef Deb?
DV: I want to do more television. People have been asking me for years to do a cookbook, but I wasn't ready. Now I'm more mature and feel like I can do a really great job. I want to have more than just recipes. I want to tell stories because that's really what great food is about.
Food Fighters airs on NBC on Thursdays at 8 p.m. Check your local listings for channel information.
This post was written by Nsenga K. Burton, founder & editor-in-chief of the award-winning news blog The Burton Wire. Follow her on Twitter @Ntellectual.

Popular in the Community