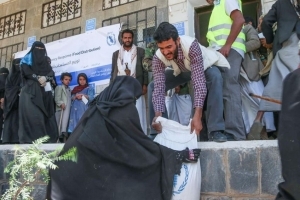 Yemen is suffering through a civil war, Al-Qaeda and now ISIS. But the most powerful of enemies is silent and unseen.
It is hunger. It is malnutrition, which threatens the lives of small children. Hunger and malnutrition are growing at an alarming rate throughout Yemen.
The United Nations revealed this week that 19 of 22 governorates in Yemen are facing crisis or emergency levels of hunger. Ten of these governorates (Saa'da, Aden, Abyan, Shabwa, Hajjah, Hodeidah, Taiz, Lahj, Al Dhale'e, and Al Baida) are in the emergency state of food shortages. That is one step away from famine, which is likely if the civil war continues.
There are now 12.9 million people in Yemen living in hunger-- almost half of the population. This number has risen dramatically since the outbreak of fighting between the Houthi rebels and the Saudi Arabia-backed coalition.
The UN says, "Yemen desperately needs a pause in fighting, increased access and funding for humanitarian assistance, and an immediate large-scale resumption of commercial imports," which have been halted by the Saudi Arabia-led naval blockade of the country.
The UN World Food Programme (WFP), which leads hunger relief in Yemen, is struggling to move supplies inside the country because of fuel shortages and the ongoing violence. A ceasefire is needed immediately to allow WFP and other aid agencies full access to those in need. The situation is desperate.
Purnima Kashyap, the WFP Yemen director, warns:
With the fluidity of the situation and until a political solution is in place, we will continue to see an increase in the number of people struggling to feed themselves and their families and further deterioration in food security across Yemen.

We appeal to all parties to ensure unrestricted access for the delivery of humanitarian assistance to affected people.
A ship from the United States Food for Peace program arrived in Yemen's Al Hudaydah Port on June 2. It had to be diverted from another port because of the fighting.
This is one of a series of shipments expected to arrive from Food for Peace (FFP), which is the single largest donor to WFP. This means wheat, peas, vegetable oil and other foods for the hungry in Yemen.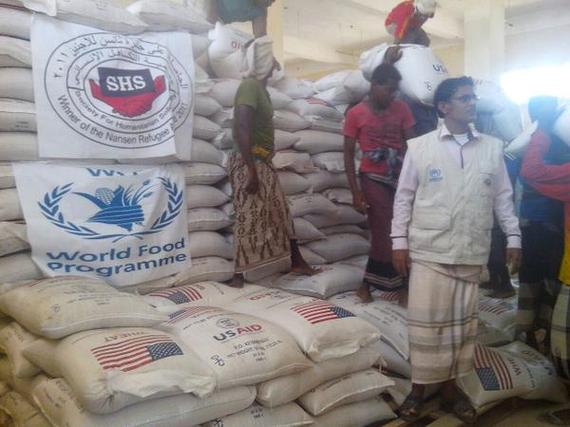 United States Food for Peace donations save the lives of Yemenis suffering from hunger. (World Food Programme photo)
Danielle Mutone-Smith of USAID explains,
This contribution will support WFP activities targeting 6 million food-insecure people in Yemen through supplementary feeding for children aged 6-59 months, general food distributions for nearly 3 million of the most-vulnerable individuals, and monthly household rations for 500,000 acutely food-insecure IDPs and returnees.

USAID/FFP anticipates providing additional food assistance to Yemen based on assessed humanitarian needs in the coming months.
Think about this. Even before this year's conflict erupted, hunger was a major crisis in Yemen. WFP was planning to feed around six million Yemenis. This made it one of WFP's largest country operations in the world.
Then the civil war came. This struck a population that was already impoverished and hungry. It pushed others over the borderline into hunger. Now WFP is making plans to scale up for feeding close to 12 million Yemenis by the end of the year. It would be one of the largest food aid operations in history.
WFP relies entirely on voluntary donations. It's clear that the U.S. Food for Peace program will have to lead the international community in meeting this emergency hunger crisis in Yemen.
The United States Congress will have to dramatically increase funding for Food for Peace for this to happen. In addition, necessary reforms to Food for Peace must be adopted.
A strong U.S. Food for Peace program is vital considering the hunger in Yemen and other suffering countries. In fact, there are more people displaced by war globally than any period in history. That is close to 60 million people who have been forcibly displaced and need food assistance to survive. The Middle East alone has several hunger emergencies ongoing with the wars in Syria, Iraq and Yemen.
Whatever hopes for peace for Yemen or any other nation clearly cannot be achieved if people are starving.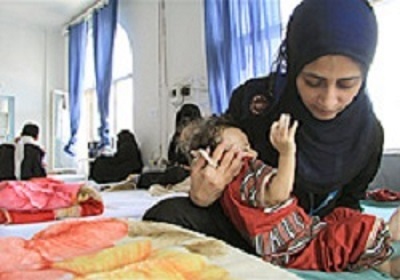 UNICEF Nutrition Officer Dr. Rajia Sharhan holds a young child at a therapeutic feeding centre in Sana'a, the Yemeni capital. See a previous interview with Dr. Sharhan about child malnutrition in Yemen. (UNICEF Yemen/2011/Halldorsson)
Children are suffering immensely in Yemen from malnutrition. The war has caused many health facilities, which treat malnutrition, to close. UNICEF has put together mobile health clinics to bring children life-saving supplies such as Plumpy'Nut, an enriched peanut paste which stops malnutrition. Malnutrition in small children causes lasting physical and mental damage, or death.
The U.S. International Food Relief Partnership is supplying Nutributter, another food which treats child malnutrition. The Nutributter is being distributed in Yemen by the International Medical Corps. A Rhode Island based company, Edesia, produced the Nutributter from a Food for Peace grant.
Much more food will be needed in Yemen for the coming months. WFP is short on funding for its current operations and obviously its projected scale up requires additional funding.
The United States Food for Peace program must lead in building the international coalition to save Yemen from famine. A peace plan cannot succeed without this vital ingredient of food. A generation of Yemeni children can be saved from malnutrition, if the world acts.
Popular in the Community