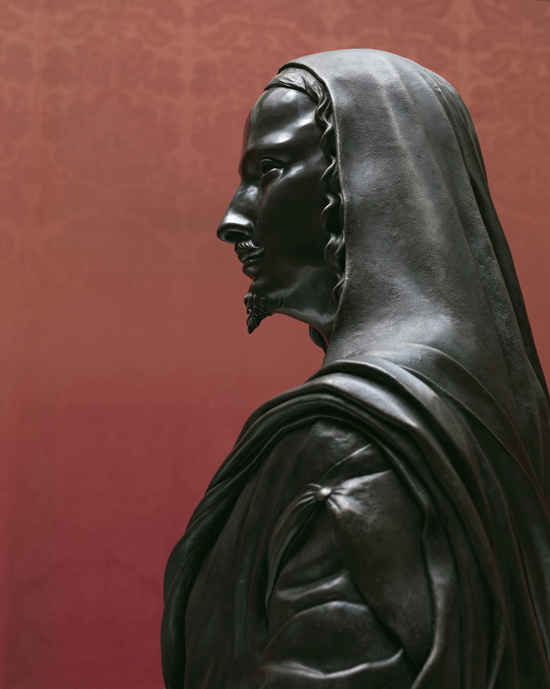 Et tu, Duchamp? (detail), 2009 Black bronze 114 x 88 x 59 cm / 44 7/8 x 34 5/8 x 23 1/4 in Marble plinth: 123 x 123 x 122 cm Overall height: 237 cm. Courtesy of Hauser and Wirth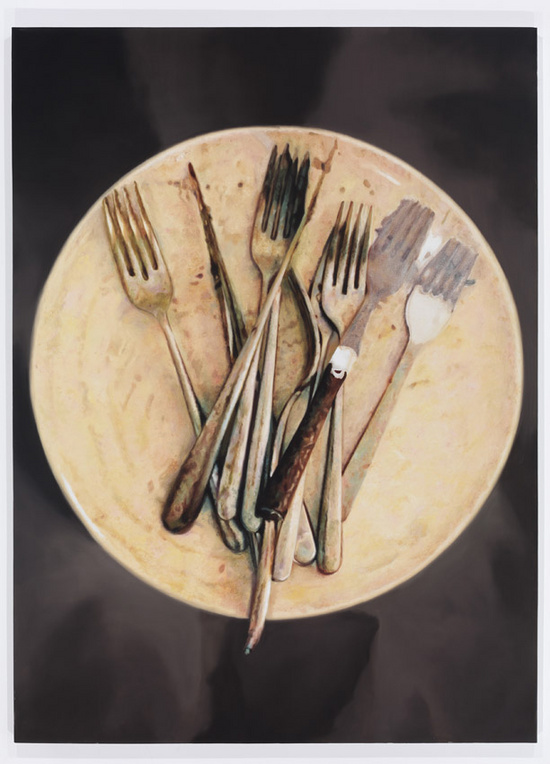 © Subodh Gupta, Full moon, 2011 Oil on canvas 228 x 168 cm / 89 3/4 x 66 1/8 in
The economy of art is viewed with suspicion in a country where most still struggle with the basic necessities of survival...an onerous responsibility to bear for one of India's top selling artists. Still, such social concern seems disingenuous looking at the media's general ambivalence towards the fortunes spent by its own elite on weddings ($50 million extravaganzas). India's surge in the contemporary art market is a sign of increasing luxury and leisure for its fattening middle class. The romance of poetry does not register on an empty stomach.
The moon does look like a big pizza pie to most of India. Well, more a chapatti. Speaking about his monochrome painting depicting empty plates of leftover food, hung at his recent exhibition at Hauser & Wirth, Subodh Gupta said, "It's like the full moon; left over plates, inspired by street vendors who use thalas to make chapattis - it's a tabletop photograph."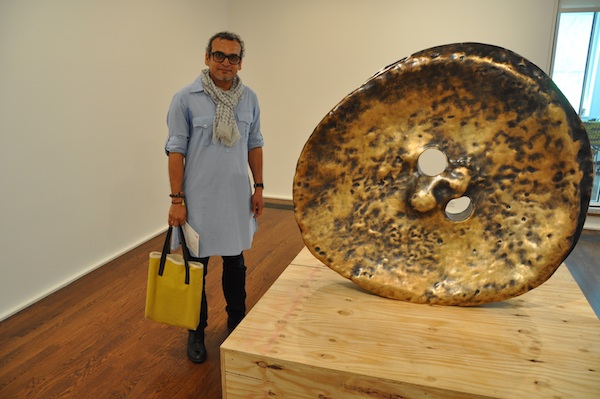 Artist Subodh Gupta NYC 2011 photo: Kisa Lala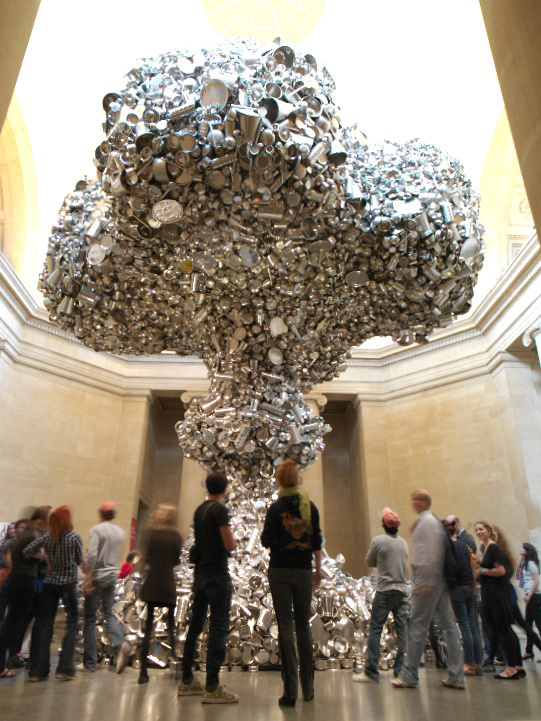 © Subodh Gupta Line of Control, 2008 Stainless steel and steel structure, stainless steel utensils 1000 x 1000 x 1000 cm - 393 3/4 x 393 3/4 x 393 3/4 in Installation view 'Altermodern: Tate Triennial 2009', Tate Britain, London, 2009 Photo: Mike Bruce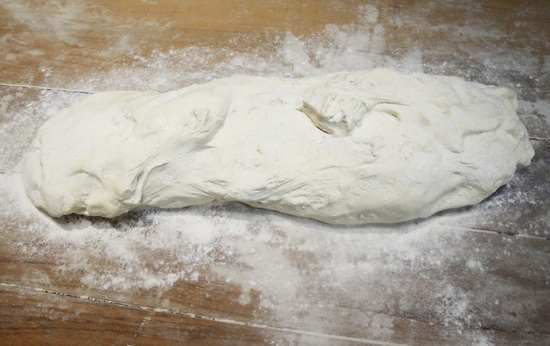 © Subodh Gupta Atta, 2011 Painted Bronze, flour, table 8.5 x 18 x 59.5 cm / 3 3/8 x 7 1/8 x 23 3/8 in
Gupta translates accouterments of daily use into sculpture. There is a stainless steel glass on display at the gallery filled to the brim with water. He says it is a paradox that most Indian utensils made of aluminium are shiny and bright. "I have worked with stainless steel for many years, and like to use it because in India more than 70% of the population use stainless steel for breakfast lunch and dinner. And, I am fond of cooking, and most of my time I also spend in the kitchen."
"It is also shiny" he adds, "and when 90% of the population use this for food - there is some irony to the shininess of the object, and its emptiness - because some of the plates go without food too. Many layers come together to make my story." Wishing to weave the work in its humble cultural context Gupta continues, "Water is essential for everyone. When you go to someone's home, a glass of water is like a ritual. If someone is angry you give them a glass of water and the conversation begins from there."
We covet things shiny and smooth, more than things dull and rough. It seems instinctually obvious, but why? The answer must lie somewhere in our Neanderthal cortex. Even magpies know there's nothing so bright and alluring in nature as a stainless-steel plate.
Gupta is a master of kitchen-kitsch; transporting us from notions of scarcity, his tiffins and pots are aglow with the fantasy of abundance, the people's proverbial pot of gold. Gupta, who speaks haltingly in Indian accented English, is the son of a railway guard from the once impoverished Indian state of Bihar, where he struggled to make good. Through his gradual recognition by western art collectors (François Pinault was one of his first patrons) he has come under scrutiny by critics who seek to interpret his conceptual works through the dogma of western art aesthetics.
Gupta's works have often paid homage to iconic artists such as Koons and Duchamp. Critics who try to peg his style frequently exasperate him. Yet it is hard to play both an insider and an outsider when the market for art is fast becoming homogenously global. Gupta tells me, "I get very nervous and it is difficult for me." This is true for many artists pressured to articulate and thereby legitimize their work in the vernacular and current vogue of discourse. Looking at art is an intuitive process. Judging by Pinault's collection at Palazzo Grassi and beyond, as a collector he is bold and knows in a blink what makes interesting art, sending critics scrambling for trends in the aftermath.
"I get inspired by things visually," explains Gupta, "not through studying what has been around for a while and whether many people are doing it. What is important is what one is looking at; what is its effect? And that [idea] has to be my own."
Gupta explains the simplicity of the steel glass in what sounds like a much rehearsed glib defense to address the tedious comparisons to art luminaries like Claes Oldenberg, (which Gupta's work does not remotely resemble). "My visual studies are stronger than my academic studies - that's why when I learned about minimalism - I thought about what I could do in my world related to that, and I came up with this particular work through which to express myself... There is a difference between the written and the visual story. Visual stories are unlimited, every individual takes with them their own story." Gupta prefers to keep some of his sculptures, 'Untitled,' to encourage different readings.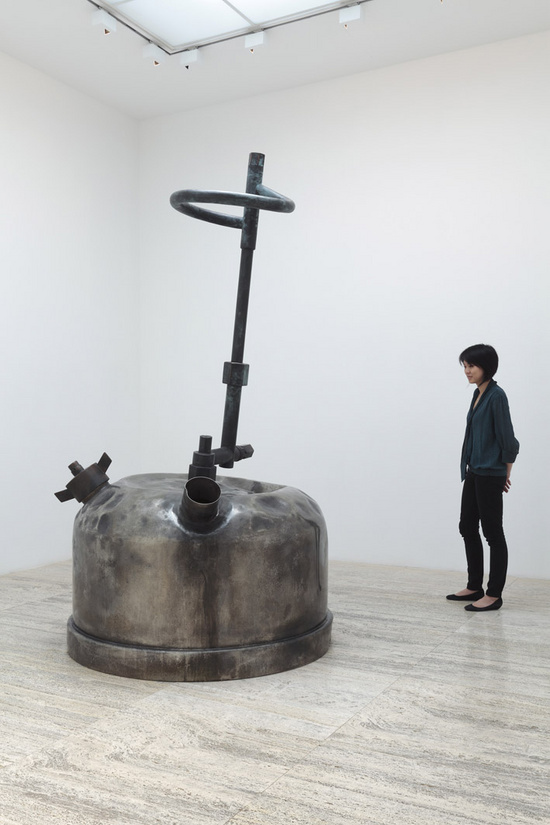 Subodh Gupta Installation View at Hauser & Wirth 2011
Growing up in a family of three elder sisters and his mother, Gupta's art is domestically inclined. He is attracted to things customarily overlooked, either because they are ubiquitous or insignificant but have character. A kerosene lamp typically used in humble abodes, mass-produced utensils, the accouterments of the poor, cow dung used for fuel, ((he had made a 9 minute video of him washing his naked body smeared in dung) - are often placed in a sanctified context.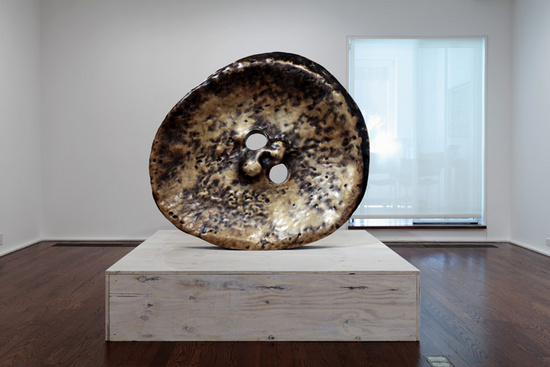 Subodh Gupta, Untitled, 2011, Photo: Thomas Mueller
Gupta began small but dreamt big. Scale fascinates him. At H&W he takes a broken button and magnifies it to explore its value as a sculptural object.
"It's like when a person dies you make a statue of the person; for me making sculpture has the same respect in feeling; of making something monumental."
He loves to cook. (His wife, artist Bharti Kher offers recipes in the June 2011 issue of Wallpaper magazine, in which they both appear, on the cover). Inherent in his bronze sculpture of a mound of atta (dough for chapattis) is the toil of making the chapattis, a task he is familiar with, having made them for many years - its nature, consistency and the number it feeds are all part of the story. He described it, "The dough when it's kneaded is a changing sculptural form."
The narrative enlivens the art. Gupta says his work is an ongoing, unfinished self-portrait, connecting the viewer through the personal feelings he imbues in his objects. "Every human being has possessions." But, as an artist he feels his unique privilege to express, "What I like on the inside I can project to the outside." Like with the dough, Gupta plays with his art, and you can tell he has a lot of fun doing it.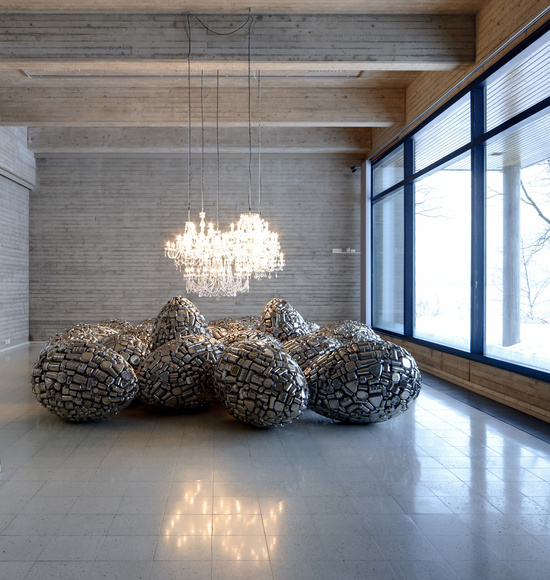 Subodh Gupta solders stainless steel tiffin carriers, pots and pans into these egg shapes shown here. 'Incubate' Installation view, Sara Hildén Art Museum, Tampere, Finland, 2011 Photo: Jussi Koivunen Courtesy of Hauser & Wirth Gallery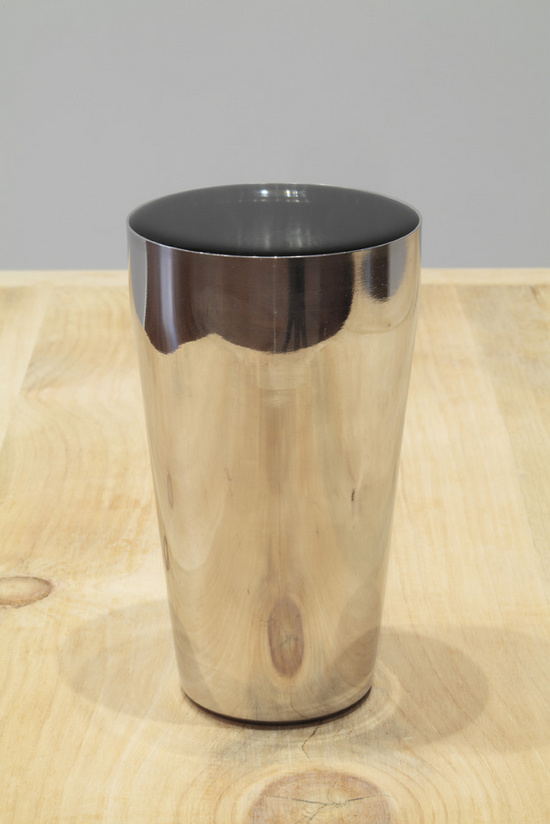 Subodh Gupta at Hauser & Wirth A glass of water (detail), Photo: Thomas Mueller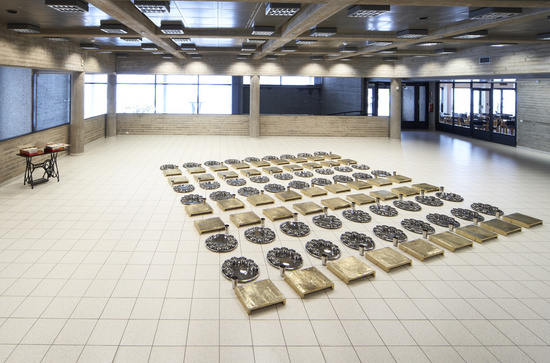 © Subodh Gupta Installation view, Sara Hildén Art Museum, Tampere, Finland, 2011 Photo: Jussi Koivunen Courtesy Hauser and Wirth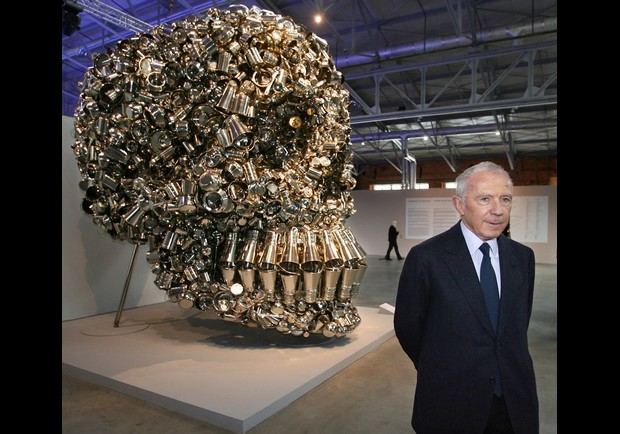 Francois Pinault stands near the giant skull sculpture 'Very Hungry God' by Subodh Gupta at the opening of a contemporary art show in Moscow on March 19, 2009. The exhibition, at the 'Garage' gallery run by Daria Zhukova girlfriend of Russian billionaire oligarch Roman Abramovich, displays selected works from Pinault's personal collection.(Photo credit: YURI KADOBNOV - AFP -Getty Images)"
All images Courtesy of Hauser and Wirth except where noted.

Related
Popular in the Community