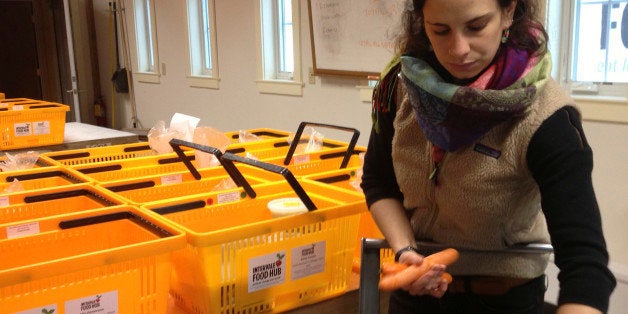 When we heard Ann Karlen, executive director of Fair Food in Philadelphia, give a talk called "Wait, Wait -- Don't Start That Food Hub," we knew we were looking at a genuine trend. If you're working in the food systems field, it suddenly seems like everyone and their brother is starting a food hub. Even the mainstream media has taken notice (see this recent AP story).
On the one hand, that's a great thing. Food hubs -- enterprises that actively manage the aggregation, distribution and marketing of source-identified foods from local and regional producers -- could be the key link in a new supply chain that fixes our broken food system. That's why RSF Social Finance, the organization I work for, has been the country's most active lender to food hubs. On the other hand, the momentum and hype around local food and regional food systems is leading a lot of well-intentioned people to think, "Let's start a food hub! How hard can it be?"
The answer is: really hard. That's partly because it's not entirely clear which business models perform best in this nascent sector. The Wallace Center has been collecting data on growth trends and effective operational practices with an eye toward creating benchmarks, and its National Good Food Network program maintains a repository of research to date. From our own food hub portfolio, we've learned that at minimum, building these fundamental supply chain businesses requires patience, considerable business skill, and discipline to ensure that farmers benefit.
Successful models are out there -- but each hub must find its own path
The universe of food hubs is still so nascent that the best business model has yet to emerge; there's no road map yet. Every fledging food hub needs to determine its own most favorable operating structure based on what it's trying to achieve, who it wants to serve, the partners and customers it needs to work with, geographic particularities, its distribution plan, and other unique factors.
That said, we've yet to see a food hub that fits the venture capital model. These are high-risk, low-margin and typically slow-growth businesses -- generally not an attractive business profile to an equity investor. One food hub we know tried to scale with a for-profit model and ended up near bankruptcy. It did grow quickly, but couldn't survive without a major infusion of equity capital, and that infusion was not forthcoming.
Another hub that tried a for-profit strategy is Corbin Hill Food Project in the Hudson River Valley, which aggregates produce from regional farms to supply CSA boxes for families in Harlem and other underserved New York neighborhoods. It too hit a wall: The cost of producing and transporting the food was more than Corbin Hill could charge the target population. As a result, Corbin Hill recently reincorporated as a nonprofit organization so it could meet its capital needs with grant funding. It now receives support from the W.K. Kellogg Foundation.
For-profit models can work -- they just require patience. Some of our most successful food hubs include Eastern Carolina Organics, a farmer- and employee-owned company founded in 2005, and Ithaca, New York-based Regional Access, which started in 1989 with one truck and is now a multifaceted distribution and logistics company serving 600-plus regional and national grocery stores, restaurants, buying clubs, institutions and small natural food stores. Another example, outside our portfolio, is San Francisco-based Veritable Vegetable, a trailblazer founded in 1974 as part of a collective called the People's Food System. The company now serves a network of over 600 organic farms, grocers, cooperative markets, restaurants and schools.
On the nonprofit side, Common Market has become an influential model. The enterprise, which provides a distribution link between threatened Delaware Valley farms and urban communities that lack access to fresh foods, has a nonprofit structure but runs like a business. It focused on reaching its low-income target market through high-volume institutional buyers, such as hospitals and schools, and grew steadily but slowly with support from both loan and grant funds through RSF and others. Today, Common Market's distribution business is profitable and growing with little philanthropic support; philanthropic capital instead supports the enterprise's programmatic work, such as assisting the food hub movement.
One thing is clear: if a food hub wants to pay farmers a fair wage and get fresh food to underserved communities (as most of these organizations do), it will need diverse revenue streams, such as a market-priced CSA-type offering or grant support.
Working capital challenges loom large
Every food hub we've looked at has been undercapitalized. That makes the management team's discipline and focus even more important than it is with start-ups in other fields.
Start-up food hubs sometimes get so focused on simply moving the food that they struggle to live up to their commitment to changing the food system. Farmers are the core element of that system, and they can't bear the brunt of food hubs' cash flow problems. To provide high-quality food for local populations in a way that's economically sustainable, farmers should be paid within 15 days, at least most of the time. But food hub customers often take 30 or more days to pay (60 to 100 in the case of many institutions), leaving a cash flow gap. And when cash flow won't cover all of a food hub's business obligations, payments to producers are often the first to get delayed.
That makes a line of credit -- ideally one with a flexible structure that accounts for seasonal needs -- the most important financial instrument a growing food hub can have. To get one, the hub needs to prove that it can handle tricky finances. Even then, the management team may need to look beyond conventional funding options.
Most of our food hub borrowers are financed through program-related investment (PRI) lending -- foundation funds loaned to mission-related enterprises. Often they need several types of funding, an approach we call integrated capital. For example, a recent loan to Hudson Valley Harvest, a for-profit food hub in Kingston, New York, was possible in part because of a $100,000 loan guarantee from our philanthropic Local Initiatives Fund. Such guarantees are important tools for food hubs because many of them lack the collateral assets to meet a lender's underwriting standards.
We believe that food hubs are the vanguard of rejuvenated regional food systems; we wouldn't be devoting so much attention to them otherwise. We're inspired every day by food hubs across the country that are growing and sharing their knowledge with others. But developing successful models is still a work in progress. Creating food hubs that are enduring solutions -- not just fads -- requires founders and funders with a long-term commitment, a willingness to look beyond conventional approaches, and a clear-eyed view of the challenges.
This page contains materials from The Huffington Post and/or other third party writers. PricewaterhouseCoopers LLP ("PwC") has not selected or reviewed such third party content and it does not necessarily reflect the views of PwC. PwC does not endorse and is not affiliated with any such third party. The materials are provided for general information purposes only, should not be used as a substitute for consultation with professional advisors, and PwC shall have no liability or responsibility in connection therewith.