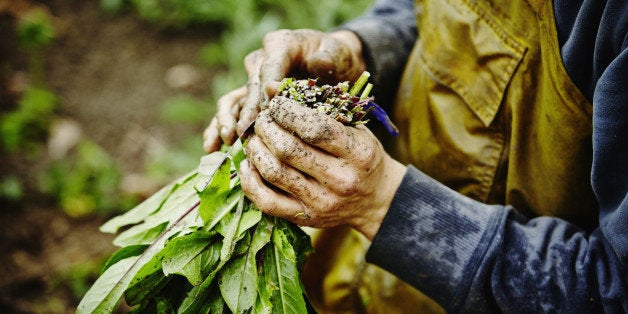 With one in three people worldwide either overweight or undernourished, the global nutrition crisis affects every country on the planet and demands an urgent step-change in response.
The human costs of this nutrition 'double burden' are stark -- generations of children in poorer countries stunted by lack of essential nutrients, pandemics of heart disease, stroke, diabetes and cancers caused by poor diets and being overweight. The costs to the global economy are staggering: obesity alone costs approximately US$2 trillion annually, nearly three per cent of global GDP.
The release of the 2015-2020 U.S. Dietary Guidelines last week was yet another reminder of the importance of healthy eating, as well as the role that the public and private sector has in making these choices easier for Americans. Given its enormous reach and influence, the food and beverage industry can be a game changer in improving consumers' diets.
The way people eat is fundamentally affected by the quantity and nutritional quality of processed food available -- and how it is marketed, priced and distributed. Major food companies are increasingly realizing that they can, and must, be part of the solution by changing their core business practices.

Beyond companies' social responsibilities, it is squarely in their business and financial interests to increase the proportion of healthy products they offer. Particularly in more mature markets like the United States, consumers are turning away from processed foods and demanding healthier options. If food producers are to restore their market share -- and secure their long-term financial prospects -- they will urgently need to change course.
The Global Access to Nutrition Index is an independent benchmarking tool that measures the world's largest food and beverage manufacturers' contributions to better nutrition. It was developed and published by the independent not-for-profit organization, the Access to Nutrition Foundation.
The 2016 ranking, released today, is led by three companies -- Unilever, Nestlé and Danone -- because they are doing more than most to integrate nutrition into their core business models. This means having clearly articulated global nutrition strategies supported by their leadership -- and putting these strategies into practice by, for example, increasing the number of healthier products on offer and applying robust systems for measuring and improving the nutritional quality of their products.
These leading companies are also taking a more innovative approach to expansion into lower income countries. Unilever, for example, has rolled out a micro-distribution scheme in India and Africa, employing rural women to sell affordable nutritious products in remote communities.
Unfortunately, these kinds of practices are far from widespread. While our research shows the industry has made some progress since the first Global Access to Nutrition Index in 2013, there is still room for major improvement in all the 22 companies ranked in 2016. No company scored more than 6.4 out of 10.
Across the board, companies need to improve the nutritional composition of their products, lowering the proportion of sugar, fats and salt and increasing levels of healthier ingredients. They need to market and label them more responsibly and make serving sizes smaller. Critically, they must apply the same commitments and standards globally as they do in their home countries to allow consumers in low-income countries to access healthy diets.
Many of the companies have expansion goals in emerging economies, a challenging prospect given the size and fragility of some of these markets. Their ongoing lack of focus on persistent undernutrition is a cause for particular concern. Only four of the 22 companies assessed are currently reformulating their products with a focus on undernourished children.
The Global Access to Nutrition Index 2016 also assessed the world's largest manufacturers of baby foods to gauge the extent to which their marketing policies conform to international standards. The World Health Organisation's International Code of Marketing of breast milk substitutes sets out recommendations for how breast milk substitutes should be marketed globally so as not to undermine breastfeeding or compromise infants' growth and development.
While there was significant variation in the companies' performance, none of the six manufacturers assessed for this sub-ranking was found to be fully compliant with The Code. Independent research carried out for the Access to Nutrition Foundation in Vietnam and Indonesia revealed numerous examples of non-compliance indicating that all of the companies' management systems are in need of an overhaul.
The pivotal contribution that the private sector can make towards the Sustainable Development Goals is increasingly being recognized and advocated. It is positive that food and beverage companies are embracing the Global Access to Nutrition Index as an independent benchmarking tool and a framework against which they can measure and improve their own performance. Of the 22 companies ranked in the 2016 Index, 17 actively engaged with our research. Investors too are increasingly using the Index to inform their corporate engagement and investment decisions.
We now need to see accelerated action. By embracing and delivering on a commitment to improve nutrition, companies can also open up business opportunities. The costs of not doing so are dire. The food and beverage industry stands at a critical crossroads - it is time it assumed its rightful place as a catalyst for a healthier world.
Calling all HuffPost superfans!
Sign up for membership to become a founding member and help shape HuffPost's next chapter